Square, Inc. (SQ) just released its second-quarter financial results, posting a loss of four cents per share and revenues of $552 million. Currently, SQ is a Zacks Rank #2 (Buy) and is up 0.72% to $26.65 per share in trading shortly after its earnings report was released.
Square:
Matched earnings estimates. The company posted a loss of four cents per share, matching Street estimates of loss of four cents.
Beat revenue estimates. The company saw revenue figures of $552 million, beating our consensus estimate $536 million.
Total revenues were up 26% year-over-year. Gross payment volume reached $16.4 billion, a 32% increase from the year-ago quarter. Square Capital loan volume gained about 68% from last year.
"In the second quarter, our top-line results reflect our continued ability to attract larger sellers and increase product usage through cross-selling," the company said.
Third-quarter revenue is expected to come fall in the range of $562 million and $568 million. Q3 loss per share is expected to fall between seven and six cents, while adjusted earnings are expected to come in at four to five cents per share.
Here's a graph that looks at Square's earnings performance history:
Square, Inc. Price, Consensus and EPS Surprise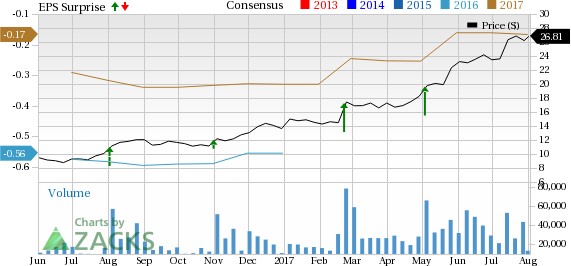 Square, Inc. Price, Consensus and EPS Surprise | Square, Inc. Quote
Square, Inc. offers financial services and marketing services. The Company provides payments and point-of-sale which include hardware and software to accept payments, streamline operations and analyze business information. Its payments and POS services include In-Person Payments, Online Payments, Square Cash, Square Register, Square Analytics, Square Appointments and Square App Marketplace. The Company's financial services include Square Capital and Square Payroll.
Check back later for our full analysis on SQ's earnings report!
Want more stock market analysis from this author? Make sure to follow @
https://twitter.com/Ryan_McQueeney
on Twitter!
More Stock News: Tech Opportunity Worth $386 Billion in 2017
From driverless cars to artificial intelligence, we've seen an unsurpassed growth of high-tech products in recent months. Yesterday's science-fiction is becoming today's reality. Despite all the innovation, there is a single component no tech company can survive without. Demand for this critical device will reach $387 billion this year alone, and it's likely to grow even faster in the future.
Zacks has released a brand-new Special Report to help you take advantage of this exciting investment opportunity. Most importantly, it reveals 4 stocks with massive profit potential. See these stocks now>>
Want the latest recommendations from Zacks Investment Research? Today, you can download 7 Best Stocks for the Next 30 Days.
Click to get this free report
Square, Inc. (SQ): Free Stock Analysis Report
To read this article on Zacks.com click here.
Zacks Investment Research