Market crashes aren't much fun — unless you have cash ready to scoop up stocks at lower prices. And there's a group of beaten-down stocks — that market pros still love — that are suddenly much more attractively priced.
There are just six stocks in the Standard & Poor's 500, including Delta Air Lines, General Motors and designer Michael Kors, that have been punished in the market sell-off, but are still highly rated and seen having significant upside.
To make this list of stocks for opportunists souring the market's wreckage, these stocks must meet a number of tough standards. First, they need to be on sale — big times. All of these stocks are down 20% or more from their 52-week highs.
But at the same time, they must be seen as attractive. This isn't damaged goods. All of these stocks are rated "buy" or "outperform" by Wall Street analysts and are also rated "attractive" or better by New Constructs, according to a USA TODAY analysis of data from S&P Capital IQ. New Constructs is a market research firm that analyzes stocks' cash flows to find those trading below their estimated market value.
Lastly, all these stocks have the potential for upside — and lots of it. Each of these stocks have 35% potential upside to price targets set by Wall Street analysts, according to S&P Capital IQ data.
Finding a bright spot in the market is getting increasingly difficult. The market's recent tumble has yanked the S&P 500 down 5% from its 52-week high. That's enough to send some nervous investors running. But that selling begets a possible opportunity for savvy investors looking to pick up top-rated stocks at a fraction of their price just weeks ago.
Take the example of Delta Airlines. Fuller flights have turned the airlines into big winners this year. The stock has been gaining altitude all year – until just recently. It's now down 23% from its 52-week high from just a few weeks ago. The stock has been such a huge winner that even after losing 23%, it's still up 20% this year. But this is a stock that's universally loved, still. Analysts have a "Buy" rating on the stock and see 57% potential upside to the 18-month price target of $51.56.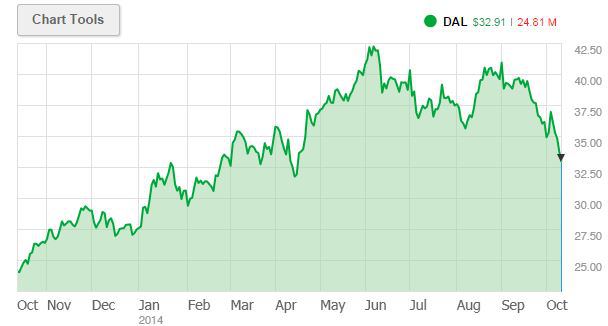 Both big U.S. automakers are also stocks getting hit, that analysts remain bullish on. Take Ford, which has long been a favorite with Wall Street analysts. The stock is down 24% from its 52-week high, but analysts are still think it has some gas. Wall Street analysts rate the stock "outperform" and see 35% upside before it hits its 18-month price target of $18.66.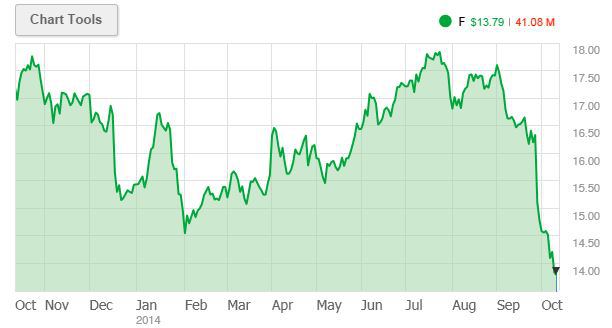 Missed the superstar stock Michael Kors, which has been shooting higher since its initial public offering in 2011 — you have another shot if the analysts are right. The stock has been smacked by 27% from its 52-week high and is now off 9% this year. Even so, analysts rate the stock an "outperform" and New Constructs calls it "attractive." If the Wall Street analysts are right, this stock still has 41% potential upside to the 18-month price target.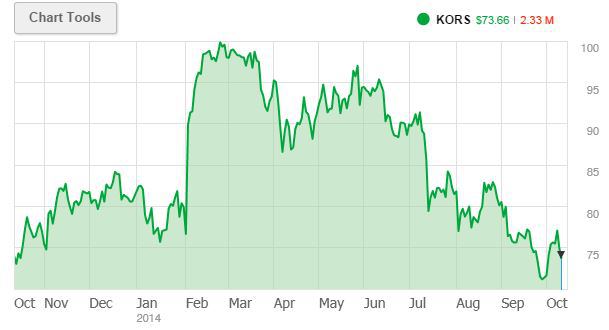 Keep in mind that if this pullback turns into something more serious, there could be more downside even to these beloved stocks. If you think this pullback might turn into a more serious correction of 10% or more, there's an entirely different set of stocks to consider that are more about playing defense than offense.
STOCKS IN THE S&P 500, DOWN 20% FROM THEIR 52-WEEK HIGHS, WITH TOP RATINGS FROM WALL ST. ANALYSTS AND NEW CONSTRUCTS AND 35% OR GREATER UPSIDE TO PRICE TARGETS
| | | | | |
| --- | --- | --- | --- | --- |
| Company | Symbol | % Ch. from 52-week hi | % upside to analyst target | N.C. rating |
| Delta Air Lines | DAL | -22.9% | 56.7% | Attractive |
| FMC | FMC | -37.2% | 42.4% | Attractive |
| General Motors | GM | -27.6% | 41% | Attractive |
| Michael Kors | KORS | -27.1% | 40.7% | Attractive |
| Xilinx | XLNX | -33.7% | 35.5% | Very attractive |
| Ford Motor | F | -23.9% | 35.3% | Attractive |
Source: S&P Capital IQ, USA TODAY