USD/CAD had a sharp slide this week. Normally I would repeat the classic mantra: don't catch a falling knife.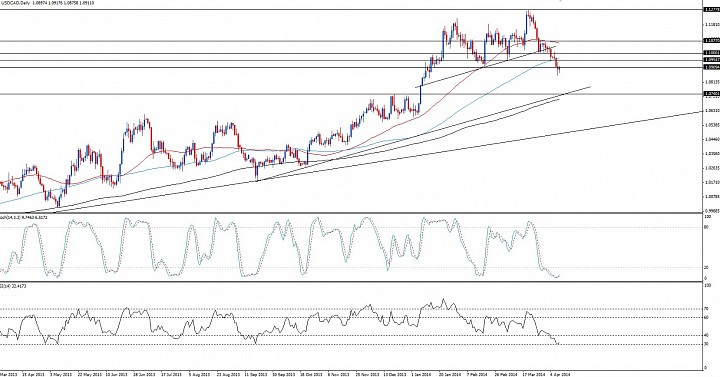 (USD/CAD daily chart, 4/10)
That's a good rule of thumb, but looking at the USD/CAD, we might consider a buy, though it might still be prudent to wait for a couple days for the market to settle and put in at least an intra-session price bottom.
The daily stochastic is below 20 and might be turning back up. This provides a chance to buy after a bearish cycle. Whether the subsequent bullish cycle will challenge the 2014 high again is another story, but an expectation to 1.10 and 1.1070 is conservatively managed.
Downside risk/support:
If the rally I am expecting is simply a pullback, and not a bullish continuation, then we might have further downside in the short-term within a bullish mode that has been intact since 2012. This bearish outlook will first be challenged by a rising trendline from Sept, and the 200-day simple moving average. A break below then opens up 1.06, then 1.0560 pivots.There, we might meet another, more important rising support. Until we break below 1.05 and that rising trendline from 2012, the USD/CAD might be sideways and bearish in the short-term, but still bullish in the medium term.