Natural Gas Prices Fall Due to Weather and Inventory Data
Trading range
Natural gas futures contracts for September delivery were trading close to the key support of $2.60 per MMBtu (British thermal units in millions) on August 27, 2015. The better-than-expected inventory rise and mild weather forecast are weighing on natural gas prices. Any bullish catalyst could drive natural gas prices higher.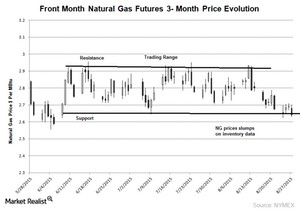 Support and resistance
Bullish traders could see...
More