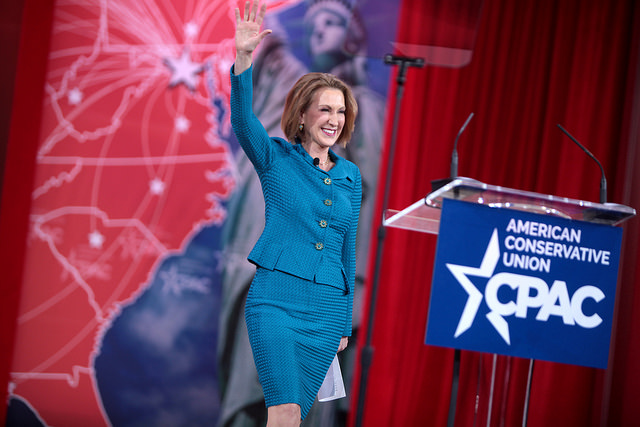 The former Hewlett-Packard CEO Carly Fiorina in an Interview with " Fox News Sunday,"Fiorina said the chances are higher than 90% for  the Republican presidential nomination.
The former HP chief, who launched an unsuccessful Senate bid in 2010 against Senator Barbara Boxer of California, said she plans to officially announce her campaign in April or May.So if Clinton faces off against a woman like her, Clinton will be at a disadvantage.
Fiorina said her experience in the private sector where she has the vast experience of Technical and Financial domain which will help her understanding of how economy really works . 
Fiorina also pointed out two problems with America's economy. First, she says, people have become tangled up in economic dependence upon government. Second, she said, big government's heavy hand—which is the current policy of President Obama's administration—has hurt small business development.
Fiorina said she will make a formal campaign announcement by early May.
Some of the Comments by the readers on CNN :
"No, No, No Carly. Absolutely NOT! You did nothing for HP but guide it through a failed merger. HP lost half of its stock value during her tenure. Ann Mulcahy of Xerox was actually better than Carly at that time. At least Xerox stabilized. And you see they have gone backwards with the current Xerox CEO. But back on Carly. No, No, No! Her leadership tool is fire, cut, fire, cut, cut, fire, fire, cut.... She has not earned a penny."
Users of HP comments :
"Hey Carly? You cost me so much money when you tanked Hewlett Packard, I think I'm going to pass."