Twitter $TWTR jumped from 17.14 at the close of the 10/25 session to about 20.30 at the close of the 10/26 session on top of slightly better-than expected earnings. Here's a summary from Business Insider:

Here are the key numbers from Twitter's Q3 earnings:

Earnings (adjusted): $0.10 a share versus $0.05 expected.
Revenue: $590 million versus $587 million expected, down 4% from the year-ago period.
Monthly active users: 330 million, up from 326 million in the previous quarter and an increase of 4% from the year-ago period.
Daily active user growth: Up 14% from the year-ago period.
...more on businessinsider.com
That 14% growth was key because the Q2 showed 0% growth compared to Q2 in 2016.
Another key component to this report was the fact Twitter projects a first profitable quarter for Q4.
Also note that Twtitter's ad revenue has declined 8% year over year, but other revenues and licensing has improved 22% over the same period. (CNBC)
TWTR Daily Chart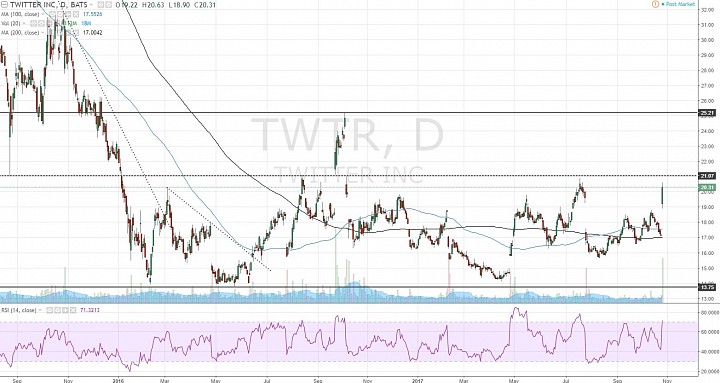 (click to enlarge)
Rangebound to Bullish?
- Since 2016, TWTR has been trading in a consolidation range between roughly 14 and 21, except for a pop to 25.20 in Sept/Oct 2016 which quickly dissipated as TWTR retreated even more sharply.
- Now, after the Q3 earnings rally, TWTR is basically attacking the consolidation range around 21.
- If price can close above 21.10 this week, we might be seeing a push towards 25.
- Now, if TWTR pulls back, I would like to see support around 20. It should not fall back below 19, or else the mode is likely still consolidation and not bullish.