What happened?
Shares of L Brands, Inc. (NYSE: LB), an international company boasting more than 3,000 company-owned stores with brands such as Victoria's Secret, PINK, and Bath & Body Works, traded 14% lower on Thursday, after management reported disappointing June sales data.
So what
L Brands reported its net sales declined 6% to $1.213 billion for the five weeks ended July 1, 2017. Worse yet: comparable-store sales, which declined a steeper 9% for the same five-week period, compared to the prior year. Much of the blame was due to L Brands' exit from the swim and apparel categories, which had a negative impact of 7 percentage points on its net sales and 10 percentage points on Victoria's Secret comparable sales.
Now what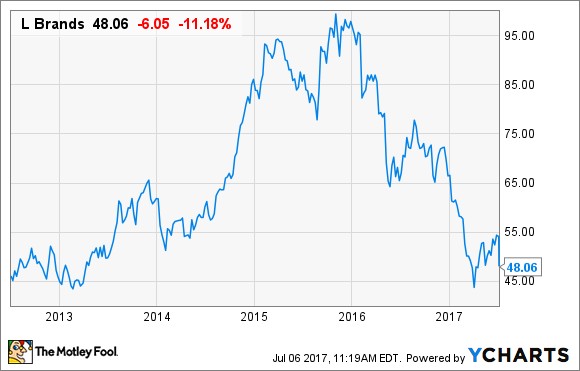 Despite sliding over the past couple of years, the company has strong brands in categories with high consumer loyalty, thanks to quality and fit remaining consistent in brands such as Victoria's Secret. The company also has a lot of room for growth overseas, especially in China, despite headwinds from declining mall traffic in the U.S. market. But it's clear investors aren't buying into the growth story as sales decline; to fuel a stock-price rebound, management will need to improve margins, online sales, and growth in China.
10 stocks we like better than
When investing geniuses David and Tom Gardner have a stock tip, it can pay to listen. After all, the newsletter they have run for over a decade, Motley Fool Stock Advisor, has tripled the market.*
David and Tom just revealed what they believe are the 10 best stocks for investors to buy right now... and wasn't one of them! That's right -- they think these 10 stocks are even better buys.
Click here to learn about these picks!
*Stock Advisor returns as of July 6, 2017

Daniel Miller has no position in any stocks mentioned. The Motley Fool has no position in any of the stocks mentioned. The Motley Fool has a disclosure policy.