Shares of Symantec Corporation SYMC remained highly volatile during yesterday's after-hour trade, with the stock surging as much as 6%, but eventually closing trade at a nominal gain of just 0.2%. There were a plenty of reasons which boosted the company's shares, which includes a better-than-expected first-quarter bottom-line result, upbeat fiscal 2018 revenue guidance and an agreement relating to the sale of its web certificates business.
Notably, Symantec has been clocking solid returns and in the year-to-date period it has gained approximately 29.4%, outperforming 21.3% growth recorded by the industry it belongs to.

First thing first, let's discuss the quarterly performance.
Quarter in Detail
Symantec's revenues of $1.175 billion jumped 32.9% year over year and came ahead of its guidance range of $1.133–$1.163 billion (mid-point $1.148 billion). The robust top-line results were mainly driven by strong performance across the company's Enterprise Security and Consumer Digital Safety segments, as well as benefit from acquisitions and favourable currency exchange rates. However, the figure fell short of the Zacks Consensus Estimate of $1.204 billion.
On non-GAAP basis, the company posted revenues of $1.228 billion, up 39% from $884 million reported in the year-ago quarter. The figure also came in higher than management's projection of $1.185–$1.215 billion (mid-point $1.20 billion).
Segment wise, the Consumer Security as well as Enterprise Security, both divisions witnessed a 39% year-over-year increase in non-GAAP revenues.
Symantec's non-GAAP gross profit of $1.032 billion was up 39%, primarily attributable to a higher revenue base. However, as a percentage of revenues, gross margin contracted 20 basis points (bps) on a year-over-year basis to 84%, as the benefit of increased sales was more than offset by higher cost of goods sold.
Furthermore, non-GAAP operating income surged 49% year over year to $377 million while margin improved 210 bps to 30.7%. Moreover, non-GAAP operating margin was higher than the company's guidance range of 27–29%. The year-over-year increase was mainly driven by strong revenue growth and benefited from better execution of the company's cost-saving initiatives and synergies from acquisitions.
Per Symantec, it now expects to realize over $580 million of cost savings by the end of fiscal 2018 through its cost-restructuring initiatives and cost synergies from the acquisitions of Blue Coat and LifeLock. The figure is $30 million higher than the company's previous projection of realizing $550 million of cost savings. Till fiscal 2017, the company has achieved over $300 million in net cost efficiencies.
Non-GAAP net income for the quarter came in at $221 million compared with $177 million recorded in the year-ago quarter. Non-GAAP earnings per share increased 13.8% year over year to 33 cents and came above the company's projected range of 28–32 cents.
Symantec's adjusted earnings (excluding all one-time items but including stock-based compensation on proportionate tax basis) came in at 15 cents per share which surpassed the Zacks Consensus Estimate of 12 cents. However, on a year-over-year basis, it plunged 34.8%.
Symantec Corporation Price, Consensus and EPS Surprise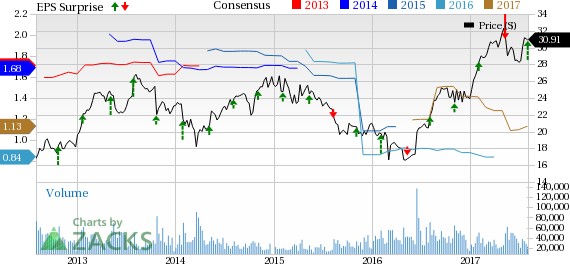 Symantec Corporation Price, Consensus and EPS Surprise | Symantec Corporation Quote
Balance Sheet & Cash Flow
Symantec exited the quarter with cash, cash equivalents and short-term investments of $2.306 billion compared with $4.247 billion last quarter. The company repaid $2 billion of its debt during the quarter, as a result of which its cash, cash equivalents and short-term investments declined sequentially. Long-term debt (including current portion) came down to $6.202 billion from $8.186 billion at the end of the previous quarter.
During the quarter, Symantec generated operating cash flow of $213 million. In addition, it paid $66 million as dividend during the period.
Guidance
Beating its own guidance range at every point made the company optimistic about its solid prospects and therefore, it raised its fiscal 2018 revenue and non-GAAP earnings outlook. For the fiscal, Symantec now expects GAAP revenues in the range of $5.037–$5.137 billion (mid-point $5.087 billion) and non-GAAP revenues in the range of $5,160–$5,260 billion (mid-point $5.210 billion), up from the previous guidance ranges of $4.977–$5.077 billion (mid-point $5.02 billion) and $5,100–$5,200 billion (mid-point $5.150 billion), respectively. The Zacks Consensus Estimate for the fiscal is pegged at $5.15 billion.
Non-GAAP earnings per share are now projected to come between $1.79 and $1.89, up from the earlier forecast of $1.75–$1.85. However, forecast for non-GAAP operating margin has been reiterated at 36–37%.
The company initiated guidance for the second quarter as well. For the quarter, Symantec anticipates GAAP and non-GAAP revenues in the range of $1.225–$1.255 billion (mid-point $1.24 billion) and $1.260–$1.290 billion (mid-point $1.275 billion), respectively. The Zacks Consensus Estimate is pegged at $1.26 billion.
Non-GAAP operating margin is projected in the range of 34–36%. However, on a GAAP basis it expects to report negative operating margin in the range of 2–4%. Further, management predicts reporting loss between 11 cents and 15 cents on a GAAP basis for the fiscal second quarter. However, on a non-GAAP basis, it estimates earnings between 40 cents and 44 cents.
Divestment of Website Security Business
In a separate news release, Symantec announced that privately owned DigiCert Inc. has agreed to buy its Website Security business for $950 million in cash and approximately a 30% stake in the latter's business. Symantec's Website Security solution verifies the identity of websites.
We believe that the recent move is an effort by Symantec to end the ongoing dispute with Alphabet's (GOOGL) Google which has accused it for mis-issuing over 30,000 of web certifications.
Our Take
Symantec reported mixed first-quarter results, wherein the bottom line came ahead of our expectations, while the top line missed the same. However, the company has surpassed its own expectation at every point, which makes us confident that its turnaround efforts are in the right direction. Also, the impressive third-quarter guidance and upbeat fiscal 2018 outlook make us optimistic about its growth opportunities.
Going ahead, the prospects of cybersecurity companies look bright as the recent global hackings, like WannaCry and Petya, have started to adversely affect the top- and bottom-line results of various organizations like Mondelez, FedEx and Merck & Co. The silver lining in this entire episode will be the rise in demand for security-related products among companies and governments, in our opinion.
We believe that this could bring Symantec back into the limelight. Moreover, the recent deal to acquire Israel-based Fireglass will further strengthen Symantec's leadership position in Secure Web Gateway and Email protection, both delivered on premises and in the cloud.
Also, investment in growth areas such as Enterprise Backup, Storage Management and Security businesses are likely to boost Symantec's long-term prospects. Additionally, restructuring initiatives and synergies from acquisitions are likely to support the company's bottom line.
Nonetheless, smaller companies like Kaspersky are consistently launching comparable products. These, along with competition from the likes of Microsoft MSFT, remain headwinds.
Currently, Symantec sports a Zacks Rank #1 (Strong Buy).You can see the complete list of today's Zacks #1 Rank stocks here.
Some other stocks in the same industry space are Red Hat, Inc. RHT and Verint Systems VRNT, both flaunting a Zacks Rank #1.
Red Hat and Verint Systems have long-term expected earnings growth rates of 14.4% and 8.5%, respectively.
More Stock News: Tech Opportunity Worth $386 Billion in 2017
From driverless cars to artificial intelligence, we've seen an unsurpassed growth of high-tech products in recent months. Yesterday's science-fiction is becoming today's reality. Despite all the innovation, there is a single component no tech company can survive without. Demand for this critical device will reach $387 billion this year alone, and it's likely to grow even faster in the future.
Zacks has released a brand-new Special Report to help you take advantage of this exciting investment opportunity. Most importantly, it reveals 4 stocks with massive profit potential. See these stocks now>>
Want the latest recommendations from Zacks Investment Research? Today, you can download 7 Best Stocks for the Next 30 Days.
Click to get this free report
Red Hat, Inc. (RHT): Free Stock Analysis Report
Symantec Corporation (SYMC): Free Stock Analysis Report
Microsoft Corporation (MSFT): Free Stock Analysis Report
Verint Systems Inc. (VRNT): Free Stock Analysis Report
To read this article on Zacks.com click here.