Reynolds America Inc. RAI and Altria Group MO are two of the largest tobacco companies in America.  The brands compete against one another, but there is a clear size discrepancy between the two. 
Both companies look like a sure bet over the long term, and they dole out attractive dividends.  Dividend yields for Altria and Reynolds are 3.5% and 3.29% respectively.  They both have betas under 0.5, so they should stand to help you hedge your exposure to market volatility.      
Altria has a market capitalization of $126.39 billion, and Reynolds has a cap of $72.99 billion. Last year, MO and RAI generated sales of $25.434 billion and $10.675 billion respectively.  This information doesn't exactly tell you which stock is more attractive though.  In order to evaluate which stock makes for a better investment over the short term, we will evaluate the companies across important growth, value, and earnings related metrics.
Altria Group
Value
Altria has a range of products in its portfolio, offering cigarettes, smokeless tobacco, and even wine.  The stock is a Zacks Rank #2 (Buy).  MO looks a little heavy across some valuation metrics.  It has a PEG of 2.82 and it trades at a forward PE of 21.12.  The stock also has a price-to-sales of 6.48, and a higher debt-to-capital of 82.38%.
Growth
Altria's EPS is projected to grow by 9.21% this year, which is impressive.  The rest of the tobacco space is projected to see EPS growth of 4.4% this year.  In spite of the fact that it is a massive player in the space, Altria looks like it still has a growth path ahead of itself.  The company has a net margin of 21.17%, and sales are projected to grow by 11.33% this year.
Earnings
In the last two months, four analysts have revised their earnings estimates lower for this quarter.  Our EPS consensus estimate for this quarter has declined slightly over the last thirty days, going from $0.81 to $0.80.  Six analysts have revised their fiscal year earnings higher in the last 60 days.  In that same time span, no analysts have posted negative revisions for the current year.  MO has beaten our EPS estimate in two of the last four quarters.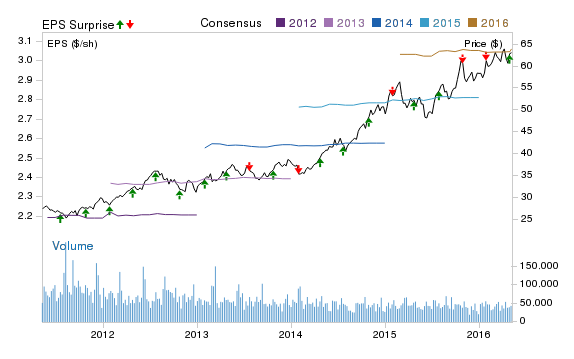 Reynolds America Inc
Value
Reynolds is home to popular cigarette brands such as Newport, Camel, and Pall Mall.  It also sells smokeless tobacco, and one of its premier brands in this segment is Grizzly.  Reynolds is a Zacks Rank #2 (Buy).  The company's valuation is also a little hefty, but still seems to fare better compared to MO.  RAI has a PEG of 1.79, and it also has a price-to-sales of 5.73.  Reynolds is ahead of Altria across these two valuation metrics, but it has a slightly higher forward PE of 21.89.  Unlike Altria, Reynolds has relatively lower levels of debt in its capital structure, with a debt-to-capital of 38.4%.
Growth
Reynolds' sales and earnings are projected to grow by 19.36% and 17.55% respectively.  This represents a much higher level of growth than Altria is expected to see this year.  This makes sense though, since MO is more mature as the largest tobacco company in the US.  Reynolds enjoys superior levels of profitability, and it has a net margin of 55.74%.
Earnings
Over the last 60 days, RAI has seen mixed estimate revision activity from analysts for this quarter.  Three analysts revised their EPS estimates higher while two pushed down their earnings expectations.  As a result, our quarterly consensus estimate has seen a slight decline over the last 30 days, going from $0.61 to $0.60.  Like Altria, current year estimates have been boosted upwards by all analysts making revisions over the last 60 days.  However, our fiscal year consensus has stayed at $2.34 over the last month.
/www.zacks.com/registration/pfp/?ALERT=RPT_7BST_LP194&ADID=DE..." target="_blank">Click to get this free report
 
ALTRIA GROUP (MO): Free Stock Analysis Report
 
REYNOLDS AMER (RAI): Free Stock Analysis Report
 
To read this article on Zacks.com click here.
 
Zacks Investment Research