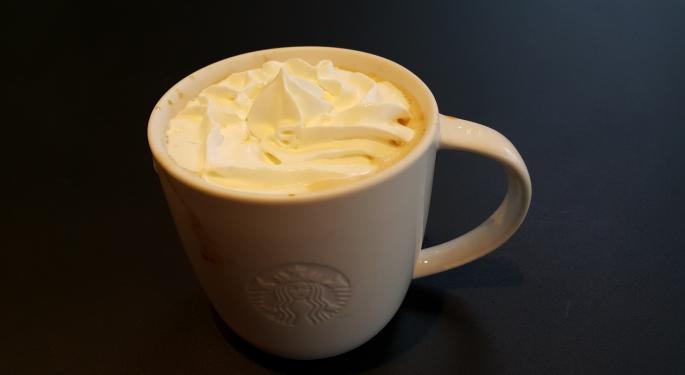 David Tarantino of Baird reiterated a Buy rating on shares of Starbucks Corporation SBUX on Monday with a $68 price target.
Speaking as a guest during CNBC's "Call Of The Day" segment, the analyst defended his bullish thesis and said that Starbucks' valuation is attractive, especially when placed against other names in the consumer staples segment.
According to Tarantino, Starbucks has many of the same attributes of a typical consumer staples name. From a qualitative perspective, consumers tend to purchase items at Starbucks on a daily or "ritualistic" basis. He added that from a financial metrics perspective, Starbucks also looks more like a consumer staples company than a traditional retailer.
Accordingly, Starbucks' valuation premium compared to consumer staples names is actually at a five-year low, even though its outlook "remain very strong."
The analyst did acknowledge that it may be "a bit of a stretch" to label a company that sells $5 coffee beverages as a "staple," but its mid-20 percent EBITDA margins "makes it act more like a staples company when you look at the sensitivity to the top-line and margin structure."
Shares of Starbucks were trading higher by 0.16 percent heading into the final hour of trading on Monday.
© 2016 Benzinga.com. Benzinga does not provide investment advice. All rights reserved.