Over the past year or so, MLP merger news has been burning up the headlines, with Kinder Morgan,Williams, and Energy Transfer each announcing big merger deals in the past 12 months. When it comes to MLP merger mania, though, one acquisition in particular gets me really excited, to the point that I'm planning on investing my own money based on the deal. On July 13, Marathon Petroleum Corp. (NYSE: MPC) announced it was buying MarkWest Energy Partners (NYSE: MWE) for $15.6 billion, to make it a subsidiary of its own MLP, MPLX LP (NYSE: MPLX). Here are three reasons the bigger and better MPLX will be one income investment that is on my radar and should be on yours well.
MarkWest's exceptional asset footprint plus...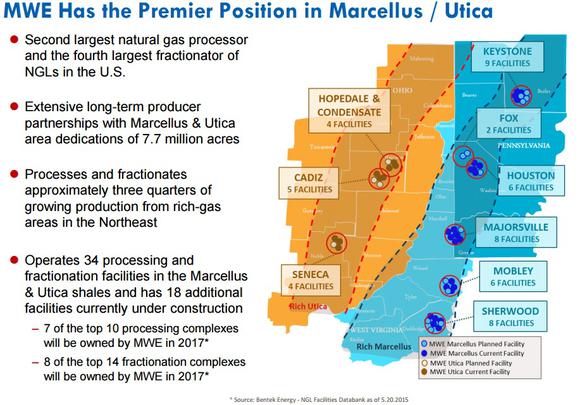 Markwest is one of America's largest natural gas processors, holding 75% market share in the booming Marcellus and Utica shale, and working hard to expand its capacity even further.
MPLX, which will leave MarkWest as a stand-alone entity, expects to gain substantial synergies from working with its new subsidiary on investments it already has planned, such as its Cornerstone Pipeline and Utica build-out project.
MPLX is especially interested in expanding its network of natural gas liquid -- or NGL -- pipelines from the Marcellus and Utica to New York and other East Coast markets, pipelines that MarkWest is already working on.
In fact, one of the best things about this deal is that it combines MarkWest's great working relationships with Marcellus and Utica gas producers with MPLX's growing pipeline capacity. By expanding its transportation base, MPLX will be better able to create a one-stop shop in which gas producers can obtain...
More