We issued an updated research report on Huntington Ingalls Industries, Inc. HII on Aug 22. This renowned military shipbuilder is the sole designer and manufacturer of nuclear powered aircraft carriers in the U.S.
In particular, the shipbuilding business outlook has improved post the fiscal 2017 proposal, along with the additional appropriations bill put forward by President Trump this year. In particular, an Omnibus appropriations bill for fiscal 2017 has been finalized and is expected to benefit the product lines of the company's Ingalls segment. Per management, this bill will fund Huntington Ingalls' LPD 29 and long lead material for NSC 10 fully.
The company also continues to introduce ships with enhanced capabilities. Among recent updates, Huntington Ingalls launched LHA 7 America-class amphibious assault ship in May. It further conducted successful builders' trials on LPD 27 Portland at the end of June. The company plans to complete acceptance trials and deliver the ship to the Navy by the end of the year.
Moreover, Huntington Ingalls maintains stable liquidity and capital resources to fund its operations. The company's net cash from operating activities at the end of second quarter of 2017 was $284 million, up from the year ago quarter's figure of $223 million.
Further, the company focuses on maximizing shareholder value, through share repurchases and increased dividend payouts. During the first six months of 2017, Huntington Ingalls paid $55 million worth of dividend, up from $48 million a year ago.
On the flip side, Huntington Ingalls' Newport News, which occupies the majority of the company's business, has been underperforming for past couple of quarters. In recent times, Huntington Ingalls have been witnessing consistent volume and margin pressure in this segment.
Moreover, Huntington Ingalls faces intense competition from other defense majors in the market like General Dynamics Corp. GD, The Boeing Co. BA and Lockheed Martin Corp. LMT.
Further, shares of the company underperformed the industry it belongs to in the last one year. During the period, Huntington Ingalls' stock gained 24.1%, while the broader industry gained 34.6%.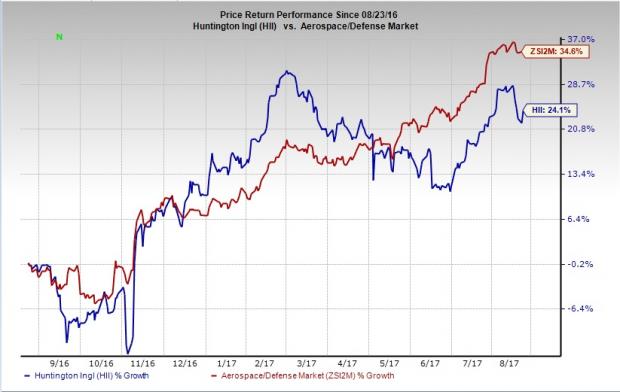 Zacks Rank
Huntington Ingalls currently carries a Zacks Rank #2 (Buy). You can see the complete list of today's Zacks #1 Rank (Strong Buy) stocks here.
4 Surprising Tech Stocks to Keep an Eye on

Tech stocks have been a major force behind the market's record highs, but picking the best ones to buy can be tough. There's a simple way to invest in the success of the entire sector. Zacks has just released a Special Report revealing one thing tech companies literally cannot function without. More importantly, it reveals 4 top stocks set to skyrocket on increasing demand for these devices. I encourage you to get the report now – before the next wave of innovations really take off.

See Stocks Now>>
Want the latest recommendations from Zacks Investment Research? Today, you can download 7 Best Stocks for the Next 30 Days.
Click to get this free report
Boeing Company (The) (BA): Free Stock Analysis Report
General Dynamics Corporation (GD): Free Stock Analysis Report
Lockheed Martin Corporation (LMT): Free Stock Analysis Report
Huntington Ingalls Industries, Inc. (HII): Free Stock Analysis Report
To read this article on Zacks.com click here.