Shares of Wendy's (WEN) are rallying into new highs on the year and highs not seen since 2007. When we look at the monthly chart, we can see an impressive recovery since the dip during the financial crisis.

WEN Monthly Chart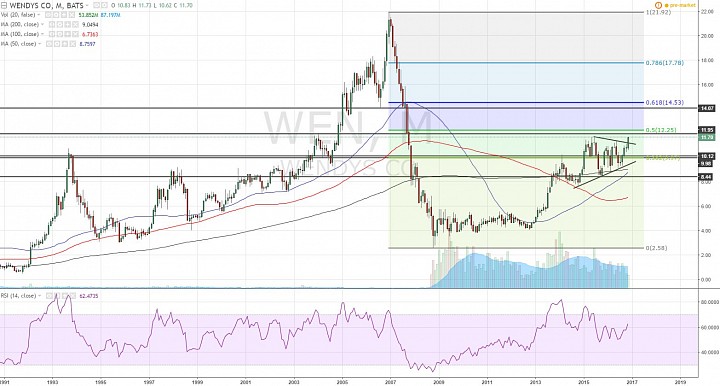 (click to enlarge)

Triangle Breakout:
- Looking at the monthly chart we can see that WEN has been bullish since late 2012, but has been in a triangle since 2015. 
- The November candle is so far bullish and breaking this triangle. 
- With price anchored above the 200-, 100-, and 50-month simple moving averages, the long-term technical picture is bullish for Wendy's.

Next Resistance Levels:
- The monthly chart shows that the 12-12.25 area involves a previous reistance pivot as well as the 50% Fibonacci retracement level of the 2007-2008 slide. This is the short-term target for WEN.
- If price extends above this area, the next key resistance would be in the 14-14.50 area, which involves a previous support pivot and the 61.8% fibo retracement level. If price gets to this point, the monthly RSI would likely reflect overbought conditions. 

Wendy's has good upside of 20% given a few months but within a year out.