The Energy Transfer-Williams deal was inevitable, and energy industry trends have made it so.
Given Energy Transfer's history of growth, both organically and through acquisitions, the company has a record that suggests success.
Though the markets reacted negatively today, a true measure of the perceived value will take more time as crude volatility and stock market woes combine for a toxic mix.
The announcement finally happened this morning. The odds were very much in favor of Energy Transfer (NYSE:ETE) acquiring Williams (NYSE:WMB) with its Williams Partners L.P. (NYSE:WPZ) remaining a separate entity. In terms of where Energy Transfer's entities will fit on the league tables of energy firms, the placement based on enterprise value is staggering: Energy Transfer's pro forma enterprise value will be $149 billion, behind Chevron's (NYSE:CVX) of $193 billion and above BP Plc's (NYSE:BP) at $139 billion. The company is walking among the majors, in practically one year's time, as a top five global energy company. Kinder Morgan's (NYSE:KMI) value is $108 billion - its next midstream competitor. The transaction is valued at nearly $38 billion. The merged entity will trade as Energy Transfer Corp. (ETC), a new NYSE listing. ETC is likened to an ETE twin structure-wise, except it's a C-corp structure versus the MLP version of Energy Transfer Equity.[i]
The big question is: What does this accomplish for the Energy Transfer family? Aside from long-term value creation, scale and synergies, it rationalizes the midstream industry in a way that mirrors the times. Commodity price volatility, reduced prices and cost-saving measures on the production side of the industry are creating knock-on effects in the midstream space. Energy Transfer suggests that this more integrated approach will offer the customer more efficient and less costly end-to-end market solutions. From the call this morning, company spokesperson Jamie Welch said "they will be able to move hydrocarbons from virtually any basin now." He mentioned that the addition of Williams to the family will increase producer participation, increase competition and increase Energy Transfer's services offerings across the midstream chain, plus boost revenue opportunities for all of its best-in-class MLPs: Energy Transfer Partners (NYSE:ETP), Sunoco (NYSE:SXL) and now Williams Partners. And the company "acquired" one big customer already - Chesapeake (NYSE:CHK) - with the Williams/Access deal a while back.
The map below shows the new paths for the movement of hydrocarbons to new places: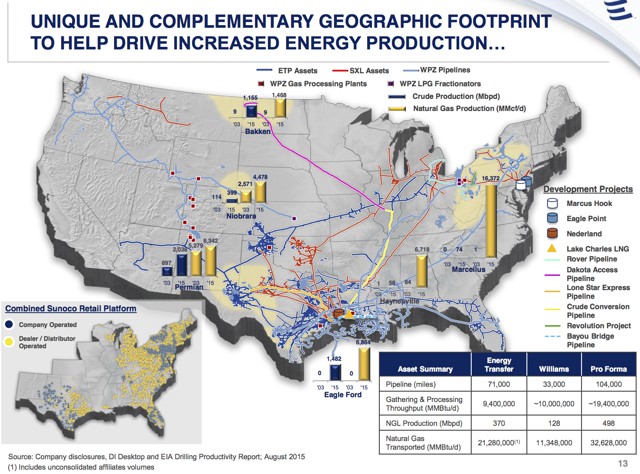 For comparison, here is the last map I used in an earlier article from my Analyst Day article in late November 2014 (ETP and SXL only, i.e., Regency (formerly RGP) assets not included):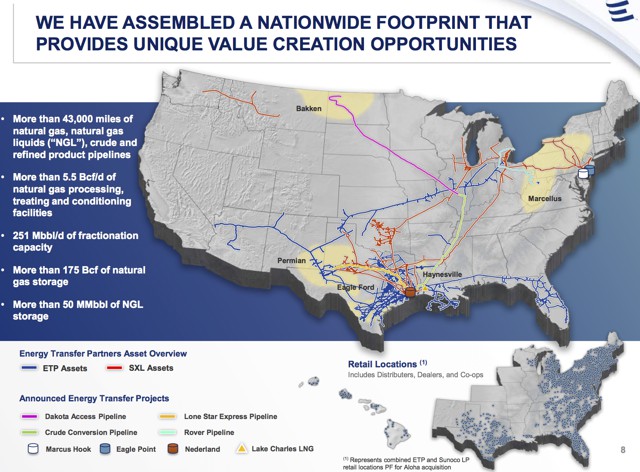 This deal did not just spring up - I dare say it was willed. The right industry circumstances, a robust position and sheer determination created this opportunity for Energy Transfer. The writings of this were on the proverbial wall. An interview from June 2014, published in October 2014, had clues regarding the vision of CEO Kelcy Warren. From the acquisitions already integrated, Energy Transfer was ready for a next major piece of the puzzle. Mr. Warren's customer-centric approach was evident then, and even more so now as forces have converged in his favor. (First announcement article here.)
The structure of Energy Transfer has added a new C-corp entity and the MLP Williams Partners. The ETC entity has the benefits of greater types of investor participation, inclusion into indexes, the 1099 for tax purposes, and a vehicle for future acquisitions. The US equity market capitalization is approximately $20 trillion to the $500 billion of MLPs. I said this before in my first inkling of the deal - Energy Transfer has a "go big or go home" type of mentality. This mindset is derived from leader Kelcy Warren. In an interview last year, he mentioned enthusiastically that Energy Transfer is the finest hydrocarbon transportation company in the U.S., in his view. I had no reason to doubt this assertion. The company is now playing in a much expanded league and is set to benefit from U.S. hydrocarbon production and export. Incidentally, this deal does not affect the final investment decision upcoming for Energy Transfer LNG.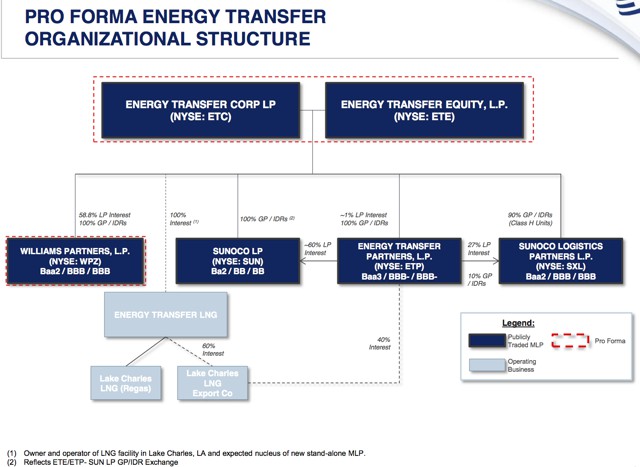 Some select deal details (see press release):
Williams stockholders are to receive an implied price of $43.50.
Williams stockholders can receive ETC shares and/or cash.
ETE unitholders may exchange for ETC shares at periods.
The graphic below describes the transaction's mechanics: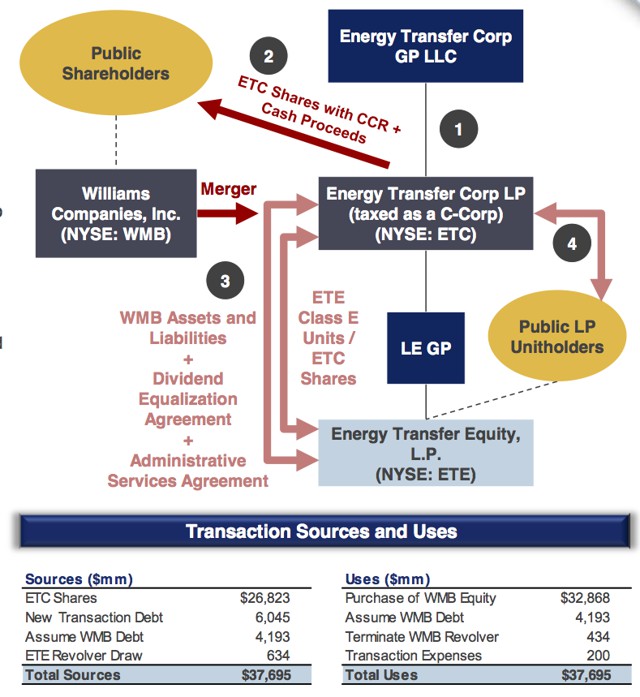 Finally, we know midstream MLPs have been pulled down alongside most other forms of oil & gas-related energy stocks, as the Alerian index shows. However, the Energy Transfer entities have fared better.
Today, analysts suggested in the call that the market didn't like the acquisition. But these are early days. The "shock and awe" phase will pass, and the real work of integration will begin. Management offers that Energy Transfer had approved $23 billion of growth projects, with WPZ/WMB pursuing $30 billion of growth projects. They intend to take a complementary approach to the proposed spending, and are generally supportive of plans in the works. The merger is supposed to close in the first half of 2016.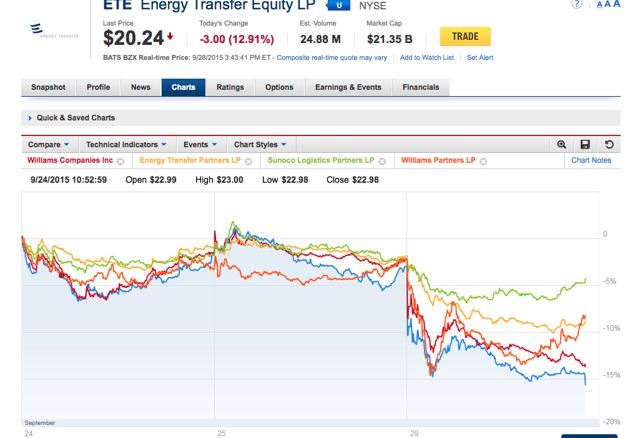 (This article is intended to present an overview based on the announcement.)
[i] See pages 3-4, and 6-7 for a more detailed version of the mechanics of the transactions. Presentation here.
More