The University of Michigan released its preliminary consumer sentiment report for October today. It came in at 86.4, which is above last month's 84.6, and above the forecasts which actually called for a slide to 84.3. Instead sentiment is at a 7-year high at you can see in the historic chart below:

Umich Consumer Sentiment: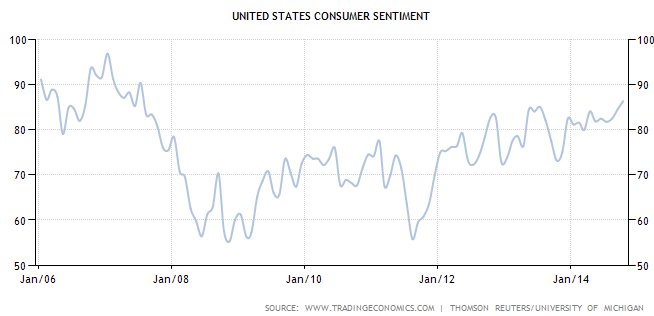 (click to enlarge; source: tradingeconomics.com)

The current conditions index came in at 98.9, which was the same as September. The Expectations index climbed to 78.4 from 75.4. 

The strong data gave the USD a boost. The USDX has been consolidating in October after a high on the year at 86.74. It fell to 84.48 this week, and is now consolidating above 84.80. 

USDX 1H Chart 10/17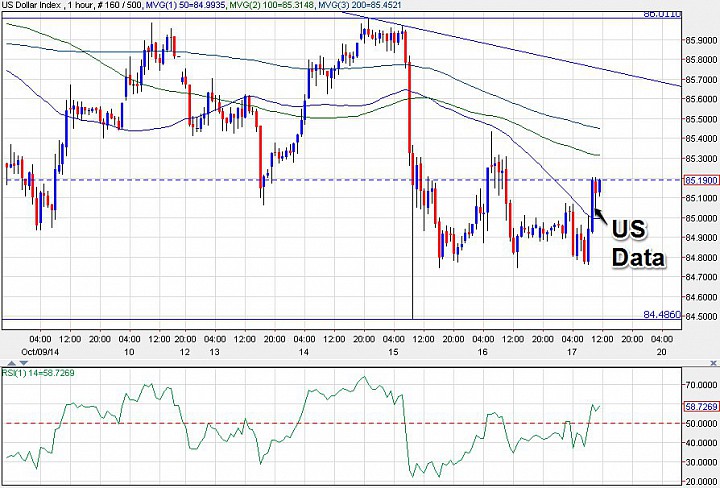 (click to enlarge)

Price came down to test the 84.80 area again, and rebounded, rallying further after the strong US consumer sentiment report. There will be resistance in the 85.30-85.40 area. A break above that can suggest a price bottom in the USDX and start the consideration of a bullish continuation for the greenback.

But, at the moment, the dollar is bearish in the short-term, and if today's strong data fails to push the USDX above yesterday's high around 85.40, then we should maintain this short-term outlook.