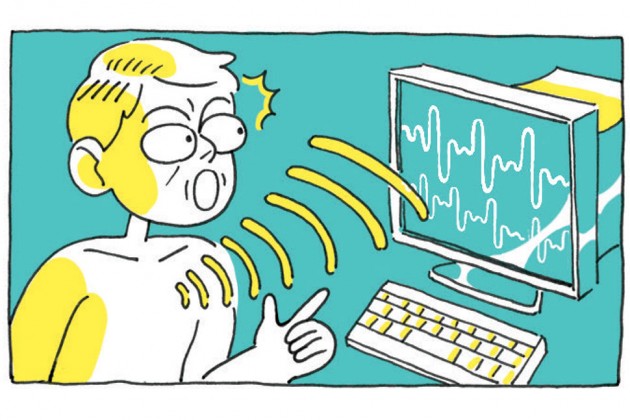 Illustration by Kris Mukai
A heart monitor the size of a paper clip may help keep Fred Schakel alive. Last November, when he thought he was in the best shape of his life, the 46-year-old Indiana dairy farmer had a stroke. Doctors couldn't identify a reason, so they inserted the monitor, the Reveal LINQ, under the skin of his chest to track his heart's electrical activity.
The $5,000 device, made by Minneapolis-based Medtronic (MDT), is part of a push by the medical technology industry to develop smaller and easier-to-use heart devices that can be inserted without surgery and operate without the troublesome and inconvenient wires found in older heart monitors. The monitor has the potential to create a new market for microdevices. It was conceived in 2006, at a time when the device industry, including Medtronic, was battered by recalls and lawsuits over safety issues. "From the patient's standpoint, it's a tremendous win," says Dr. John Day, the medical director for Intermountain Healthcare's heart rhythm services in Murray, Utah.
The Reveal LINQ, which has been on the market in the U.S. since February, is one of Medtronic's fastest-growing products, according to Chief Executive Officer Omar Ishrak, who declines to provide sales figures. The monitor, which has a three-year battery life, is one-third the size of an AAA battery. Its sensors and circuitry record every beat of the heart. The information is stored on a memory chip and transmitted wirelessly to a patient's doctor in the middle of the night for review later. The data are also analyzed by a computer programmed to look for erratic heart rhythms. Doctors can customize alerts, so if a patient's heart rate gets to a certain level—too high or too low—the doctor gets an e-mail, page, or phone call.

Medtronic Chief Financial Officer Gary Ellis says the market for tiny, insertable devices will grow to a half-billion dollars in the next few years. The company started to focus on miniature devices in 2006. Scientists wanted to find ways to reduce the amount of power used by conventional implanted devices because of the complications caused by batteries. When they are drained, surgery is required to replace them.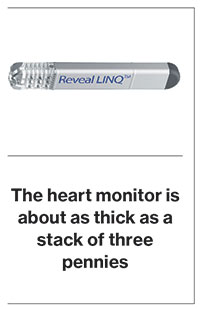 "Our engineers have gotten very good at being very stingy with power," says David Steinhaus, the vice president for Medtronic's heart rhythm unit. "We have been able to shrink down the size of the electronics and make the power consumption of those chips a lot less."
The LINQ's risks are few and far between, according to Medtronic. They include infections and potential failure with the battery, electronic circuits, or remote connections.
The device is designed to detect heart beat abnormalities that may be responsible for thousands of strokes, like Schakel's, and other conditions each year. "The real benefit of implantable monitors is to spot something that doesn't happen frequently, maybe once or twice a year," says Day of Intermountain Healthcare. That can be especially useful, he says, for patients who pass out for no clear reason.
To make the tiny products, Medtronic's engineers consulted with Swiss watchmakers. "We knew we could make a tiny device, but we didn't know if we could do it in a high-volume production facility," says Steinhaus. "We had to learn to do things small, with specialized machinery."
http://www.businessweek.com/articles/2014-09-25/medtronics-m...