As we all know, the Canadian dollar and the price of oil tend to correlate, yet this morning in the U.S trading session we saw the opposite. As The Canadian dollar weakened against the greenback, oil continued to maintain the bullish uptrend shown on the 5-minute timeframe.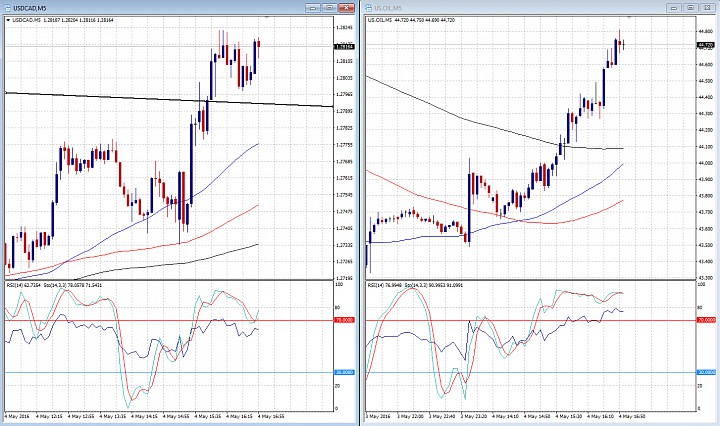 Now let's take a look at the larger picture to get a better sense of what levels to monitor.
Taking a look at USD/CAD, we're starting to break above a critical declining resistance level after taking out 1.2750 (previous resistance). To the upside, the next level we might look to target is the 1.2900 handle which nicely coincides with a confluence of resistance along with the 200 SMA (Black Moving Average).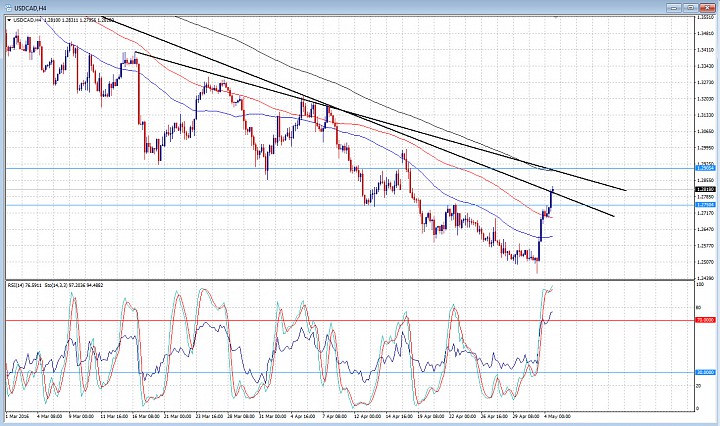 To the downside, if we're unable to stay above 1.28 on the daily, we might look for further downside risk for any traders buying into the previous breakouts.
Fundamentally however, we might see some further weakness in the CAD as we get closer to Friday's NFP and Canada's unemployment figures. Unemployment in Canada is expected to rise for the month of April from 7.1% to 7.2%.
Furthermore, we all know that commodity trading currencies such as the AUD, NZD, and the CAD tend to move in tandem. Early Tuesday morning the RBA (Reverse Bank of Australia) cut interest rates from 2.00% to 1.75% which dramatically weakened the Aussie across the board. Later this month, the BOC (Bank of Canada) is also expected to cut interest rates.