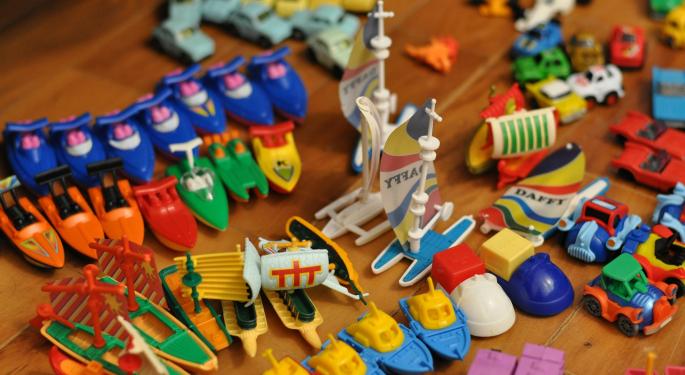 Dollar Tree, Inc. DLTR shares are surging strongly in pre-market trading Tuesday. The catalyst? The third-quarter earnings release. The company reported an earnings beat, helped by cost control, and raised its fourth-quarter bottom-line outlook, which bodes well for holiday sales.
Q3 EPS Beat; Revenues Light
The company reported third-quarter net income of $171.6 million or $0.72 per share. In comparison, the company earned $81.9 million or $0.35 per share last year. Adjusting for a $0.09 per share expense related to debt refinancing, the company's adjusted earnings were $0.81 per share, coming in at the top end of its $0.76–$0.82 guidance range.
Net sales rose 1.1 percent to $5 billion from the year-ago's $4.95 billion. The company clarified that the previous year's results included sales from 325 Family Dollar stores that were subsequently divested. The company completed its acquisition of peer Family Dollar in July 2015.
Analysts, on average, expected earnings of $0.78 per share on sales of $5.08 billion.
Comps rose 1.7 percent on a constant currency basis compared to a 2.1 percent increase last year.
Ahead of the results, Barclays had said synergies related to its Family Dollar acquisition could help offset industry-related pressures.
Guidance: Mixed Bag
For the fourth quarter, the company expects sales of $5.59 billion to $5.69 billion, aided by low-single-digit increases in comps for the Dollar Tree and Family Dollar segments. The company raised its earnings per share forecast to $1.24–$1.33 from $1.21–$1.30.
The company guided full-year sales of $20.67 billion to $20.77 billion, down from $20.69 billion to $20.87 billion expected previously. The sales forecast is based on a low-single-digit increase in comps. Adjusting for the debt refinancing that occurred in the third quarter, the company trimmed the high-end of its earnings per share forecast by $0.06 per share, with the new range at $3.67–$3.76.
Among Peers:
In pre-market trading, shares of Dollar Tree were up 7.96 percent at $81.99, and Dollar General was up 3.17 percent at $76.74.
© 2016 Benzinga.com. Benzinga does not provide investment advice. All rights reserved.