According to the US Energy Information Administration, Vietnam is going to bank heavily on coal to generate an ever increasing amount of electricity in order to supply roaring domestic demand. The EIA sees demand keeping up its 10% - 12% growth rate; "rising from 169.8 terawatthours (TWh) in 2015 to 615.2 TWh by 2030".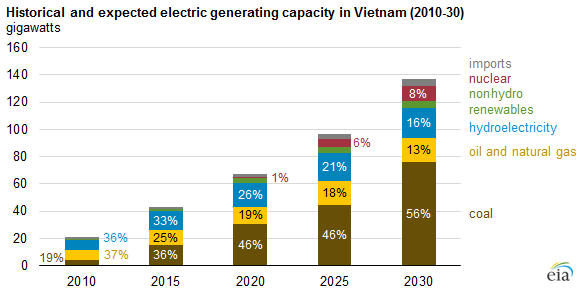 Vietnam is currently producing enough natural gas to meet demand. However, demand will soon outstrip supply, which is why Vietnam is also turning to imports. Two liquefied natural gas terminals are going to be brought online, one in 2017 and the other in 2018, to allow Vietnam to import LNG from places like Australia, Qatar, and the United States. 
On the nuclear front, construction on Vietnam's and Southeast Asia's first nuclear reactor [Nin Thuan 1] is expected to begin in 2020 after Japan's 2011 disaster delayed the project. Also, two wind farms [including the first offshore wind farm in Asia] will start up next year. It will be interesting see Vietnam's growth story pan out. To read more about energy, click here and thanks for reading!