Netflix (NFLX) has been consolidating throughout 2016. This consolidation follows a prevailing bearish swing at the end of 2015.

NFLX Daily Chart 8/29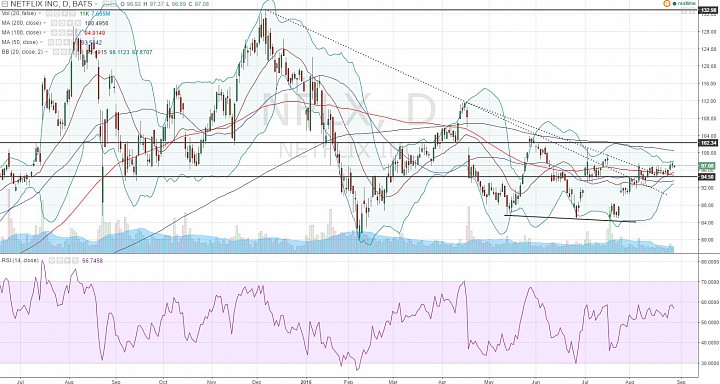 (click to enlarge)

Momentum is still bearish:
- If we look at the overall picture since 2015, NFLX is still bearish.
- Price is trading under the 200-day simple moving average (SMA).
- The rSI has tagged 30, and is still holding under 60. 

Some bullish signs:
- Although the overall picture is bearish, we can see that it has neutralized in 2016, and is perhaps developing some bullish bias.
- There are a couple of falling trendlines that are broken. 
- We are also seeing price trying to break the August consolidation range seen in the 1H chart below.

NFLX 1H Chart 8/29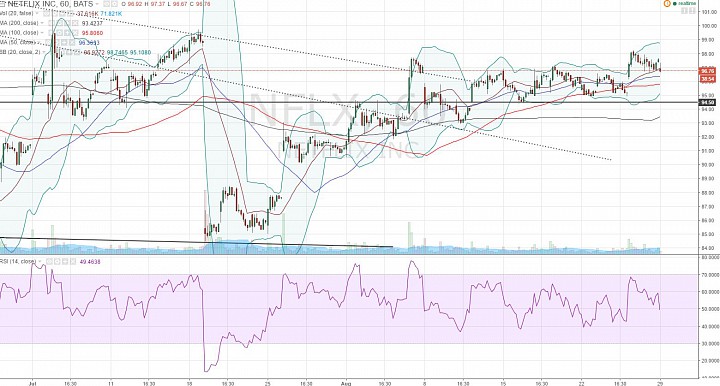 (click to enlarge)

Bullish breakout attempt:
- In the 1H chart, we can see that the latest bullish swing came from around 85.00 in July. 
- In the short-term, the bullish trend is still intact as the RSI holds above 40 and price holds above the cluster of 200-, 100-, and 50-hour simple moving average (SMA).
- In August, price stalled under 98.00 and consolidated.
- Last week, it looks like price is attempting to break out of this range, but there is still resistance around 98.