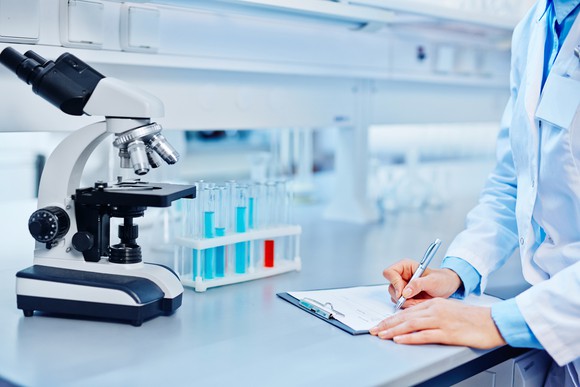 Image source: Getty Images.
Since last summer, the market has distributed indiscriminate beatings across the biotechnology industry, and companies without approved products to sell have been hardest hit. The iShares Biotechnology ETF (NASDAQ: IBB) , which tracks hundreds of biotech stocks, has rebounded from low points seen earlier this summer, but it's still 25% lower than where it stood a year ago.
Plenty of biotech stocks remain on sale, you just have to know where to look. Cellular metabolism specialist Agios Pharmaceuticals (NASDAQ: AGIO) has three candidates under development with its deep-pocketed partner, Celgene (NASDAQ: CELG) , and a wholly owned orphan drug nearing the finish line.
Shares of another Celgene partner, Juno Therapeutics (NASDAQ: JUNO) , dove after a temporary issue delayed a clinical trial earlier this month. The issue has been resolved, but the stock hasn't recovered. A third Celgene partner, bluebird bio (NASDAQ: BLUE) has recovered from low points visited earlier this summer but is still extremely cheap given its pipeline's potential.
It's important to remember these companies have no products to sell, and their stock prices hinge on clinical data. Misfortune could quickly result in heavy losses, but after adjusting for the risk of failure, all three still look like bargains.
1. Agios Pharmaceuticals: a smart partner
Agios entered a discovery deal about six years ago with blood cancer powerhouse Celgene that could help it fund development of its own rare metabolic disease candidates. Over the past couple of years, Celgene picked up various rights to three Agios compounds that target mutant forms of IDH2 and IDH1, two metabolic enzymes commonly found in brain, blood, and other cancer cell types.
Celgene has exclusive worldwide rights to develop and commercialize IDH2-targeting candidate AG-221. The agreement effectively absolves Agios of further risk with the candidate, but it also limits its share of potential sales to $120 million in milestone payments and undisclosed royalties. Celgene also picked up rights to develop and commercialize IDH1-targeting candidate AG-120 outside of the U.S., and it agreed to a down-the-middle cost and profit split for AG-881, which targets both type 1 and 2 IDH mutant enzymes.
These later deals leave Agios more exposed to development and commercial risks, but its slice of any potential profits are also much larger. Hints of success for one of these programs could be around the corner. Furthest along the development path is...
More