Twilio's (TWLO) shares have exploded today as the stock is up almost 10% by market close:
<!== INSTRUMENT %% %60% ==!>
Analysts believe this run-up is the consequence of a good earnings report last week:
the move in Twilio shares today is follow-through on a bullish post-earnings move higher.
"Twilio gained nearly 30% last week after the company reported second-quarter revenue of $64.5 million, a 70% from the year-earlier period. The company lost 7 cents a share during the quarter, but that beat analysts' estimates". (Source: Investorplace.com)
As a result, Twilio's calls have become more expensive, according to historical implied volatility data: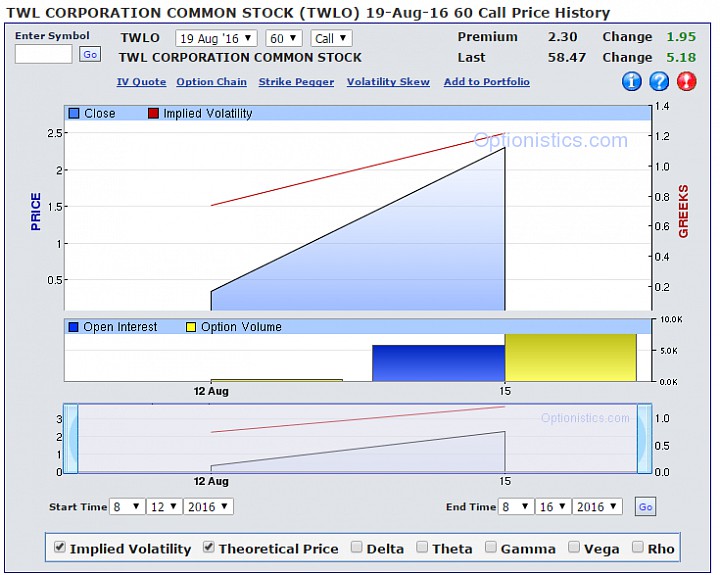 (Source: optionistics.com)
The spike in IV presents a good opportunity to short the options. The risk-return remains above-average, even if we factor in the cost of insuring upside exposure in a vertical spread trade: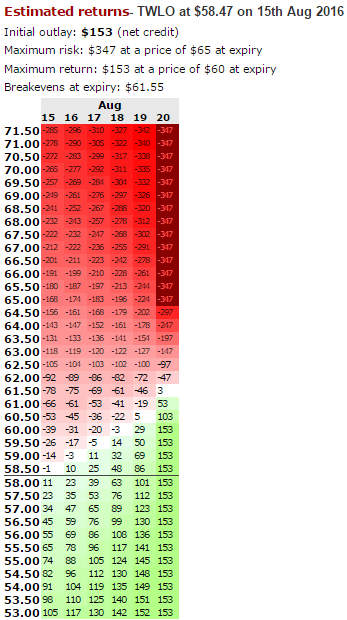 (Source: optionsprofitcalculator.com)
The break-even price for this trade is $61.55, which is over 5% higher than the current market price of the stock. My Black-Scholes-Merton calculator shows that the chance of the stock rising above the break-even level is only around 34%:

(Source: Yahoo Finance. Calculations by author)
The Delta of the call option with the strike price equal to the break-even price signifies the probability of the stock rising above the strike.
Therefore, the chance of success of this trade is around 66%. Coupled with the risk-reward ratio of 1:0.44, this trade presents an interesting opportunity to earn quick cash on the hype around the stock.