The market seems to be feeding me with no-brainer high-return trades lately: my SunEdison (SUNE) trade earned me over 60% in just one week, while the most recent idea, Linn Energy (LINE), is up 50% today. As I like to say, people almost always overreact to fear. My idea of today involves Horizon Pharma Plc (HZNP), whose stock got hammered today as the company lost over a quarter of its market value in just one day, following a disappointing earnings report:
<!== INSTRUMENT %% %60% ==!>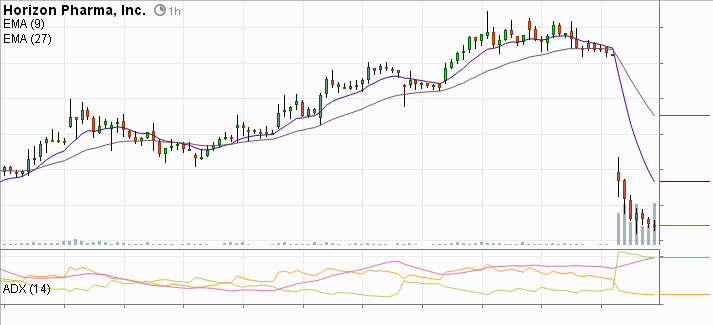 Personally, I did not find the report disappointing, at least from the financial standpoint: the company is shooting for the moon, based on all lines in the P&L. I have read some opinions stating that the crash is somehow connected to the 10-K`s section related to a subpoena received by the company`s management regarding its marketing activities. Whatever the contingent liability is, I do not think it exceeds $770M - the amount Horizon Pharma lost in its market capitalization due to the sell-off. If you are a bull like me (at least in the current special situation), here is an idea for you: sell long-term at-the-money options. My options of choice are the January 2017 contracts: 
(Source: TD Waterhouse)
Selling naked options is a bad idea, unless you actually want to risk losing many times over the premium you receive from the sale. This is especially true over a short-term period. Hence, I recommend hedging the downside risk with short-term out-of-money puts. I like the May options: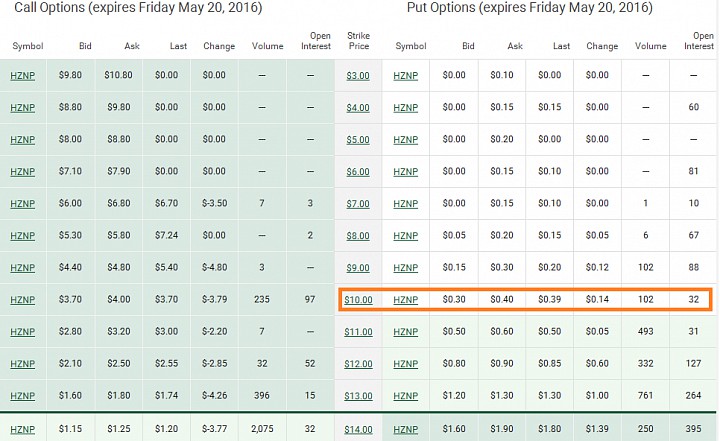 (Source: TD Waterhouse)
This particular trade - selling long-term ATM puts and buying short-term OTM puts for hedging purposes - results in a net credit balance of at least $2.40 per share (assuming you buy at the ask price and sell at the bid price). The maximum risk here is $1.00 per share (the three-dollar spread less the premium received on the sale and plus the premium paid on the short-term put) over a one-month period. Of course, if the stock falls below the $10 mark and remains there over a longer period, your margins from the trade will shrink because you would have to buy a new put option at a higher price. 
On the other hand, if the stock remains above the $13 mark (the long-term ATM options with remain at-the-money), investors will be able to roll the options' strike higher, locking profits, and/or buy farther OTM options, also saving on insurance. Keep in mind that your ATMs will become less valuable (which is a good thing) over time as time decay kicks in and/or implied volatility decreases. This means that you will be able to buy back the options at a lower price without the necessity to lock your capital over the next ten months.
Please let me know what you think about this trade.