MarketAxess Holdings Inc. MKTX third-quarter 2017 earnings per share of 90 cents missed the Zacks Consensus Estimate of 91 cents due to an increase in expenses which outdid revenue growth. The bottom line, however, improved 9.8% from the year-ago quarter, led by higher trading volumes.
Revenues and profits were noteworthy in spite of continued low volatility and a low-yield environment. The quarter witnessed growth in the company's international business, led by emerging markets trading.
MarketAxess Holdings, Inc. Price, Consensus and EPS Surprise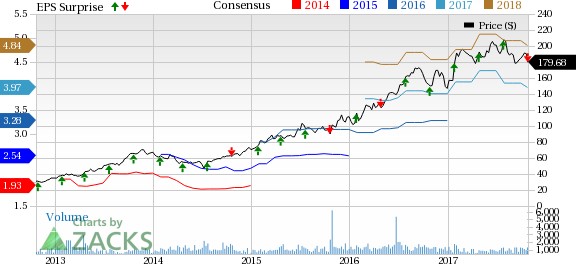 MarketAxess Holdings, Inc. Price, Consensus and EPS Surprise | MarketAxess Holdings, Inc. Quote
Operational Update
MarketAxess posted total revenues of $96.7 million, up 7.1% year over year. The improvement can be primarily attributed to an 80.5% surge in investment income. Commission revenues increased 5.9% while information and post-trade services increased 14.3% and other revenues increased 14.2% year over year.
Total trading volume increased 7.7% in the reported quarter to $346.8 billion year over year, driven by record trading volume in each of its four core products — U.S. high-grade, high-yield, Eurobonds, emerging market bonds and municipal bonds.
Total expenses at MarketAxess increased 12.7% year over year to $49.5 million. This rise was due to higher employee compensation and benefit costs, professional and consulting costs, technology and communication costs plus general administrative and occupancy costs.
Financial Update
Total assets were $562.3 million as of Sep 30, 2017, up 6.5% from year-end 2016.
Total cash and cash equivalents were $139 million, down17.4% from year-end 2016.
Total stockholder's equity was $510.9 million, up 9.2% from the end of last year.
Free cash flow totaled $39.1 million, down 24.2% year over year.
Share Repurchase Update
MarketAxess repurchased 0.06 million shares for $12.2 million. The board of directors approved a new share repurchase program worth $100 million, commencing in October 2017.
Zacks Rank
MarketAxess currently carries a Zacks Rank #4 (Sell).
You can see https://www.zacks.com/stocks/buy-list/?ADID=zp_1link&ICI... _1link">the complete list of today's Zacks #1 Rank (Strong Buy) stocks here.
Performance of Other Companies in the Finance Sector
Among the other firms in the same space that have reported their third-quarter earnings so far, American Express Company AXP, Nasdaq NDAQ and Discover Financial Services DFS beat their respective Zacks Consensus Estimate.
Looking for Stocks with Skyrocketing Upside?
Zacks has just released a Special Report on the booming investment opportunities of legal marijuana.
Ignited by new referendums and legislation, this industry is expected to blast from an already robust $6.7 billion to $20.2 billion in 2021. Early investors stand to make a killing, but you have to be ready to act and know just where to look.
See the pot trades we're targeting>>
Want the latest recommendations from Zacks Investment Research? Today, you can download 7 Best Stocks for the Next 30 Days.
Click to get this free report
Discover Financial Services (DFS): Free Stock Analysis Report
American Express Company (AXP): Free Stock Analysis Report
Nasdaq, Inc. (NDAQ): Free Stock Analysis Report
MarketAxess Holdings, Inc. (MKTX): Free Stock Analysis Report
To read this article on Zacks.com click here.
Zacks Investment Research