Goldman Sachs Group Inc. raised its forecasts for bullion prices as it scaled back expectations of U.S. Federal Reserve rate hikes over the next year, while remaining bearish on the metal's prospects.
The bank increased its three, six and 12-month forecasts to $1,200, $1,180, and $1,150 an ounce from $1,100, $1,050 and $1,000 respectively, analysts including Jeffrey Currie and Max Layton wrote in a report dated May 10. Gold currently trades around $1,270.
"While the upside risks to gold pricing appear relatively limited from here, we see a number of catalysts for gold prices to moderate, including a more hawkish Fed and ultimately U.S. policy rate divergence, corresponding with gradual dollar appreciation over the next 3-12 months," the analysts said.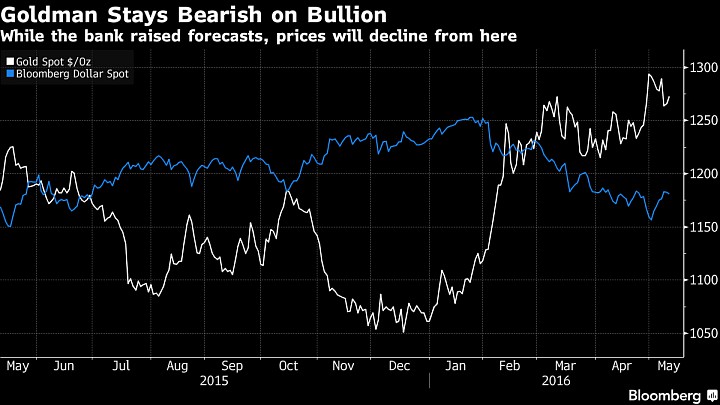 Gold had its best quarter in 30 years through March, and that's probably just the beginning of a rebound...
More