Foreign inflows set to 'surely' reverse: CrossBorder Capital
Lira tumbles most since 2008 on Friday after coup erupted
Things were looking up for Turkey when investors went home on Friday afternoon.
Markets were rallying around the world on speculation global monetary policy was going to remain loose, there was a lull in the country's fractious politics and President Recep Tayyip Erdogan's government was moving to normalize relations with Russia and Israel.
Now, after an attempted military coup that erupted at about 10 p.m. that evening in Ankara and Istanbul, sending the lira into its sharpest nosedive in about eight years, those investors are waking to a very different world, steeling themselves for tumultuous trading as local markets open on Monday. The currency rebounded 2 percent to 2.9563 per dollar at 1:29 a.m. in Istanbul, after closing last week at 3.0157 per dollar, about 2 percent away from a record low in September.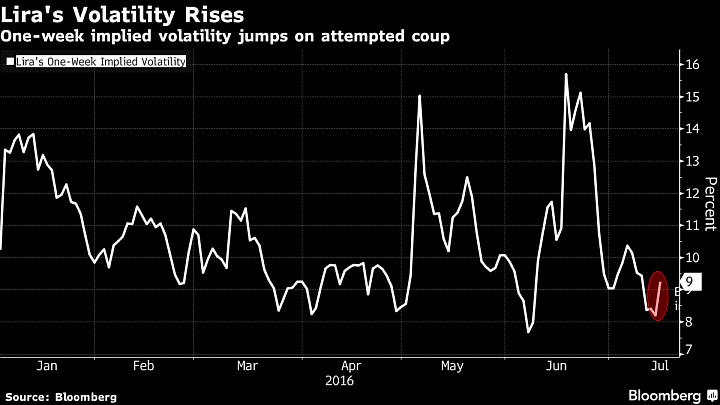 "Political risk was always in my mind, but even I went ice-cold when I saw the news" of the coup attempt, Burak Cetinceker, a fund manager at Strateji Portfoy in Istanbul, said in an interview Saturday. "I don't think I would rush into Turkish markets in the short term if I were a foreign investor."
The failed takeover, in which about 200 people died, was the culmination of a worsening political backdrop partly fueled by Erdogan's efforts to invest the presidency with increased powers while combating an upsurge in terrorist attacks blamed on Islamists and Kurdish separatists. The fighting that began Friday came less than three weeks after bombings at Ataturk Airport in Istanbul left more than 40 people dead, the latest in a series of deadly attacks in towns and cities across the country.
As confusion reigned Friday over whether the coup had succeeded, stocks around the world retreated and U.S. Treasuries advanced, while the lira tumbled 4.6 percent to 3.0157 per dollar, its biggest decline since 2008.
Though Turkey's currency is...
More