Ligand Pharmaceuticals Incorporated LGND announced that it has signed a commercial license and supply agreement with Amgen Inc. AMGN. Per the deal, Amgen was granted exclusive worldwide rights to use Ligand's Captisol technology for the development of its pipeline candidate AMG 330 for a wide variety of therapeutic indications.
Captisol is a well validated chemically modified cyclodextrin that is designed to improve safety and solubility, stability, and bioavailability or lessen the volatility, irritation, smell or taste of drugs. Amgen is developing its early stage candidate, AMG 330, as an anti-CD33 x anti-CD3 (BiTE) bispecific antibody for the treatment of acute myeloid leukemia.
Shares of Ligand have outperformed the Zacks classified Medical-Biomed/Genetics industry so far this year. The stock has rallied 14.9% compared with the broader industry's increase of 8.7%.

The company already had an agreement with Amgen for using Captisol for developing AMG 330 in preclinical and early clinical studies. Under the terms of the recent agreement, Amgen is liable to pay an undisclosed upfront payment along with potential milestone payments, royalties and revenues from future sales of AMG 330 formulated using Captisol.
Ligand's Captisol formulation technology platform has allowed it to enter into partnerships with several leading drug companies like Novartis AG NVS and Merck & Co., Inc. MRK that provide it with funds in the form of milestone and royalty payments. Ligand also derives revenues by selling Captisol material to its partners who have either licensed the company's Captisol-enabled drugs or have licensed Captisol for their internal programs.
Ligand Pharmaceuticals Incorporated Price and Consensus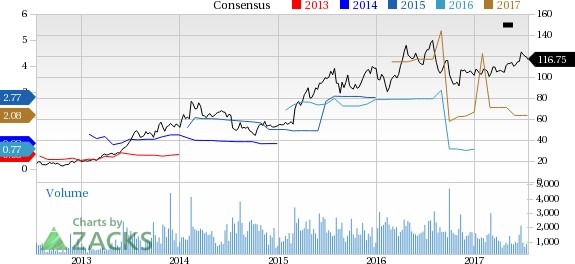 Ligand Pharmaceuticals Incorporated Price and Consensus | Ligand Pharmaceuticals Incorporated Quote
Zacks Rank
Ligand currently carries a Zacks Rank #3 (Hold). You can see the complete list of today's Zacks #1 Rank (Strong Buy) stocks here.
5 Trades Could Profit "Big-League" from Trump Policies
If the stocks above spark your interest, wait until you look into companies primed to make substantial gains from Washington's changing course.
Today Zacks reveals 5 tickers that could benefit from new trends like streamlined drug approvals, tariffs, lower taxes, higher interest rates, and spending surges in defense and infrastructure. See these buy recommendations now >>
Want the latest recommendations from Zacks Investment Research? Today, you can download 7 Best Stocks for the Next 30 Days.
Click to get this free report
Novartis AG (NVS): Free Stock Analysis Report
Merck & Company, Inc. (MRK): Free Stock Analysis Report
Amgen Inc. (AMGN): Free Stock Analysis Report
Ligand Pharmaceuticals Incorporated (LGND): Free Stock Analysis Report
To read this article on Zacks.com click here.
Zacks Investment Research