There's plenty of sluggish food companies ripe for being bought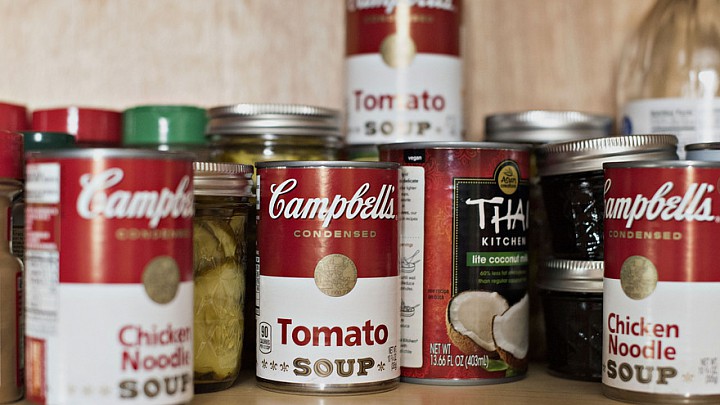 Bloomberg News/Landov
Campbell Soup could follow Kraft in being gobbled up by a rival, following a decline in sales and smaller profit margins.

After the merger agreement between Kraft Foods and Heinz was announced on Wednesday, Berkshire Hathaway CEO Warren Buffett, whose company will own a $9.5 billion stake in the combined company, called the deal "my kind of transaction, uniting two world-class organizations and delivering shareholder value."
But Buffett didn't tell the whole story. Kraft's management was under pressure because of lackluster sales and profits. Heinz shareholders, including Berkshire Hathaway Inc. BRK.B, -0.37% and Brazil's 3G Capital, will own 51% of the new company.
While we won't be privy to the strategic considerations of the board of directors of Kraft Foods Group Inc. KRFT, +1.47% or its negotiations with Berkshire and 3G, Kraft's financial results have been disappointing. That probably led its board to conclude that it was better for shareholders to sell now, enjoy the payout of $16.50 a share funded by Berkshire and 3G, and possibly benefit from lower expenses and a different set of management talent.
Kraft's fourth-quarter sales eked out a 2.2% gain to $4.7 billion, but its gross profit plummeted by 76% to $472 million. For all of 2014, sales were down slightly to $18.21 billion and gross profit dipped 17% to $13.36 billion. Annual net income fell 62% to $1.04 billion, in part because of $2.96 billion in asset impairments and expenses from cost cutting.
Kraft CEO John Cahill made some grim comments in the company's earnings release on Feb. 12, saying: "While there were some positive developments in the fourth quarter, we did not deliver to our potential in 2014, with the macro environment and our execution affecting our results." He said the company needed "a plan that accelerates the pace of change, improves execution and puts Kraft on a clear path to long-term, sustainable growth."
We thought it would be interesting to look at major publicly traded food and beverage companies to see which ones put up the most disappointing numbers over the past year, and might face pressure to consolidate with competitors.
There are 28 categorized by FactSet as major diversified food producers, meat/fish/dairy producers or specialty food/candy producers included in the S&P 1500 Composite Index.
http://www.marketwatch.com/story/the-kraft-heinz-merger-may-...