Potbelly Corporation PBPB has been recording substandard performance and disappointing investors, of late. In fact, shares of this Zacks Rank #4 (Sell) company have lost 9.3% in the past one year against the Zacks categorized Retail-Restaurants industry's gain of 9.9%.

Furthermore, the Zacks Consensus Estimate for current quarter's earnings has also seen one negative revision for the last two months versus none in the opposite direction. This, in turn, has led to a 7.1% decline in the consensus estimate trend.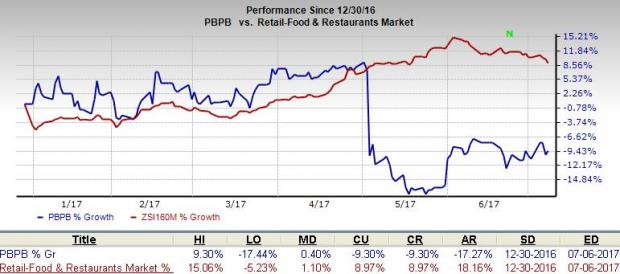 Here are some other factors that also suggest why it would be a wise decision to drop the stock from your portfolio now:

Lackluster Earnings Growth: While Potbelly has historical (3-5 years) earnings per share (EPS) growth rate of just 4.9% compared with the industry's average of 8%, investors should really focus on projected growth. Here, the company's EPS is actually estimated to decline a whopping 17.2% year over year. During the same time, the industry is expected to record an average EPS growth of 6.4%.

Earnings growth is often an indication of strong prospects (and stock price gains) ahead, for the company in question and is thus one of the most important factors to consider. Evidently, Potbelly falls very weak on this front according to current estimations.

Valuation Looks Unreasonable: Potbelly's Forward PE ratio (price relative to current year's earnings) is pegged at 31.14. This level is higher than its current trailing twelve month PE ratio of 24.9 as well as the industry average forward PE ratio of 21.12.

Further, Potbelly's Price to Free Cash Flow (P/FCF) comes in at 32.2, higher than the industry average of 24.8. It is to be noted that this ratio is generally applied to find out whether a company's stock is overpriced or underpriced with reference to its cash flows generation potential compared with its competitors. But it doesn't take amortization and depreciation into account, thereby depicting a more accurate picture of the financial health in a business.

Industry headwinds: Over the last few quarters, the U.S. restaurant space has not been too enticing. Despite economic growth, somewhat lower energy prices and higher income, consumers increased their spending only modestly on dining out, which resulted in low consumption. This is because, along with wage growth, inflation is also on the rise, which translates to lower real income and thus less disposable income. The situation has taken a worse turn, thanks to higher health care costs and tightened credit availability in the country.

Moreover, as consumers demand high-quality products at lower prices, it is pushing grocery stores to decrease their food prices in order to remain competitive. This, in turn, is resulting in a bigger gap between food-at-home and food-away-from-home indices.

Consequently, same-store sales growth has been dull in a difficult sales environment. Traffic too has been weak. In fact, the first quarter of 2017 marked the fifth consecutive quarter of negative comp sales for the restaurant industry as a whole, thus continuing the somber mood. Potbelly is no exception to the trend and resultantly, the company's sales have come under pressure.

Margins under pressure: Of late, the company's profits have been under pressure owing to a rising wage rates scenario. Moreover, pre-opening costs of outlets given the company's unit expansion plans, and expenses related to initiatives are adding to the costs and are likely to hurt profits.

We note that Potbelly has recorded trailing twelve month net margin of just 1.9% compared with the industry average of 15%. Given the rising expenses scenario, the trend is not expected to reverse for the company any time soon.

Meanwhile, Potbelly expects the shut down of its Midway International Airport outlet to pose a large loss to its business as it was the highest volume location.

Stock to Consider

Investors interested in the restaurants space can consider some better-ranked stocks instead.

Dave & Buster's Entertainment, Inc. PLAY surpassed earnings estimates in all of the trailing four quarters with an average positive surprise of 30.50%. It currently carries a Zacks Rank #1 (Strong Buy) presently. You can see the complete list of today's Zacks #1 Rank stocks here.

Red Robin Gourmet Burgers, Inc. RRGB is another Zacks Rank #1 company, which has seen current year earnings estimate move up 4.4% in the last two months.

McDonald's Corporation MCD is a Zacks Rank #2 (Buy) company. Its earnings have beaten estimates in all of the trailing four quarters, delivering an average positive surprise of 7.01%.

Will You Make a Fortune on the Shift to Electric Cars?

Here's another stock idea to consider. Much like petroleum 150 years ago, lithium power may soon shake the world, creating millionaires and reshaping geo-politics. Soon electric vehicles (EVs) may be cheaper than gas guzzlers. Some are already reaching 265 miles on a single charge.

With battery prices plummeting and charging stations set to multiply, one company stands out as the #1 stock to buy according to Zacks research.

It's not the one you think.

See This Ticker Free >>
Want the latest recommendations from Zacks Investment Research? Today, you can download 7 Best Stocks for the Next 30 Days.
Click to get this free report
McDonald's Corporation (MCD): Free Stock Analysis Report
Red Robin Gourmet Burgers, Inc. (RRGB): Free Stock Analysis Report
Dave & Buster's Entertainment, Inc. (PLAY): Free Stock Analysis Report
Potbelly Corporation (PBPB): Free Stock Analysis Report
To read this article on Zacks.com click here.
Zacks Investment Research