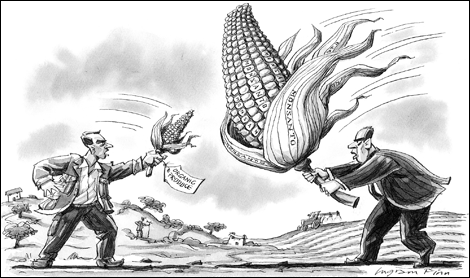 This is a followup posting to one I made just a few evenings ago regarding Monsanto (MON). I started reaching out to websites for information about my belief that a competing corporation was behind the operation of several of the Anti-GMO sites spreading a vast amount of misinformation about the Monsanto company, it's GMO products, and Round-Up Glyphosate. 
The Facebook (FB) page "We Love GMOs and Vaccines" not only shared my original post on their wall, they offered to put me in contact with some people that they already knew were working on this very same puzzle. The response I received from the readers of the page however, surprisingly, was overwhelmingly hostile, but not for the reason you might think. They wanted proof before I posted this idea. Ok, so apparently I should have worded the last article as a hypothesis rather than making an outright accusation. 
Here is what happened. The people I started working with were experts on the science of the matter, but not very knowledgeable about the stock market. However, they had in their possession documents establishing proof that what I suspected was indeed happening. They asked me about what they found, and I was able to give them the context of it, which was who would benefit from the attacks, and why they would ever be motivated to do this in the first place.
So, here is where I am with this. We have documented evidence of a conspiracy committed by at least two corporations deliberately and maliciously against Monsanto. What we are doing right now is looking into getting the specific names of individuals who lead this fraud, and possibly more information about other groups who are involved. Not all of the parties are publicly traded. Their motivation is already well understood between us, and I expect that we will bring all of this to the public's attention shortly.
The others working to solve this puzzle had already been researching and collecting evidence for more than a year, and thanks to our combined efforts, we have nearly solved the entire issue inside of the span of just one day. From here I will help to make the final organization of data, and we will report our findings. This is going to be very big. Both of the companies we know are involved will be materially harmed, and one of them could see its entire market cap cut in half overnight.
Stay tuned, I will be fully reporting on what we found very soon.