Disney's shares will reach $110 by 05.09.2015

9 april 2015
Walt Disney (DIS) is one of the largest financial conglomerates in the entertainment world, which includes studios (such as Marvel, Lucasfilm, Touchstone Pictures, DreamWorks, Pixar, etc.), TV channels (ABC, The Disney Channel, etc.), cable TV, theaters, parks, resorts, and shops.
We are still upbeat about the company's share performance. High growth rates are among the key growth drivers. According to Q1-15 results, quarterly revenue increased by 8.8% y-o-y to USD 13.39 bn, outpacing expectations by 4.1%. Broadcasting (+11% y-o-y), parks and resorts (+ 9% y-o-y) and consumer products (+ 22% y-o-y) became revenue growth drivers. Operating profit climbed 17.4% y-o-y to USD 3.55 bn, while an increase of 2.0 pps y-o-y in operating margin also adds positivity and points to higher efficiency. Adjusted EPS amounted to USD 1.27 (+23.3% y-o-y), outstripping the consensus by 18.9%. The company generates a significant cash flow, allowing it to pay generous dividends and buy back its own shares. Operating cash flow amounted to USD 1.86 bn in the reporting quarter (+53.1% y-o-y). The company raised annual dividend to USD 1.15 (+34% y-o-y), implying a 1.2% dividend yield. Disney spent USD 1.3 bn on its buyback program in Q1 2015.
We believe that the company will continue to improve its financial performance due to the release of new films. Cinderella animated film was released in March. Tomorrowland starring George Clooney and Brad Pitt, as well as a sequel to The Avengers: Age of Altron will be released in spring. Ant-men and Inside Out are expected this summer. The company also plans to start production of Frozen 2, Star Wars: Episode 8 and Rogue One, a film based on the Star Wars. Premier of the later is scheduled for December 2016.
In our opinion, the company's improving financial performance coupled with higher dividend and buyback programs will boost Disney shares in the mid-term. We left our mid-term fundamental valuation of the company unchanged at USD 117 and confirm our Buy recommendation. The short-term technical target is USD 110. 
<!== INSTRUMENT %% %1440% ==!>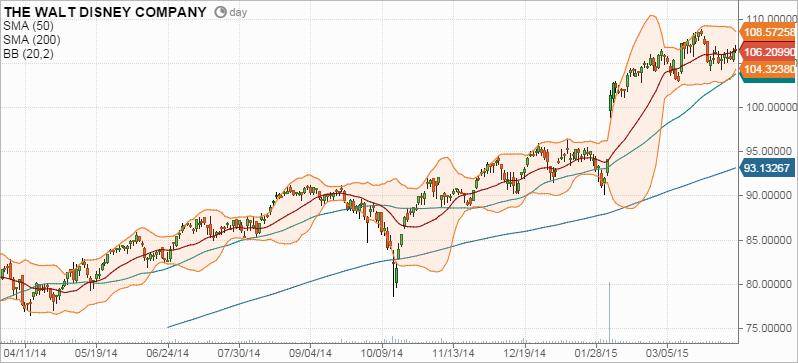 Voting is over
Waiting for


the right answer