Huntsman Corporation HUN and Venator Materials PLC have priced private offering of senior notes worth $375 million. The aggregate principal amount of offering has been increased from $350 million and the notes will carry an interest rate of 5.75%, which will mature on Jul 15, 2025.

The notes will be offered through their fully-owned subsidiaries Venator Materials Corporation and Venator Finance S.a r.l., to qualified institutional buyers under Rule 144A and will be exempted from registration requirements under the United States Securities Act of 1933.

The company expects the completion of the offering to take place on Jul 14, subject to customary closing conditions.

As communicated earlier, Huntsman plans to separate its Pigments & Additives business this summer through initial public offering (IPO) of Venator Materials PLC, subject to market conditions. The company intends to initially keep the proceeds from note issue into escrow pending the IPO. It will then use the funds to repay intercompany debt owed to Huntsman, dividends and other related fees and expenses.

Shares of Huntsman have rallied around 7.4% in the last three months, outperforming the Zacks categorized Chemicals-Diversified industry's 1.6% gain.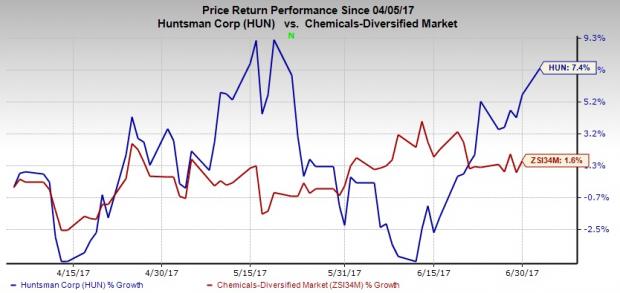 Huntsman witnessed positive business development during the first quarter of 2017. However, revenues of its Performance Products segment declined in the quarter due to lower sales volume as a result of the sale of the European surfactants business to Innospec Inc. IOSP, which more than offset higher average selling prices and increased volumes in other businesses.

The company's Advanced Materials segment also witnessed a decline in sales owing to lower volume, as the company withdrew from certain low-margin businesses in the construction and coatings market and faced higher competitive pressure in the wind market that more than offset growth in some of its high value businesses.
Huntsman Corporation Price and Consensus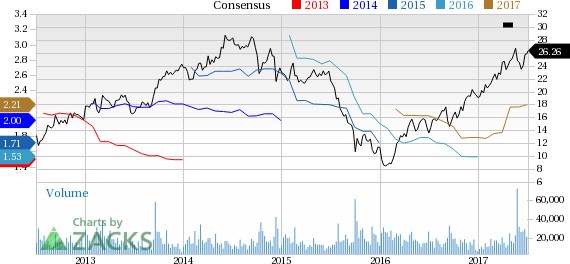 Huntsman Corporation Price and Consensus | Huntsman Corporation Quote
Huntsman currently carries a Zacks Rank #4 (Sell).

Stocks to Consider

Some better-ranked companies in the basic materials space areThe Sherwin-Williams Company SHW and Hitachi Chemical Company, Ltd. HCHMY. Both the stocks sport a Zacks Rank #1 (Strong Buy). You can see the complete list of today's Zacks Rank #1 stocks here.

Sherwin-Williams has an expected long-term earnings growth rate of 11.4%.

Hitachi Chemical has an expected long-term earnings growth rate of 5%.

Today's Stocks from Zacks' Hottest Strategies

It's hard to believe, even for us at Zacks. But while the market gained +18.8% from 2016 - Q1 2017, our top stock-picking screens have returned +157.0%, +128.0%, +97.8%, +94.7%, and +90.2% respectively.

And this outperformance has not just been a recent phenomenon. Over the years it has been remarkably consistent. From 2000 - Q1 2017, the composite yearly average gain for these strategies has beaten the market more than 11X over. Maybe even more remarkable is the fact that we're willing to share their latest stocks with you without cost or obligation. See Them Free>>

Want the latest recommendations from Zacks Investment Research? Today, you can download 7 Best Stocks for the Next 30 Days.
Click to get this free report
Huntsman Corporation (HUN): Free Stock Analysis Report
Innospec Inc. (IOSP): Free Stock Analysis Report
Sherwin-Williams Company (The) (SHW): Free Stock Analysis Report
HITACHI CHEMICL (HCHMY): Free Stock Analysis Report
To read this article on Zacks.com click here.
Zacks Investment Research