On Wednesday, Sweden's Riksbank will announce its decision on whether to cut the repo rate further into NIRP-dom and on whether to expand QE.
Who's excited? 
Ok, so it may not sound as compelling as "US sails guided missile destroyer around man-made Chinese military outposts," but tomorrow's decision by Sweden's central bank actually has serious implications for the global currency wars. 
As we explained on Monday (and on several prior occasions, here and here for instance) the Riksbank is in a tough spot. They've driven rates into negative territory and virtually exhausted the market's capacity to absorb central bank purchases of government bonds and yet they're still falling behind in the race to the bottom (i.e. incipient krona strength is still jeopardizing the inflation target).
An uber dovish Mario Draghi and the attendant threat of an ECB depo rate cut in December isn't helping matters. 
And so, the Riksbank's decision on Wednesday will be watched closely to see if Sweden will once again take a wait and see approach to the ECB or attempt to get out ahead by either cutting the repo rate or expanding the country's already broken QE. 
This is well worn territory and we're sure we'll be revisiting it tomorrow, so we won't delve further into it here other than to say that if the Riksbank does expand QE, they'd better revise the list of eligible paper lest the lack of market depth for government bonds should once again cause investors to reconsider the trade off between liquidity and the benefits of frontrunning central bank asset purchases on the way to sending yields in the wrong direction. 
So while we await Stefan Ingves' decision, we thought it worthwhile to draw your attention to a particularly amusing contradiction in policy recommendations. Consider first this from Bloomberg: 
Sweden has told its banks to stop pretending all government bonds are safe.

 

With Greece on the verge of bankruptcy numerous times over the past five years, the cat's out of the bag: it is possible to lose money on sovereign debt. That means banks should no longer be free to operate as though that weren't the case, according to Sweden's Financial Supervisory Authority.

 

Though European regulators have been trying to address this issue, Sweden didn't want to wait for a region-wide decision before acting, Uldis Cerps, executive director of banking at the FSA in Stockholm, said in an interview.

 

It makes little sense that while "sovereign risk is being priced in markets on a daily basis," banks "would be, by the regulatory framework, allowed not to take this into account in their capital planning," he said.

 

Sweden has told its four biggest banks that they can't adopt the standardized models, which would allow them to use risk weights as low as zero on sovereign debt. Instead, they must come up with internal ratings systems and assign realistic loss probabilities to the assets. The models also need to apply to municipal debt, Cerps said.
Got that? Sweden doesn't think banks should stick to an across-the-board policy of assigning a zero risk weighting to the sovereign debt they hold on their books because as it turns out, governments can and do default. 
No argument there.
The punchline however, comes from Swedbank whose chief credit strategist notes that while banks shouldn't always assign a 0% risk weighting to sovereign debt, when they do, they should make that debt Swedish. Again, via Bloomberg:
0% Risk Weight Likely for Swedish Govt Debt Post-FSA Rule: Bank

Risk weight models for sovereign debt that Swedish FSA has required of biggest banks probably will give Swedish government bonds and rated municipal debt a 0% risk weight, Linus Thand, chief credit strategist at Swedbank, says in note.

Says all rated municipalities currently rated AAA or AA+ with a strong implicit government backing so that even if risk weighted higher than zero, "they are still considered Level 1 from an LCR perspective and we maintain that they are attractive in such a portfolio"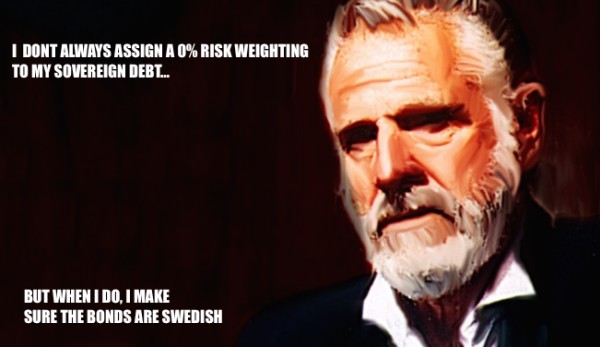 So, although Sweden admits that sovereign debt is in fact not risk-free, it's nonetheless likely to contend its own debt is without risk and not only that, the FSA will "probably" deem Swedish muni debt riskless too. 
That's extremely convenient for the Riksbank considering i) they're targeting SEK135 billion in government bond purchases, and ii) they've considered expanding the list of eligible assets to muni bonds.
In other words, Sweden thinks sovereign debt can be risky - only not Swedish sovereign debt - because that would be bad - especially if you're the Swedish central bank - and you're buying close to the top...