The GBP/USD daily chart is an interesting one as we have certainly established a well defined range between 1.59 and 16250.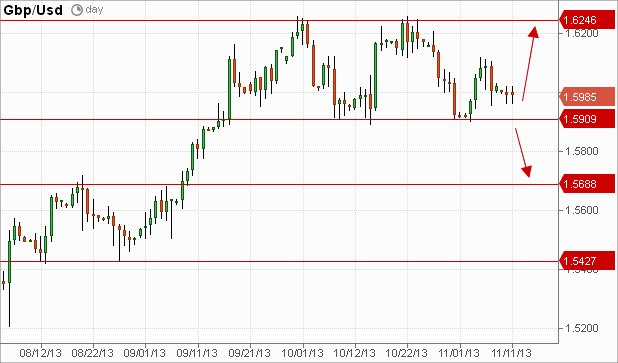 We currently hover near the bottom of that range, and the question is what happens next?
One scenario is that cable remains within the range, using the support level as a starting point for a rally towards the resistance. This would require strong data from the UK (there's plenty on the fundamental docket with inflation, employment, retail sales and the BOE inflation report this week.)
If the UK data is disappointing then a break of the 1.59 level would be an immensely important technical signal, as we would have a double top pattern, and the potential for a measured move amounting to 250 pips (the range from top to bottom), though there is an important pivot around the 1.57 handle that could provide support beforehand. 
Therefore, the GBP/USD is likely to be the pair to watch as this week progresses.