EUR/GBP has been a choppy pair, but when we look at the daily chart, we can see evidence of a price top forming.
EUR/GBP Daily Chart 5/17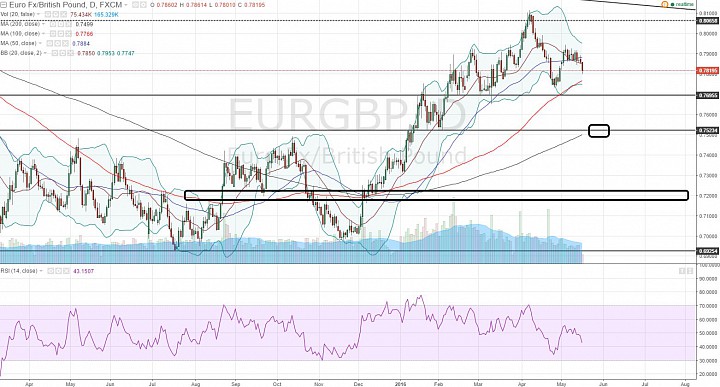 (click to enlarge)
First we should note that EUR/GBP has been bullish since November/December 2015 and came up from a price bottom that was brewing throughout the year. The 0.8065-0.81 area was a common resistance area during the end of 2014, and is now giving EUR/GBP resistance. 
The sharp retreat from 0.81 to 0.7740 was the first sign of topping. However, the fact the the low did not extend below 0.77 showed that bears were still light-footed. Now, the rebound came up to a previous high around 0.7925 before falling again. This represents strength of the bears in this market, or weakness of the bulls. 
It looks like a head and shoulder pattern could be forming, with a skewed neckline. The RSI has cracked below 40 and was unable to climb back above 60. Price also tagged the lower bollinger band and was unable to rebound to the upper band, which adds to the evidence that bears are taking over this market at least for the short-term and possibility into the medium-term. 
This bearish outlook puts at least the 0.75 area in sight, with 0.72 as an aggressive target .