Another Milestone
Followers of EquityClock on StockTwits exceeded 20,000 over the weekend. Previous milestone at 19,000 followers was reached on March 23rd
Mr. Vialoux on BNN's Market Call Today
Mr. Vialoux is appearing on today's show at 1:00 PM
StockTwits released yesterday
S&P 500 Index pulls back from weekly resistance as investors wait for earnings season to begin.
Technical action by S&P 500 stocks to 10:15 AM: Bullish. Breakouts: $MDLZ, $MRO, $KSU, $LUV. No breakdowns.
Editor's Note: After 10:15 AM, another five S&P 500 stocks broke resistance: TEL, AVP, OXY, SWN and CNX. One stock broke support: NKE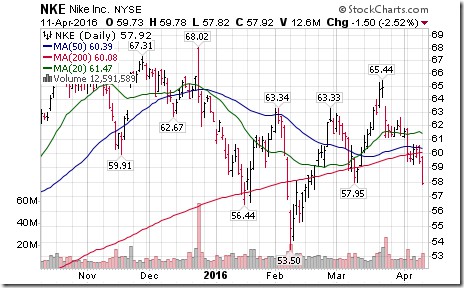 U.S. energy stocks are leading on the upside. Nice break outs by $XOP $MRO
Editor's Note: Add Occidental Petroleum and Southwest Energy to the list in later trading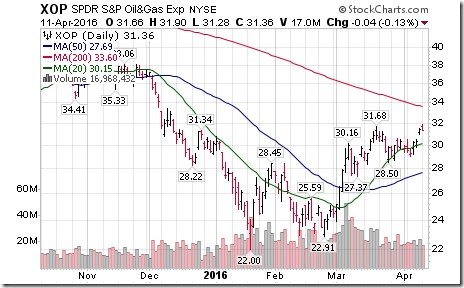 Silver stocks and related ETFs are leading precious metal equities on the upside. Nice breakout by $SIL!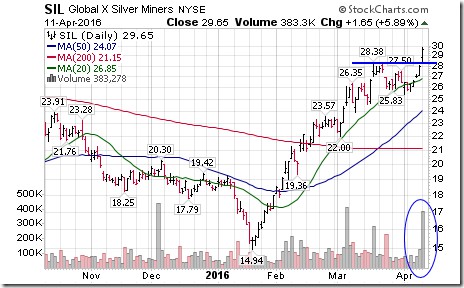 Editor's Note: The breakout by First Majestic Silver added to strength in the Silver equity ETF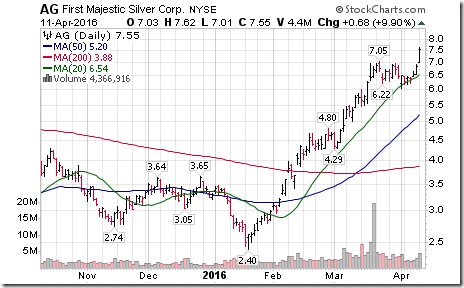 Nice breakout by Cdn. Pacific above $180 to complete a reverse head & shoulders pattern!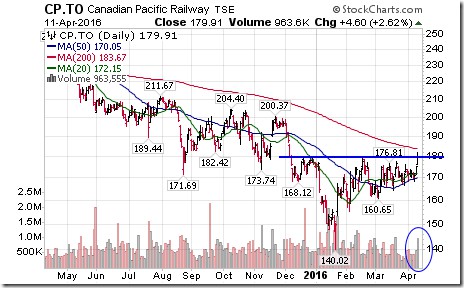 Cdn. gold stocks lead the TSX with breakouts in U.S. and Canadian Dollars by $ABX, $AEM, $GG, $EGO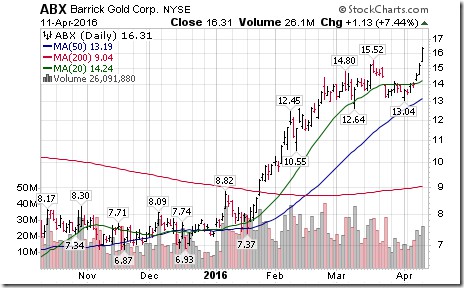 Higher crude oil prices have prompted a breakout by the Russian ETF $RSX above resistance at $16.91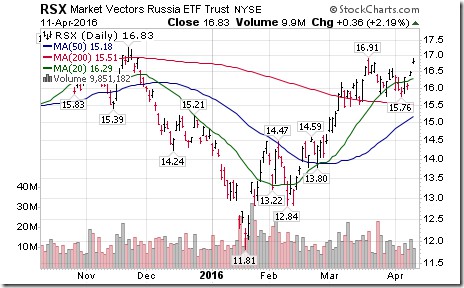 A major reason for strength in Brazil iShares $EWZ is a breakout by VALE $VALE above resistance at $4.89.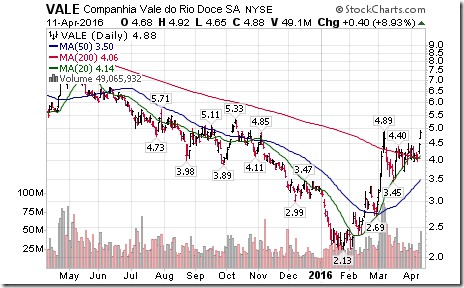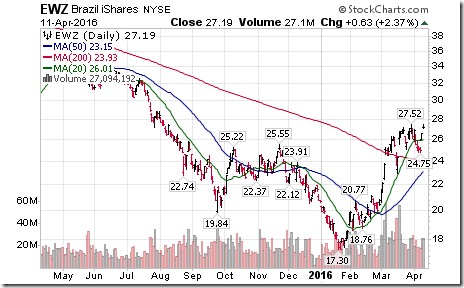 Trader's Corner
Daily Seasonal/Technical Equity Trends for April 11th 2016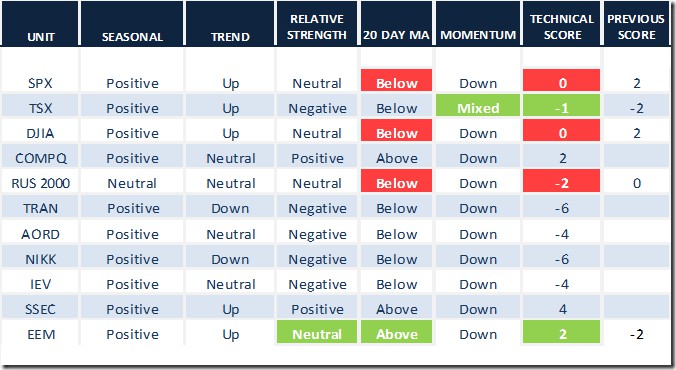 Green: Increase from previous day
Red: Decrease from previous day
Daily Seasonal/Technical Commodities Trends for April 11th 2016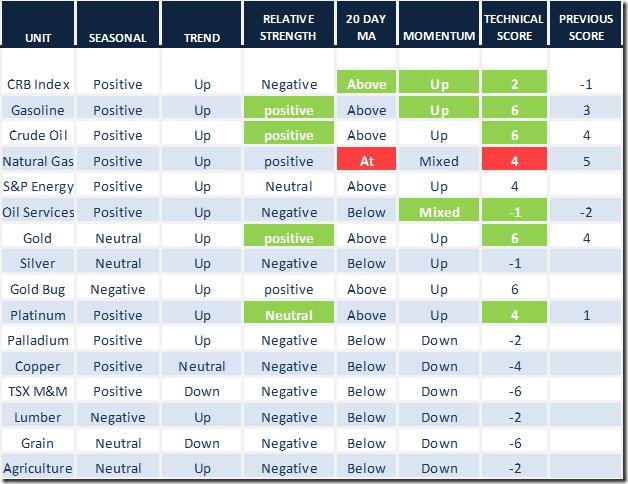 Green: Increase from previous day
Red: Decrease from previous day
Daily Seasonal/Technical Sector Trends for March April 11th 2016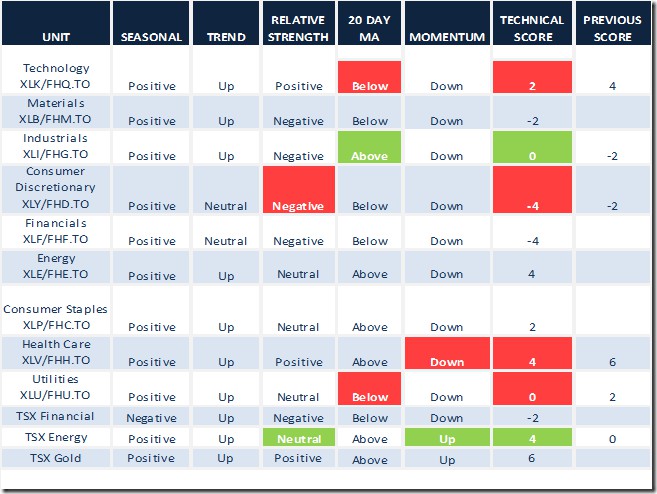 Green: Increase from previous day
Red: Decrease from previous day
Special Free Services available through www.equityclock.com
Equityclock.com is offering free access to a data base showing seasonal studies on individual stocks and sectors. The data base holds seasonality studies on over 1000 big and moderate cap securities and indices. To login, simply go to http://www.equityclock.com/charts/ Following is an example: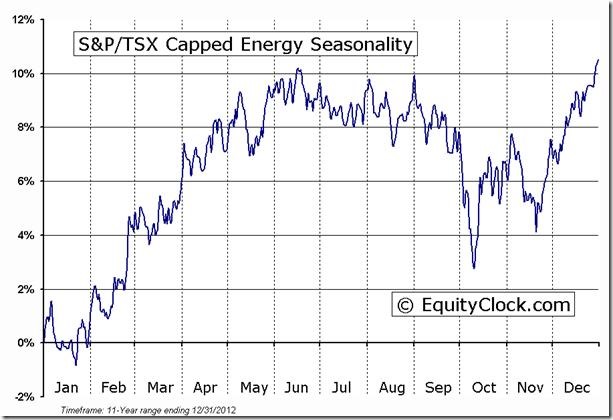 Disclaimer: Seasonality and technical ratings offered in this report by www.timingthemarket.ca and www.equityclock.com are for information only. They should not be considered as advice to purchase or to sell mentioned securities. Data offered in this report is believed to be accurate, but is not guaranteed