Social media giant, Facebook Inc FB is set to report its third-quarter 2017 earnings on Nov 1. As always, investors will be focused on the company's digital ad revenues, which is the prime contributor to advertising revenues.
Facebook has witnessed significant traction in online and mobile advertising spending in a short span of time. Mobile ad revenues have consistently increased as a part of total revenue over the last several quarters. Roughly 87% of total ad revenues in second-quarter 2017 were from mobiles, compared with 85% in first-quarter 2017 and 84% in fourth-quarter 2016.
The increase in mobile advertisement stems from the fact that mobile ads have far more ad recall value than other mediums. Since marketers are shifting their focus to mobile, Facebook is enthusiastically monetizing this shift. Facebook uses target advertising to ensure ads reach the most receptive audience.
Facebook, Inc. Price and EPS Surprise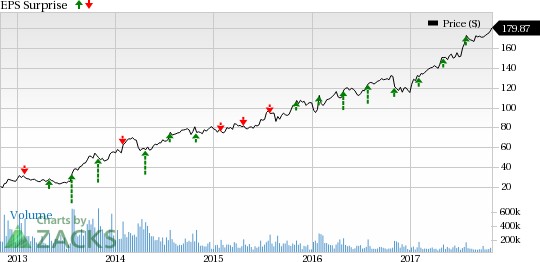 Facebook, Inc. Price and EPS Surprise | Facebook, Inc. Quote
eMarketer's senior director of forecasting, Monica Peart, was quoted saying, "advertisers are increasingly demanding more granularity in targeting capabilities to reach consumers, and Google and Facebook have positioned themselves at the front of this demand curve by being the ad publishers with some of the best-in-class targeting abilities in the digital ad market." Facebook and Alphabet GOOGL dominate the domestic digital ad market.
Moreover, Facebook's huge user base of over 2 billion combined with Instagram's strong user base of 800 million makes it highly attractive to advertisers.
Ad products like Dynamic Ads and Instagram Stories are expected to drive digital ad revenues in the soon-to-be reported quarter. In the past few months, Facebook has also launched a couple of new products to make its ads more effective and relevant. These include Value Optimization and Lookalike Audience.
To further consolidate its position, the company is now focusing on live video and a series of live streaming deals are a step in that direction. Facebook has adopted the "mobile-first video ad strategies" for advertisers.
Facebook, Inc. Revenue (TTM)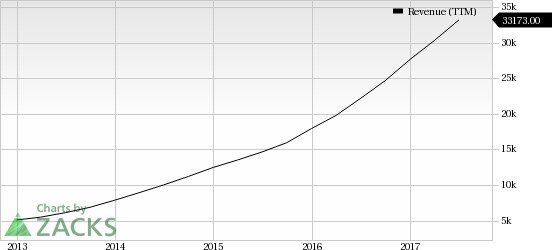 Facebook, Inc. Revenue (TTM) | Facebook, Inc. Quote
In the third quarter, Facebook launched a new tab called "Watch" that will be exclusively dedicated to video viewing. Watch isn't going to contribute to ad revenues this time around, but Facebook is testing ad breaks in this service. This should emerge as a long term growth driver. Facebook will reportedly be sharing revenues with creators in the 55:45 ratio, similar to Alphabet's YouTube.
Though Facebook maintains that ad revenues will increase, it will face tougher year-over-year comparisons. Ad load that has been a driving factor behind ad revenues so far will cease to be so in the coming quarters. Consequently, ad revenue rates will "come down meaningfully" after mid 2017. Also, competition from the likes of Snapchat SNAP, Twitter TWTR and Alphabet for ad dollars is concerning.
At present, Facebook sports a Zacks Rank #1 (Strong Buy). You can see the complete list of today's Zacks #1 Rank stocks here.
Stay Tuned For More!!!!!!!!!!!!!
Wall Street's Next Amazon
Zacks EVP Kevin Matras believes this familiar stock has only just begun its climb to become one of the greatest investments of all time. It's a once-in-a-generation opportunity to invest in pure genius.
Want the latest recommendations from Zacks Investment Research? Today, you can download 7 Best Stocks for the Next 30 Days.
Click to get this free report
Facebook, Inc. (FB): Free Stock Analysis Report
Alphabet Inc. (GOOGL): Free Stock Analysis Report
Twitter, Inc. (TWTR): Free Stock Analysis Report
Snap Inc. (SNAP): Free Stock Analysis Report
To read this article on Zacks.com click here.
Zacks Investment Research