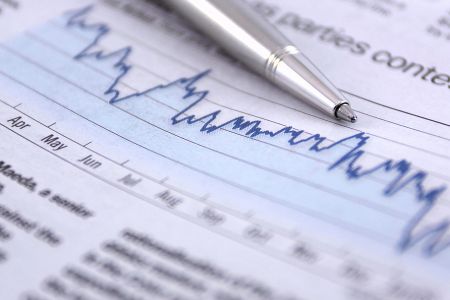 MSCI World ex-US Index rolling over at the neckline of the now fulfilled head-and-shoulders topping pattern that dominated summer trading activity.
**NEW** As part of the ongoing process to offer new and up-to-date information regarding seasonal and technical investing, we are adding a section to the daily reports that details the stocks that are entering their period of seasonal strength, based on average historical start dates.   Stocks highlighted are for information purposes only and should not be considered as advice to purchase or to sell mentioned securities.   As always, the use of technical and fundamental analysis is encouraged in order to fine tune entry and exit points to average seasonal trends.
Stocks Entering Period of Seasonal Strength Today: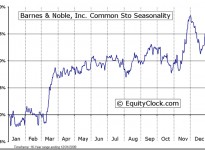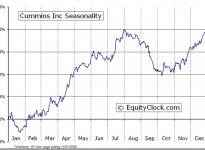 The Markets
Stocks retraced recent gains on Monday as investors reacted to a disappointing Trade Balance report for China.  Exports for the world's second largest economy fell by 6.9%, while imports plunged by 18.8% in October.  Benchmarks in the US shed around 1%, turning lower from resistance presented by the summer highs.  First level of support for the S&P 500 index is presented around the 20 and 200-day moving averages, which are presently intersecting with one another around 2063.  Intervals of 20 points define the levels of support below around 2040, 2020, and finally 2000; below 2000, another re-examination would be required to determine if any technical damage exists.  As of present, the 20, 50, and even the 200-day moving averages are all pointing higher, suggesting positive trends across short, intermediate, and long-term timeframes.  Momentum indicators are rolling over, triggering some sell signals, but, for now, it must be assumed that the retracement is just a healthy pullback in the progression towards higher-highs and higher-lows.  As noted in a previous report, mid-November is typically the weakest period of the month.  The positive trend typically picks up around the Thanksgiving holiday in the US, which is closer to the end of the month.  Seasonal investors should keep an eye out to assure that the natural digestion of recent gains doesn't turn into indigestion should the summer turmoil return.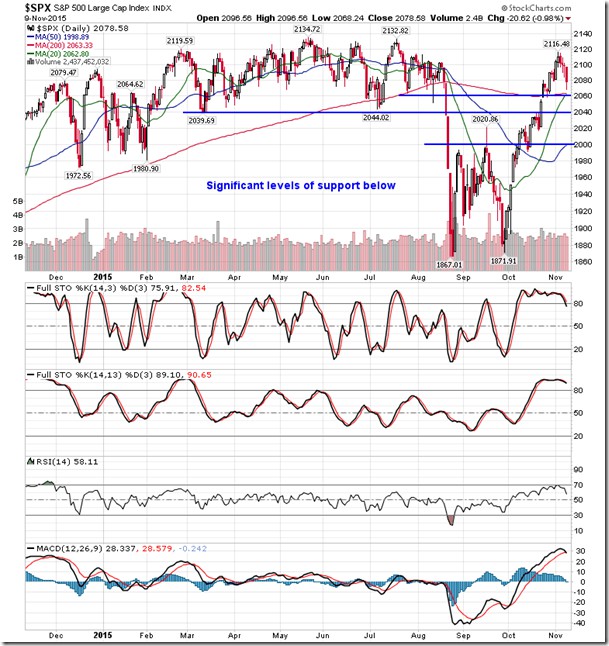 While equity benchmarks in the US have overcome some fairly significant hurdles, such as resistance at the 200-day moving average, global benchmarks that exclude the US strength continue to show signs of struggle.  Following a similar head-and-shoulders breakdown that was evident on the charts of American benchmarks, the MSCI World ex-USA Index has thus far failed to move back above the neckline of this previously bearish setup.  Resistance at this previous level of support is becoming apparent.  The 200-day moving average of the global benchmark continues to inch lower as price has held below this long-term level for 63 sessions.  While weakness in global markets doesn't necessarily prevent new highs in benchmarks in the US, it can suck momentum from any positive trend, possibly leading to volatile trading activity.  Generally, indices around the globe follow a similar seasonal trend, strengthening from November through April.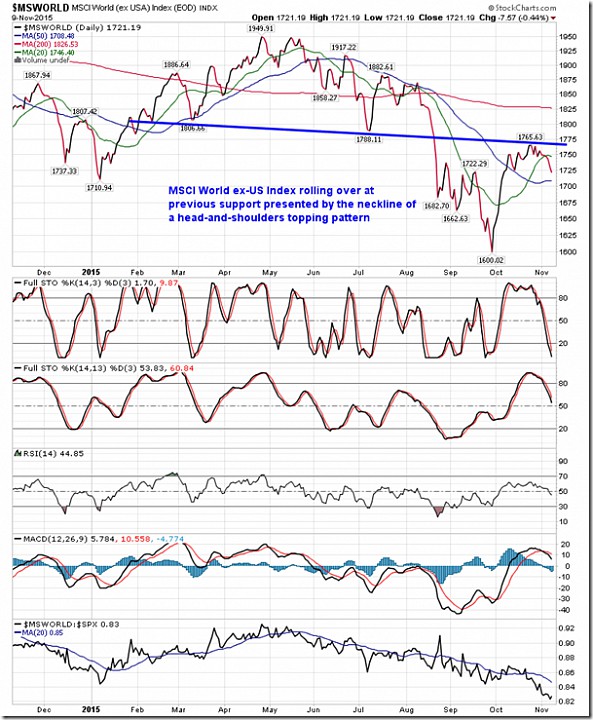 Sentiment on Monday, as gauged by the put-call ratio, ended bearish at 1.10.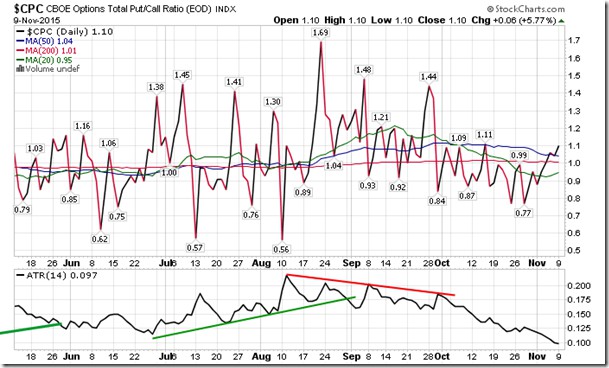 Seasonal charts of companies reporting earnings today:
S&P 500 Index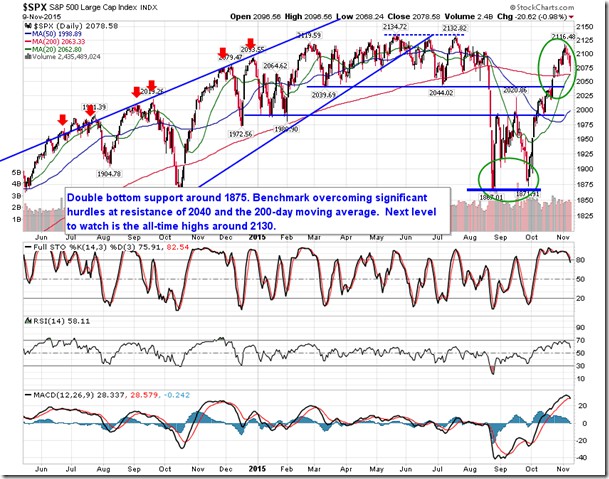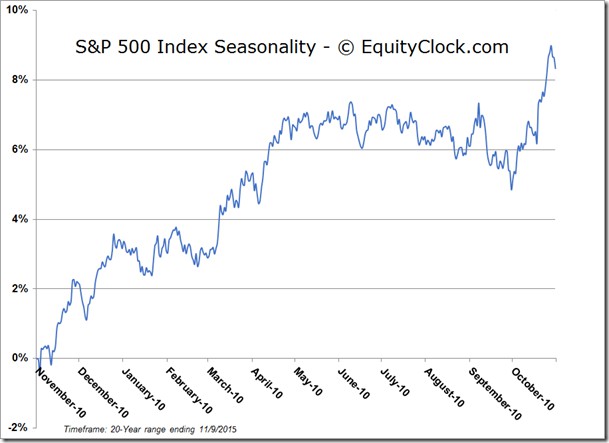 TSE Composite