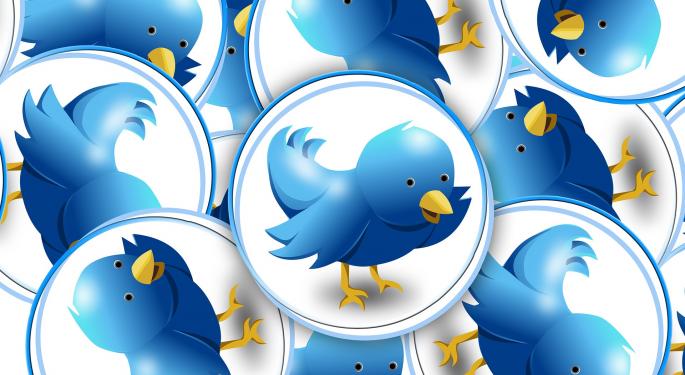 Twitter Inc (NYSE: TWTR) shares are sharply higher in Wednesday's session. In the absence of major news, the stock may once again be moving on rumors of a buyout. Shares are down 16 percent in 2016.
Although no deal has been announced, a number of possible buyers have been rumored to have an interest in Twitter this year. Here's a look back at all of Twitter's rumored suitors in 2016.
January 21: The Wall Street Journal's Miriam Gottfried suggests Alphabet Inc (NASDAQ: GOOGL) as a top Twitter buyout candidate. Gottfried also mentions Time Warner Inc (NYSE: TWX) and Twenty-First Century Fox Inc (NASDAQ: FOXA) as potential buyers.
February 1: The Information reports that Marc Andreessen and private equity group Silver Lake considered a Twitter buyout.
March 31: Twitter shares spike on renewed rumors that Google is considering a buyout at a 100 percent premium to market price.
June 3: The New York Post reports that Twitter and Yahoo! Inc. (NASDAQ: YHOO) discussed a potential merger.
Related Link: Jack Attack: Should Twitter Buy Square?
June 13: Recode speculates that Google and Comcast Corporation (NASDAQ: CMCSA) are top Twitter buyout candidates.
June 17: Vanity Fair's Nick Bilton claims that Apple Inc (NASDAQ: AAPL), Google and Facebook Inc (NASDAQ: FB) are unlikely to bid for Twitter.
June 27: TechCrunch names Google as a possible Twitter buyer, sending shares higher. The article also mentions Verizon Communications Inc. (NYSE: VZ), AT&T Inc. (NYSE: T), Microsoft Corporation (NASDAQ: MSFT), Amazon.com, Inc. (NASDAQ: AMZN), Apple, News Corp and Facebook as potential buyers.
August 3: Rumors circulate that Steve Ballmer and Saidi Arabian Prince Al-Waleed bin Talal are interested in acquiring Twitter for $22-26 per share.
August 30-31:

https://twitter.com/zerohedge/status/770982629923491840

that Google may be interested in a takeover.
© 2016 Benzinga.com. Benzinga does not provide investment advice. All rights reserved.