A German multinational automotive corporation Daimler AG successfully presented its Interim Report 3rd Quarter 2015 and proved the status of one of the biggest premium car and commercial vehicle maker in the world. Daimler sells its vehicles and services in nearly all the countries of the world and has production facilities in Europe, North and South America, Asia, and Africa. Also Daimler Financial Services provides financing, leasing, fleet management, insurance, financial investments, credit cards, and innovative mobility services. In 2014, the Group sold more than 2.5 million vehicles and employed a workforce of 279,972 people; revenue totaled €129.9 billion and EBIT amounted to €10.8 billion.
Chart 1. Daimler AG Brands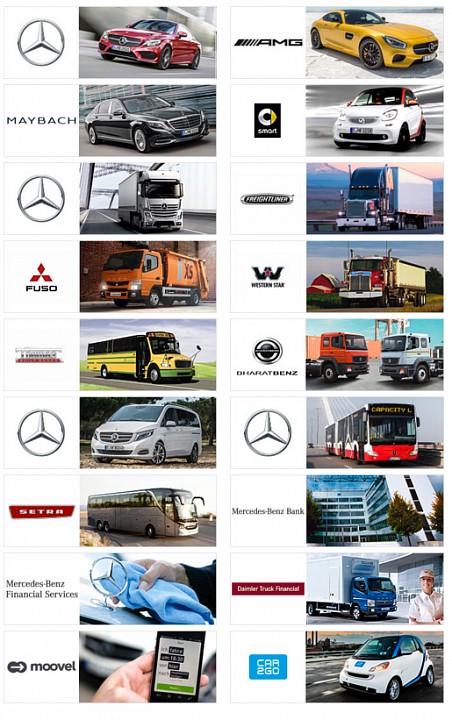 Headquarters in Stuttgart, Germany the corporation operates under these brands: Mercedes-Benz, Mercedes-AMG, Mercedes-Maybach, smart, Freightliner, Western Star, BharatBenz, Fuso, Setra, Thomas Built Buses, Mercedes-Benz Bank, Mercedes-Benz Financial, Daimler Truck Financial, moovel and car2go. By the way, the Center of Automotive Management (CAM) and the Pricewaterhouse Coopers (PwC) honored Mercedes-Benz as the most innovative premium brand of the last decade. At the moment, Daimler has launched about 20 models in 2015.
Table 1. Daimler Key Figures & Financial Ratios

According to the 3rd Quarter Interim Report 2015, the sales of unit significantly increased by 244 310 vehicles above the previous period (January – September 2014). That is why the total revenue up by 16 % to € 109 039 million and the Group EBIT picked up € 10 285 million which is 19 % higher in comparison to the prior-year level. These results led to 12 % net profit growth estimated € 6 837 million. Despite the reduction of investment in property, plant and equipment by 1 % the significant growth in capitalized development costs and financial investments by 61 % and 109 % respectively enhanced total expenditure to € 5 246 million which is 19 % more than in 2014.
Table 2. Daimler DuPont Analysis

DuPont Analysis tells us that the increase of ROE from 19.44 % in 2014 to 20.35% in 2015 (by 0.91 %) is linked to the total asset turnover and profit margin growth to 0.52 % and 9.43 % respectively in 2015 whereas the equity multiplier (assets/equity) decrease estimated 0.1 % reduced the potential ROE by 0.49 %. 
Table 3. Daimler Financial Strength Ratios

This table shows a lack of working capital and its ratio indicates the main source of current assets is a loan capital, which makes the company dependent to the external financing. The leverage ratio proves this statement and the total debt estimates 76% of Daimler's assets. Despite external dependence, ROE is increased by the use of leverage.
All these facts indicates, that Daimler AG is a quite financial stable carmaker, which provides an effective business model which suits current macroeconomic situation and despite bad situation not only on the car market but also on oil and other related to the automotive industries markets the Board of Directors might gain it goals.
As a true multinational company, Daimler deals with capital markets for boosting economic growth and the volume of production.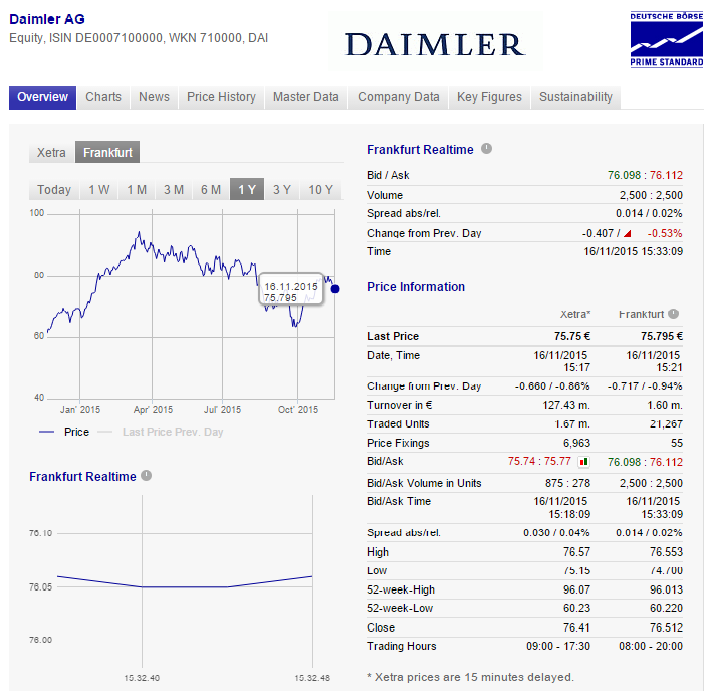 Daimler AG is listed on the Frankfurt Borse under DAI ticker. About 1.07 billion stocks are traded on the market and the current market capitalization estimates € 81 088 million and expected dividend is € 2.45 which gives an 11.64 P/E ratio.
Chart 3. DAI, TM, VOW, GM and SXAPEX Daily Line Chart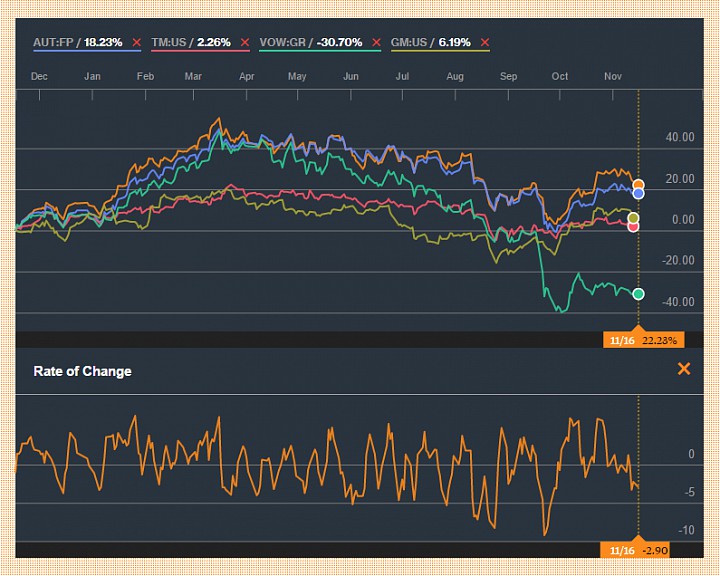 In fact, Daimler follows the general downward trend of the automotive sector in the third quarter of 2015 with ongoing volatility but the share price of the company is 4 % higher the total automotive market. Therefore some investors think that it is a margin pick and it is time short this stock.
Chart 4. Daily Daimler Chart
<!== INSTRUMENT %% %1440% ==!>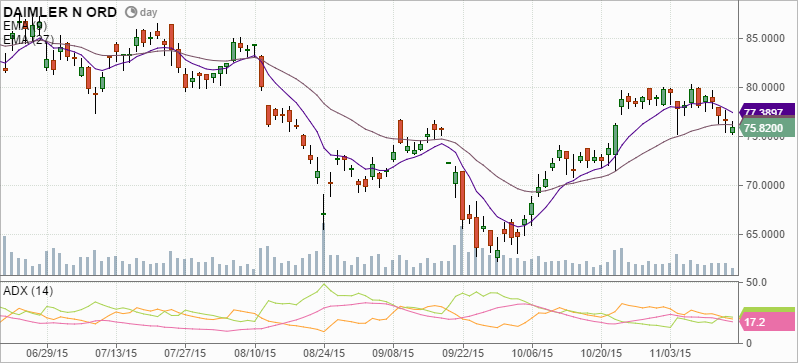 This chart shows an uncertainty of the market which was caused by Volkswagen scandal and automotive industry decline compared with sustainable Daimler performances and strict development program linked to the hybrid and electric cars. But this stock is a must have in every investors' or traders' watch-list and our team suspect that after short-term drawdown Daimler will break an € 80 level and in middle-term forecast the company will pick up the automotive industry leader place.