Thermo Fisher Scientific Inc. TMO reported better-than-expected performance in third-quarter 2017. Adjusted EPS came in at $2.31, beating the Zacks Consensus Estimate by 3.1% and the year-ago quarter figure by 13.8%.
On a reported basis, second-quarter EPS of $1.34 marked a 12.6% year-over-year rise.
Revenues in the quarter came in at $5.12 billion, up 14% year over year. Sales also exceeded the Zacks Consensus Estimate of $5.03 billion by 1.7%.
Thermo Fisher Scientific Inc Price, Consensus and EPS Surprise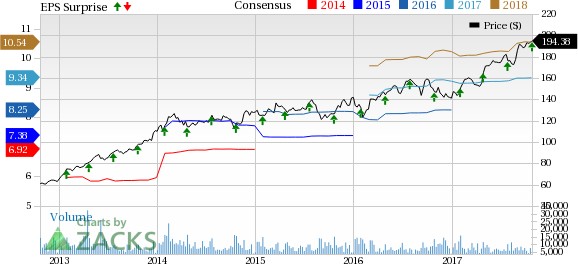 Thermo Fisher Scientific Inc Price, Consensus and EPS Surprise | Thermo Fisher Scientific Inc Quote
Quarter in Detail
Organic revenues in the third quarter grew 5% year over year while acquisitions increased revenues by 8%. Currency translation positively impacted total revenues by 1%.
Thermo Fisher currently operates under four business segments: Life Sciences Solutions, Analytical Instruments, Specialty Diagnostics and Laboratory Products and Services.
Revenues at the Life Sciences Solutions segment (27% of total revenues) improved 5% year over year to $1.38 billion while Analytical Instruments Segment sales (23.3%) rose 32% to $1.19 billion, reflecting the acquisition of FEI Company.
Revenues at the Laboratory Products and Services segment (37.8%) rallied 15% to $1.93 billion, while the Specialty Diagnostics segment (16.5%) recorded a 6% increase to $844 million.
Gross margin of 47.5% during the third quarter was down 67 basis points (bps) year over year, despite a 12.3% rise in gross profits. Adjusted operating margin expanded approximately 43 bps to 21.3%, despite a 7.6% rise in selling, general and administrative expenses and 18.9% increase in research and development expenses.
The company exited the third quarter with cash and cash equivalents of $741.1 million compared with $611 million at the end of the previous quarter. Year-to-date net cash provided by operating activities was $2.13 billion compared with $2.05 billion in the year-ago period.
Guidance Raised
Backed by a solid third-quarter performance, a favorable foreign exchange environment forecast and also considering the recently-closed acquisition of Patheon, Thermo Fisher has raised its full-year 2017 financial guidance.
The revenue guidance has been raised to a range of $20.50-$20.66 billion (growth of 12-13% from the previous year) from the earlier band of $19.71-$19.89 billion (growth of 8-9%). The current Zacks Consensus Estimate of $20.48 billion falls below this guided range.
The company has also raised its adjusted EPS guidance to a range of $9.29-$9.38, reflecting growth of 12-13% from the previous year. The earlier prediction was in the $9.15-$9.28 range (growth of 11-12%). The Zacks Consensus Estimate of $9.33 per share remains within the guided band.
Bottom Line
Thermo Fisher ended the third quarter on a promising note with both adjusted earnings and revenues beating the Zacks Consensus Estimate.
We are encouraged by the company's series of product launches along with major progress in precision medicine initiatives. Thermo Fisher's acquisition of FEI Company has already started to boost its analytical instruments portfolio.
In the quarter, the company launched four new electron microscopy systems for structural biology and materials science research. Also, it has released a new iQ Series air-quality monitoring platform and enabled the first FDA-approved gene therapy. This apart, the company has opened Precision Medicine Customer Experience Center in Guangzhou, China.
We are currently looking forward to the recently completed $7.2 billion acquisition of Patheon. This is going to significantly enhance the company's value proposition for biopharma customers by adding leading contract development and manufacturing outsourcing services.The raised guidance is all the more impressive and indicative of this overall bullish trend to continue through 2017.
Zacks Rank & Other Key Picks
Currently, Thermo Fisher has a Zacks Rank #2 (Buy).
A few other stocks worth considering in the broader medical sector are PetMed Express, Inc. PETS, Abbott Labs ABT and Intuitive Surgical, Inc. ISRG. Notably, PetMed sports a Zacks Rank #1 (Strong Buy), while both Abbott and Intuitive Surgical carry a Zacks Rank of 2 as well. You can see the complete list of today's Zacks #1 Rank stocks here.
PetMed reported EPS of 43 cents for the second quarter of fiscal 2018, up 79.2% from 24 cents, reported in the year-ago quarter. Also, gross margin expanded 548 bps year over year to 35.2% in the reported quarter.
Abbott reported third-quarter 2017 adjusted earnings from continuing operations of 66 cents per share, up 11.9% year over year. Also, third-quarter worldwide sales came in at $6.83 billion, up 28.8% year over year.
Intuitive Surgical posted adjusted earnings of $2.77 per share in the third quarter of 2017, up 34.5% on a year-over-year basis. Also, revenues increased 18% year over year to $806.1 million.
Zacks' Hidden Trades

While we share many recommendations and ideas with the public, certain moves are hidden from everyone but selected members of our portfolio services. Would you like to peek behind the curtain today and view them?

Starting now, for the next month, I invite you to follow all Zacks' private buys and sells in real time from value to momentum...from stocks under $10 to ETF to option movers...from insider trades to companies that are about to report positive earnings surprises (we've called them with 80%+ accuracy). You can even look inside portfolios so exclusive that they are normally closed to new investors.

Click here for Zacks' secret trade>>
Want the latest recommendations from Zacks Investment Research? Today, you can download 7 Best Stocks for the Next 30 Days.
Click to get this free report
PetMed Express, Inc. (PETS): Free Stock Analysis Report
Abbott Laboratories (ABT): Free Stock Analysis Report
Thermo Fisher Scientific Inc (TMO): Free Stock Analysis Report
Intuitive Surgical, Inc. (ISRG): Free Stock Analysis Report
To read this article on Zacks.com click here.
Zacks Investment Research