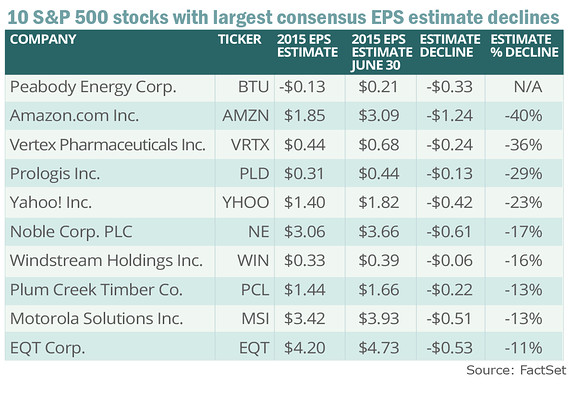 The benchmark S&P 500 Index is up 3% this year, despite two big declines over the past two weeks.
With the escalating round of sanctions among Russia, the U.S. and Western European countries over the conflict in Ukraine, and President Obama's decision to strike Islamic State extremists in Iraq, there's no shortage of worry for investors. But the fact is that the drop in share prices for many companies has been caused by disappointing operating results.
As a result, analysts have cut 2015 earnings per share estimates, adding to companies' woes.
So here are the 10 S&P 500 stocks that have suffered the greatest declines to consensus 2015 estimates, among analysts polled by FactSet, since June 30
http://www.marketwatch.com/story/10-stocks-suffering-the-biggest-cuts-in-earnings-estimates-2014-08-11?link=MW_story_popular