This post includes valuations of the:
1) S&P 500 (US)
2) NASDAQ (heavy on US tech)
3) Stoxx 600 (Euro zone)
4) Nikkei 225 (Japan)
5) Shanghai Composite (China)
This will provide an idea of how various equity markets price in relation to each other.
The S&P valuation post, which goes through it in some level of detail, can be found here:
US (S&P 500)
US stocks are likely to provide 6.5%-7.0% in nominal long-run returns, or about 4.5%-5.0% in real terms. Assuming 1.8% growth and 1.8% inflation, stocks provide around 5.7% returns over cash.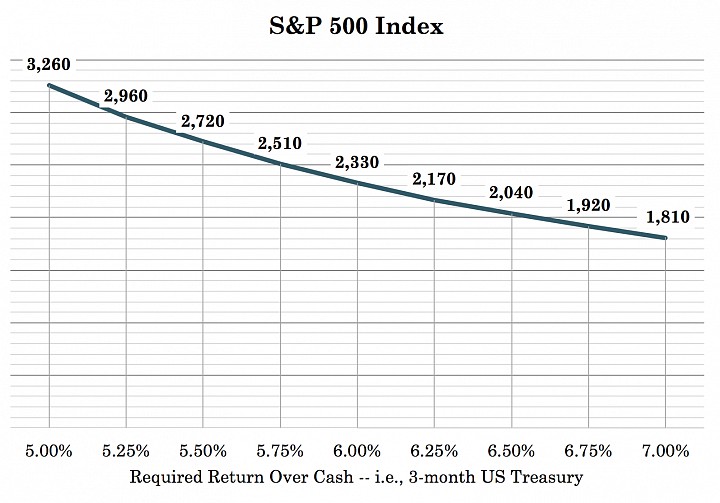 If those figures are bumped up to 2.0% growth and 2.0% inflation, a 6% required return over cash would place the S&P 500 at 2,630.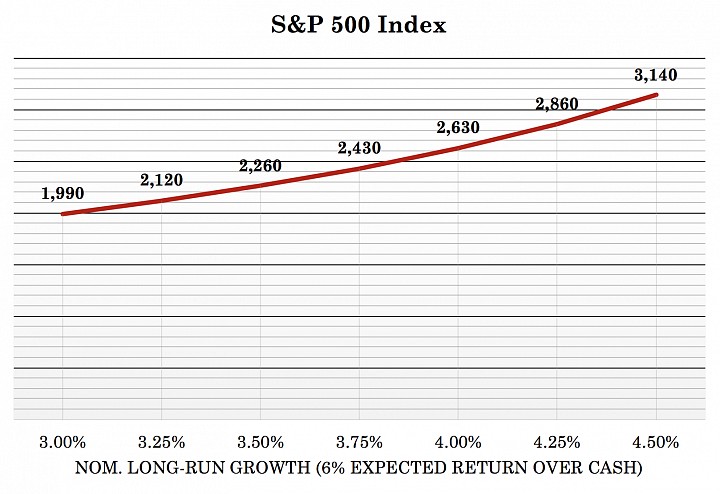 The S&P 500 is cap-weighted, with 10 companies taking up 21% of the index: AAPL (4.0%), MSFT (2.9%), AMZN (2.0%), FB (1.9%), JNJ (1.7%), BRK.B (1.6%), JPM (1.6%), XOM (1.6%), GOOG (1.4%), GOOGL (1.4%), BAC (1.2%).
NASDAQ
The NASDAQ, a tech-heavy US index, is up 28% YTD, compared with 15% for the S&P 500. This type of outperformance is nonetheless unsustainable and the NASDAQ's valuations look slightly heavier than their S&P's (the S&P is 25% tech-weighted, but fluctuates). The current value of the index backs out a 5.50%-5.75% return over cash.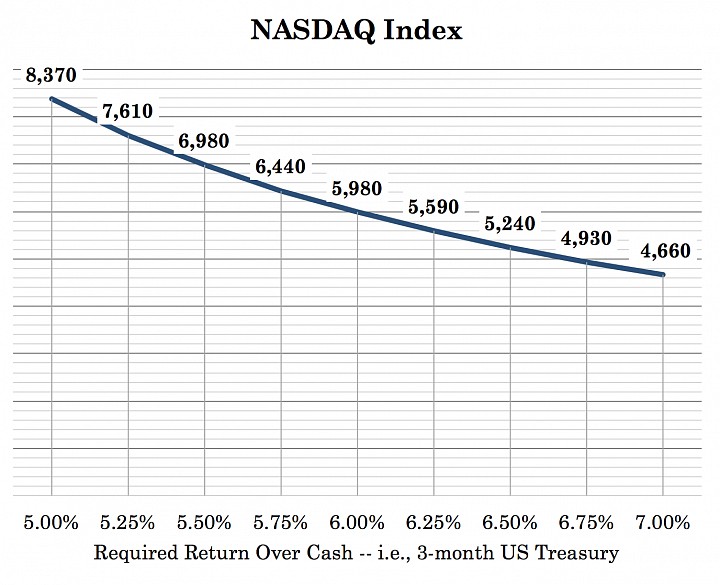 Nominal long-run growth of 4% would place the NASDAQ as appropriately valued assuming a 6% return over cash.

For comparison's sake, since the January 1, 2000, the S&P 500 has provided an annualized return of 5.1%, while the NASDAQ has returned 3.6% year-over-year. Tech stocks are more cyclical and come with higher volatility.

The index is cap-weighted, which means a handful of stocks are disproportionately influential. Ten companies comprise 55% of the 107-component index: AAPL (12.2%), MSFT (9.0%), AMZN (7.4%), FB (6.0%), GOOG (4.9%), GOOGL (4.3%), INTC (3.0%), CSCO (2.4%), CMCSA (2.4%), AMGN (1.8%), and NVDA (1.7%).
Europe
The "risk-free" rate in Europe depends on where you go. Germany, the largest economy in the EU, pays negative 80 bps on its 3-month bund, nearly 200 bps less than what the US pays on its 3-month T-bill. To simplify matters, I used the 3-month LIBOR rate, currently -0.38% at the time of writing.
The Stoxx 600 index is currently trading at 395. This would place the forward returns on European equities at about 8%. With the cash rate being negative, this would place nominal returns at 7.6% using 3-month LIBOR as the cash rate, or 7.2% relative to a 3-month German bund.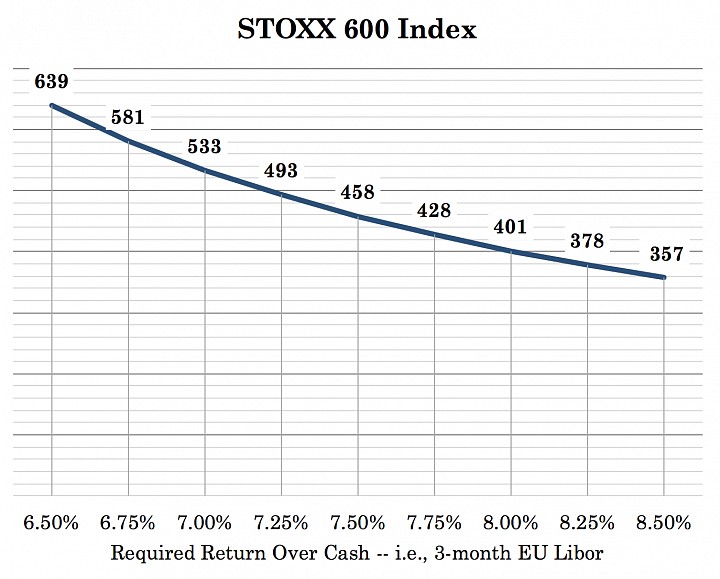 In that sense, while returns definitely look superior relative to US equities when compared to a safe asset, nominal returns are likely only 0.5%-1.0% higher. European equities are also historically more volatile than US stocks.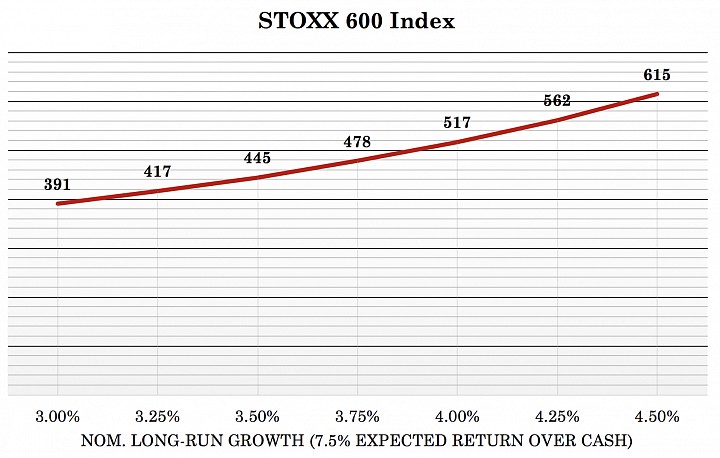 Japan
Japanese equities have been on fire lately, with the index moving up 9.3% in the past month. Risk premiums have compressed around 30 bps over that time, from above 6.50% to under 6.25%.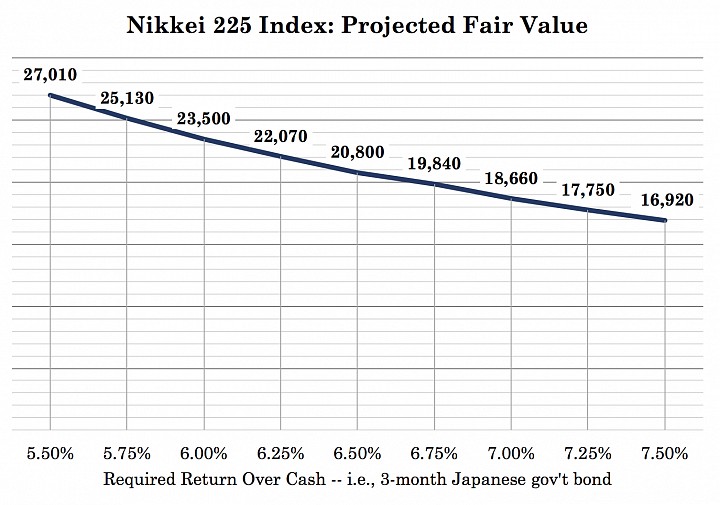 With the 3-month Japanese government bond at approximately -0.13%, this means nominal returns are approximately only just above 6%. This is the worst of the three major developed markets (US, EU, Japan). However, with Japan's inflation running in the 0%-1% range – significantly below the BOJ's 2% target – this still reflects positively in real terms at about 5%-6%. And if inflation were to tick up in the future, equities would likely price in the increase.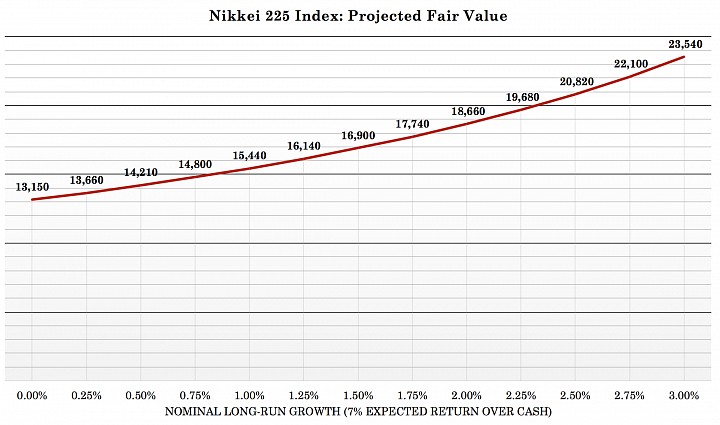 China
China's market is a bit more difficult to value given they're in the process of restructuring their economy from an export-focused model to one focused on private consumption. The economy, currently growing at close to 7%, is running at a rate that is unsustainable with so much of the growth attributed to credit expansion.
Realistically, considering population and productivity growth, China can grow at about 3.0%-3.5% based on current trends. So really two different growth rates need to be taken into account when valuing China's market.
The Shanghai composite index is trading at about 3,400, or around 4.75% expected returns over 1-year government bonds (currently yield of 3.6%), its lowest duration.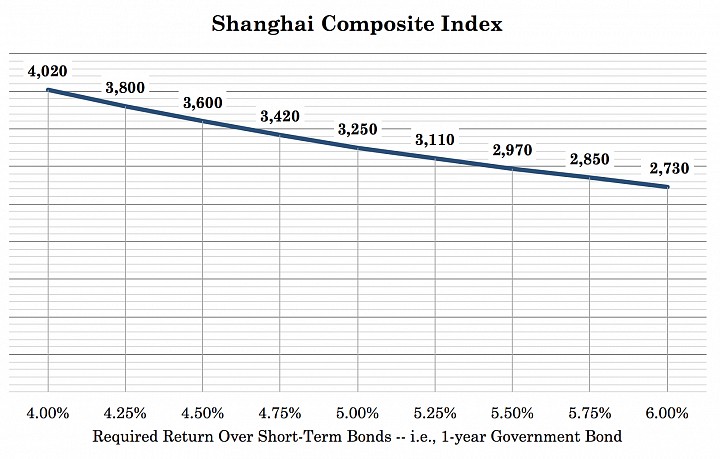 This puts estimated annualized nominal returns at about 8.3%-8.4%. Inflation is about 2%, which is on par with the US and EU, putting real returns roughly 1.4%-1.6% above those of US equities. Expected volatility, naturally, will be higher in Chinese equities. Since March 2007, annualized volatility has been 85% higher in Chinese stocks than US equities.

Conclusion
If I had to rank on the basis of where you can get the highest nominal returns, it would go like this:
1. China
2. Europe
3. US
4. Japan
China carries with it risks of a country undergoing an economic, debt, and capital markets restructuring. Volatility will remain higher than in Chinese equities relative to the US. Europe appears to be a bit more attractive than the US. While bond yields are low but passable in the US (10-year of ~2.4%), they are utterly non-existent in most parts of developed Europe, which much of it negative-yielding. The TINA philosophy ("there is no alternative") for piling into stocks is fully in effect.
With the ECB set to scale down but extend its bond purchases into 2019 – with the implicit signal that rates will in turn remain at zero until then – stocks are largely the only ball game in town and will continue to be effectually subsidized by the central bank. Barring something unexpected, this means euro zone equities will continue their move forward. The same holds true in Japan, though nominal returns now look to be the lowest of the four markets, and have become less attractive due to the recent surge in performance that has made them more expensive in both relative and absolute terms.