Applied Optoelectronics, Inc. (AAOI) just released its third-quarter financial results, posting non-GAAP earnings of $1.08 per share and revenues of $88.9 million.
Currently, AAOI is a Zacks Rank #4 (Sell), but this ranking could change based on today's results. The stock is up 20.56% to $45.68 per share in trading shortly after its earnings report was released.
Applied Optoelectronics:
Beat earnings estimates. The company posted earnings of $1.08 per share, beating the Zacks Consensus Estimate of $1.04.
Beat revenue estimates. The company saw revenue figures of $88.88 million, beating our consensus estimate of $88.53 million.
Revenue was up 27% from the $70.1 million reported in the year-ago period. GAAP earnings came in at 95 cents per share, which was down about 2% year-over-year. The aforementioned non-GAAP earnings results marked a 184% improvement from the prior-year quarter.
"While our third quarter results were negatively impacted by lower demand from a large customer, we continued to experience solid demand from our other large datacenter customers, especially for our 100G CWDM transceivers, and revenue for our CATV products reached a new record," said CEO Dr. Thompson Lin.
For the fourth quarter, management current expects revenue in the range of $81 million to $90 million and non-GAAP earnings per share in the range of $0.82 to $0.96. Our current consensus estimates are calling for earnings of $0.94 per share and revenue of $92.47 million.
Here's a graph that looks at AAOI's latest earnings surprise history:
Applied Optoelectronics, Inc. Price, Consensus and EPS Surprise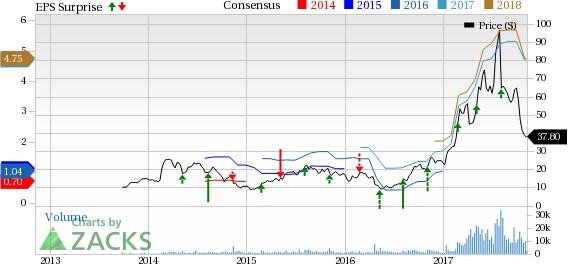 Applied Optoelectronics, Inc. Price, Consensus and EPS Surprise | Applied Optoelectronics, Inc. Quote
Applied Optoelectronics, Inc. designs, develops and manufactures advanced optical devices, packaged optical components, optical subsystems, laser transmitters and fiber optic transceivers. The company's products are used in fiber optic communications equipment for FTTH, point-to-point telecom, datacom and access networks and systems supporting cable television, network infrastructure.
Check back later for our full analysis on AAOI's earnings report!
Want more stock market analysis from this author? Make sure to follow @
https://twitter.com/Ryan_McQueeney
on Twitter!
Zacks' Hidden Trades
While we share many recommendations and ideas with the public, certain moves are hidden from everyone but selected members of our portfolio services. Would you like to peek behind the curtain today and view them?
Starting today, and for the next month, you can follow all Zacks' private buys and sells in real time. Our experts cover all kinds of trades: value, momentum, ETFs, stocks under $10, stocks that corporate insiders are buying up, and companies that are about to report positive earnings surprises. You can even look inside portfolios so exclusive that they are normally closed to new investors.
Click here for Zacks' secret trade>>
Want the latest recommendations from Zacks Investment Research? Today, you can download 7 Best Stocks for the Next 30 Days.
Click to get this free report
Applied Optoelectronics, Inc. (AAOI): Free Stock Analysis Report
To read this article on Zacks.com click here.