After surging stronger for 2 weeks, EM FX is starting to lose ground in early Asia trading following Fischer's comments Friday. The biggest losers so far are Turkish Lira, Russian Ruble, and Malaysian Ringgit which has dropped over 1% in early Asia trading - its biggest drop in a month. China expanded its regulatory crackdown to 11 more firms for "illegal stock operations" - i.e. selling - bringing the total to 41 firms. The PBOC Deputy Governor tells anyone who will listen that "China's market correction is nearly over," following the IMF annual meetings - "China's economy is basically stable" - and Chinese stocks are modestly higher in the pre-open (with Dow futures -40pts). Yuan at 2mo highs after strengthening 7 days in a row.
After a couple of weeks of serious strength, EM FX is leaking back lower against the USD...
With Lira, Ruble, and Ringgit the biggest losers for now...
*RINGGIT FALLS 1.1% TO 4.1795 PER DOLLAR
The dollar reasserted itself, snapping an eight-day rally in Australia's currency after Federal Reserve Vice Chairman Stanley Fischer joined the chorus touting a potential U.S. interest-rate hike by year end. Australian stocks fell with U.S. index futures following the best week for global equities since 2011.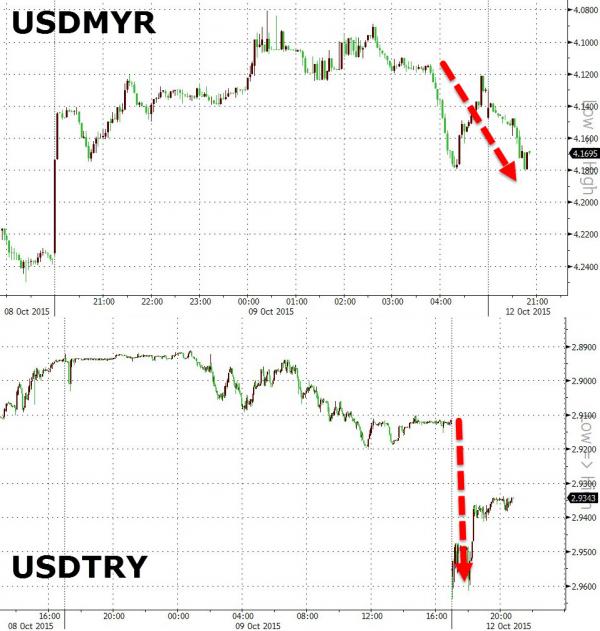 *  *  *
Exceited by comments on China "managing:" to avoid a hard landing dureing discussions at The IMF's annual meeting
The Chinese regulatory crackdown begins again...
CHINA CSRC HOLDS HEARING FOR ILLEGAL STOCK OPERATIONS: XINHUA

 

China Securities Regulatory Commission (CSRC) has held a two-day hearing for 11 illegal cases of reducing share holding.

 

It was the first time that the CSRC dealt with cases involving such amount of illegal share-holding reductions in one hearing.

 

The regulator asked big shareholders of public companies not to sell shares in an effort to keep the market stable in the past months.

 

Altogether 41 such cases had been investigated, and the 11 cases at the hearing on Friday and Saturday were suspected of similar operations, the commission said.

 

All the persons concerned admitted the facts at the hearing, but requested less punishment, claiming their operations tended to lower financial cost and made no impacts to the stock market, while they had carried out timely remedial measures.
Margin debt rises again...
*SHANGHAI MARGIN DEBT BALANCE REBOUNDS FOR SECOND DAY
And stocks are modestly bid in the pre-open...
*FTSE CHINA A50 OCTOBER FUTURES RISE 1% IN SINGAPORE
PBoC Dep Gov: China's Market Correction Nearly Over -- RTRS
*NDRC OFFICIAL LIU HE SAYS CHINA ECONOMY BASICALLY STABLE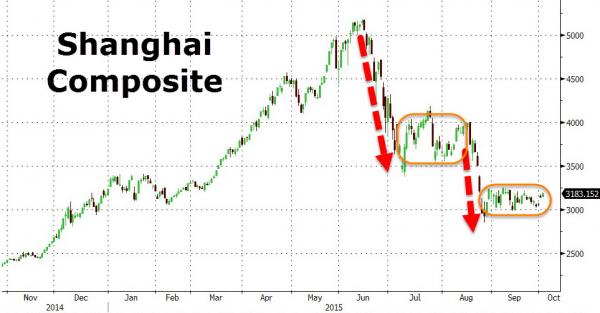 And with the Yuan at 2-month highs, PBOC fixes the Yuan stronger for the 7th day in a row....
*CHINA SETS YUAN REFERENCE RATE AT 6.3406 AGAINST U.S. DOLLAR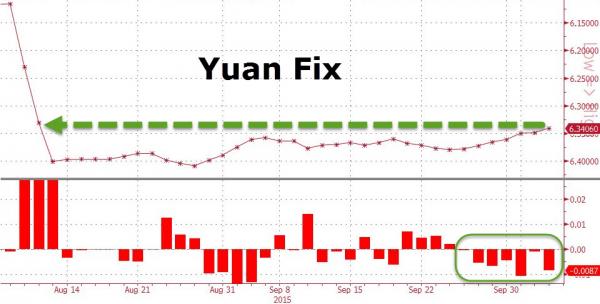 A top Chinese central banker said a "persistent" weakening of the yuan would be inconsistent with the fundamentals of the world's second-biggest economy, and the country is committed to making its currency regime more flexible and market based.

 

"As wide-ranging structural reforms are being carried out, the Chinese economy will become more balanced and sustainable," People's Bank of China Deputy Governor Yi Gang said Friday in a statement at the IMF annual meetings in Lima. Reforms to make the yuan more market-determined will make its exchange rate more flexible, "floating around the equilibrium level in both directions."
*  *  *
Charts: Bloomberg