Goldman Sachs Group Inc. made nine bold Asian junk bond picks in May. The only one that came good was at the heart of the region's market storm -- China's property developers.
Investors who bought the bank's five Chinese real estate picks would have earned an average 5.5 percent from May 19 through Oct. 12, a surprise considering 2015 kicked off with a landmark default by Shenzhen-based developer Kaisa Group Holdings Ltd. Goldman Sachs' recommendation to buy non-investment grade debt of companies in India to Indonesia resulted in losses ranging from 10 to 37 percent. China property is the only speculative-grade sector in Asia that Deutsche Bank AG is telling clients to explore.
Real estate in China has emerged a winner as policy makers cut minimum down payment requirements for first-time home buyers to shore up one of the biggest growth drivers in the world's second-biggest economy. Premier Li Keqiang has made it easier for developers to raise funds onshore just as five interest rate cuts since November start to spur gains in new home sales.
"We're positive on the real estate sector in China," said Ken Hu, the chief investment officer for Asia Pacific fixed income in Hong Kong at Invesco Ltd.. which manages some $756 billion globally. "We're underweight commodity producers and exporters, as well as credits from countries running current account deficits, to manage the risks involved in high-yield bonds."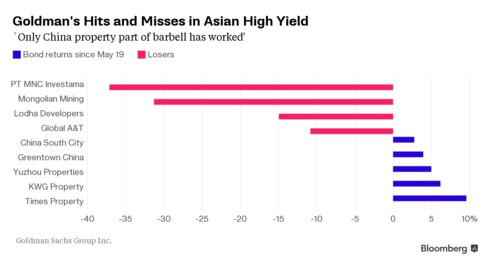 Property bonds have advanced 10.8 percent this year, a Bank of America Merrill Lynch index shows, despite the yuan's record devaluation in August and last quarter's stock market...
More