Down 23-33% from all time highs reached in June, SWKS along with the rest of Apple's ecosystem of suppliers, have taken a beating based on demand related fears from China.
New fabrication center in Japan adds 34% to capacity, a bullish move of confidence that validates CEO David Aldrich's assertions that demand and growth are still firing on all cylinders.
Skywork's Q3 Result's revealed where future demand is growing, as well as a continued trend of top and bottom line beats wrapped up in higher guidance.
Despite forecasted 2015 and 2016 earnings estimates, demand related fears have created a 30% discount to estimated 2015 price target of 120, with 100% upside looking out to January 2017.
Despite economic weakness, China's severely under penetrated 4G market, with Skywork's large percentage of Chinese OEM's business, such as Xiaomi and Huawei's revenue provide protection against iPhone or Galaxy weakness.
Introduction & Thesis
As a long term, value focused investor, and shareholder of Skyworks Solutions (NASDAQ:SWKS), I have always believed in the company's strong fundamentals, diversified revenue stream, and ability to execute their strategy with exceptional results. By delivering high end RF & Power Amp solutions to a diversified range of customers and products, SWKS has become a top competitor among suppliers who's solutions are crucial for connecting the world. Growing their market cap from 3B to 17B (20B at all time highs) in just 5 years, isn't an accident in this highly competitive space. Instead, it represents why and how SWKS offers core OEMs/customers like Apple (NASDAQ:AAPL) and Samsung (OTCPK:SSNF) significant value through high quality chips/solutions at competitive prices for the iPhone and Galaxy product lines, as well as up and coming Chinese OEMs Xiaomi and Huawei (who now have a respectable share of the Chinese market. With the entire semiconductor space, especially the ecosystem of Apple suppliers facing serious selling pressure related to Chinese and global economic demand related fears, the future will depend on who's strategy is best positioned to navigate the quickly changing competitive environment, and dynamic shifts in trend and end product demand. These shifts are happening as we speak, and SWKS remains a top contender in the market, with a thus far successful growth strategy, and pristine balance sheet reflecting all their success. Despite what I forecast to be another earnings season of mixed results for companies, SWKS steady and impressive growth will stand out.
Skywork's strategy of pursuing organic growth through a diversified product portfolio offered to a wide range of customer applications including mobile devices, wearables, smart home technology, automobile , even healthcare and defense, coupled with a variety of other peripheral applications benefiting from the growth in what's called "the internet of things - IOT," has provided it with an abundance of different design wins that will eventually create an even more balanced portfolio of revenue streams. For the same reason investors focus on the diversification of risk in their own portfolios, SWKS has managed to slowly decrease dependency on Apple (by gaining design wins with Xiaomi & Huawei) in their core mobile revenue stream through diversification of both market and customer, giving them leverage and protection during tighter conditions, and a variety of different directions available to pursue based on the evolution of those end markets.
With SWKS trading in serious correction territory, (a long with the rest of the semiconductor space) off -20% from its 52 week/all time high, investors must decide if fears related to slowing growth in China, as well as an overall saturated smartphone market domestically, are significant enough in scope to warrant such a discount in the recent price of the company and its continued cash flow driven success. Investors must look at where the company's revenue stream is, and where its heading, as well as the customer base using their technology, and decide for themselves how much of a discount these factors should be applied specifically to the company fair value.
I believe actions speak louder than words, so management's 34% increase in total capacity is a testament to their current, and future expectations to meet revenue estimates. With not just a rewarding capital return plan for shareholders, SWKS's recent opening of its newly announced 405,000 sqft. Japanese research and fabrication facility (it's largest fabrication center to date by sqft), reassures me that the company's growth forecasts are still within reach. Management has come out publicly backing the assertion that their organic based growth strategy will ultimately lead to achieving 50% gross margins, abundant FCF, $7.00 in adjusted EPS, and a continuation of product and custom expansion across IOT related opportunities, despite obvious expected Chinese weakness through 2016. This recent expenditure is vivid proof that CEO David Aldrich's outlook remains in tact. Furthermore, as we examine below key OEM's opportunities in China, there is no lack of growth with 80% of the Chinese market lacking 4G capabilities (and related phones), which should be enough to offset any significant impact from demand related weakness, especially covering a diversified multiple of China's total market, and their related price points.
Operational Excellence & Expanded Capacity
Even pundits and bears admit SWKS from an operational standpoint runs at very healthy margins, through a well positioned supply chain strategically located globally to minimize lead time, while remaining in close physical proximity to their customers. In their Q3 CC, CEO David Aldrich emphasized the advantage and importance of finding themselves involved in earlier stages of design, creating more customized solutions, thus building a barrier to entry that competitors would have difficulty breaking. 405K in square feet is no small investment or complex. Since a lot of demand is expected to flow from the conversion 2 & 3 G capability in China (80% of China is still running on 2 & 3 G LTE) to 4G, companies growing in scale and market share like Xiaomi and Huawei, balance any market share lost by SWKS's two bellwethers Apple and Samsung. Below is latest list of global logistic presence from their most recent 10K:
Location

Square Footage

Owned/Leased

Primary Function

Woburn, Massachusetts

Owned

158,000

Corporate headquarters and manufacturing

Adamstown, Maryland

Owned

121,200

Manufacturing and office space

Newbury Park, California

Owned

111,600

Manufacturing and office space

Newbury Park, California

Leased

108,400

Design center

Irvine, California

Leased

63,400

Design center

Cedar Rapids, Iowa

Leased

42,900

Design center

Santa Clara, California

Leased

42,200

Design center

Mexicali, Mexico

Owned

380,000

Manufacturing and office space

Singapore

Leased

134,000

Filter manufacturing

Kadoma, Japan

Leased

103,000

Filter manufacturing and office space

Seoul, Korea

Leased

22,900

Design center

Ottawa, Ontario

Leased

30,900

Design center

Total

1,318,500
Based on the following above, SWKS is showing tremendous confidence in their growth rate. Without regarding the smaller San Diego Design center that recently opened in June, the new Japanese Fabrication center will increase capacity by 34% (405/1,318.5). Based on last year's revenue of 3.1B, 1.318Msqft roughly produced $2.78 dollars a square foot of revenue (3,100,000/1,318,000). Theoretically speaking, management wouldn't increase capacity by 34%, if they didn't expect their growth rate for at least 3 years to far exceed the increased cost of capacity, which will include future labor and expensive human capital costs (highly skilled engineers), and they certainly wouldn't be making such heavy investments in their own infrastructure. Since ultimately the decline in price is directly related to a fear that demand will fall in the future, these moves by management are a strong sign of confidence that the market is still ripe with opportunity. So much so, the CEO had no trouble coming on air, and discussing the topic with CNBC's, Jim Cramer. Below we have some highlights from the August interview.
David Aldrich: China, Strategy, Customers,
Why would anyone care about additional capacity in the face of demand related fears? Obviously these could be miss guided hopes, but their near perfect record the last 5 years gives them some authenticity. CEO David Aldrich has guided goal of over 50% gross margins, and expects to reach that goal by fiscal 2016 (SWKS has a September Year End). To reach this target, he must thoroughly believe that there is enough growth in China to feed his high margin RF Module's portion of the revenue stream. Well in a recent interview with Jim Cramer, CEO David Aldrich provided investors the reassurance needed from a man who's guidance is worth something, as we are now past 6 constitutive quarters of both top & bottom line beats, and guidance hikes. CEO David Aldrich, (who is known for conservative guidance), had this to say about fears related to Chinese Demand:
The CEO stated that Skyworks derives approximately 20 to 25 percent of its revenue from China. Aldrich also stated that in 2014, there were under 100 million LTE phones shipped to China. This year, that rate has increased dramatically to a quarter of a billion.
Speaking in reference to Goldman Sach's assertion that 83% of SWKS's revenues derived from China, Aldrich reminded investors that their chips and revenues are located globally, not centered around China. This dramatic increase in overall sales is important to keep in mind if investors only pay attention to iPhone and Galaxy sales. Xiaomi is a key player in SWKS's portfolio of OEM's, which gives them serious leverage in the overall market. Here's the rest of what he had to say which highlights the importance of achieving continued diversity among both customers and products:
So, we have high dollar content, few competitors, higher margins in a segment of the market that is growing quite strong," Aldrich said.

The one area that Skyworks has seen a dramatic shift in has been its original equipment manufacturer (OEM) shares, meaning, its customers. However, Aldrich said that what makes Skyworks unique is that it is quite agnostic from a brand standpoint.

"So, one is up, one is down, we are typically okay and that has been the history of our company. We haven't been whipsawed as much by changes in customer or brand loyalty within the segment.
What we see above is a bullish reassurance during time of extreme fear and uncertainty. What followed below maybe a sign that the market heard and digested Mr. Aldrich's assertions, and may have finally put a clot in the bleeding. While we examine below the price performance, keep in mind on the fateful Monday open down 1,000 pts in the Dow, CEO Tim Cook of Apple also made a very rare remark about Apple's sales, especially related to China, claiming that they were doing very well and in line with bullish expectations. They resembled and backed the statements provided by their supplier, SWKS.
Now that we have addressed many of the underlying concerns related to SWKS, we move on to seeing if a bottom is in place. After a major correction in the sector, as well as a significant downside drop in the market's, SWKS is 23% off its all time high of 112.88 reached on June 19, 2015. Now that the overall market jitters are behind us, and the Federal Reserve has declared a big NO to a rate hike, its time to quickly assess if these levels are a proper risk to reward ratio for investors looking for growth. As we will see, when SWKS takes off, especially when it makes a reversal, the upside is swift.
2 Year Outlook: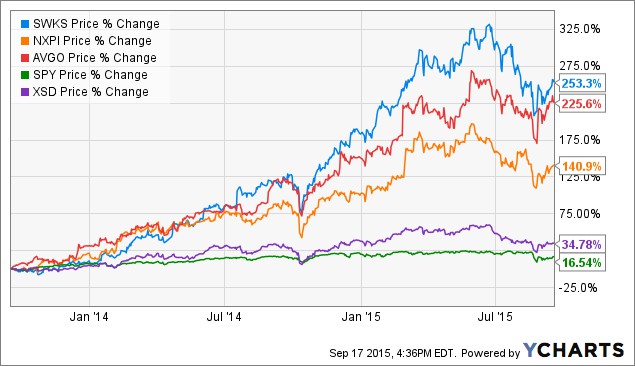 It is quite clear that semiconductors have outperformed the general market these last two years, especially those closely connected to smartphone sales (even more so Apple's ecosystem). Close competitors Avago Technologies (NASDAQ:AVGO) and NXPI Semiconductor (NASDAQ:NXPI), a long side the SPDR S&P 500 ETF (NYSEARCA:SPY), and the SPDR Semiconductor ETF (NYSEARCA:XSD), give us an accurate depiction of how much growth these companies have experienced. A key item to keep in mind, is China's steadily declining GDP, and economic woes existed in the shadows and on paper for years, which hasn't affected SWKS's top or bottom line one bit (as we will see in the Earnings Estimate Section). The average semiconductor doubled the market's return, with SWKS outperforming the nearest competitor by 30% to date, and over 75% by the peak in June on a 2 year basis.
The next chart we will examine is performance of the Market, Volatility, iShare MSCI China ETF (NYSEARCA:MCHI), and our benchmark for semiconductors. We will look at the chart over a YTD period, and move onto specifically SWKS: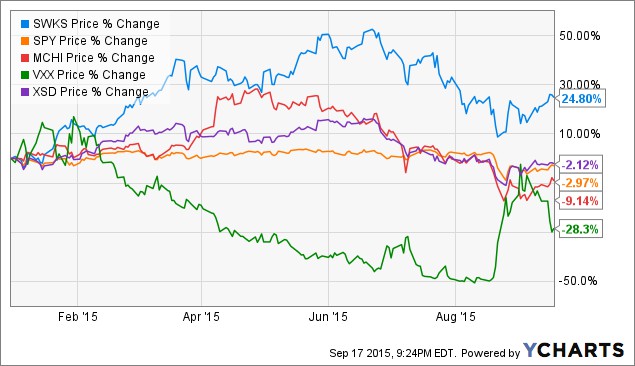 In percentage terms, analyzing the iPath S&P 500 VIX Short-Term Futures ETN (NYSEARCA:VXX) is difficult, as it inherently depreciates without any "fear" or sudden market movement that causes volatility. The purpose was to show, that the underlying volatility of US markets was more reflected by movement in China, then it was on the S&P, until June, when everything changed, and China became the main volatility driver. Despite all the chaos, and the market volatility, SWKS outperformed YTD thus far by almost 30%, despite losing over half their YTD gains.. Not a bad return for what has been an unexpected rough few months.
As we see, in the middle of the year, a clear indication of Chinese influence with the VXX presenting a closer relationship, especially over the last month, to movement in China vs the SPY. Now that the Federal Reserve has pushed off rates again (extending confusion and increasing skepticism), I believe China will continue to correlate to US markets, as we have seen above be the trend on a broad basis, all year. As for SWKS, I believe there won't be much of a correlation after what I expect to be another set of beats for their fiscal Q4 results.
Below we zoom in on the last 3 and 1 month outlooks, where we see why I believe now is a great time to consider SWKS.
3 Month Chart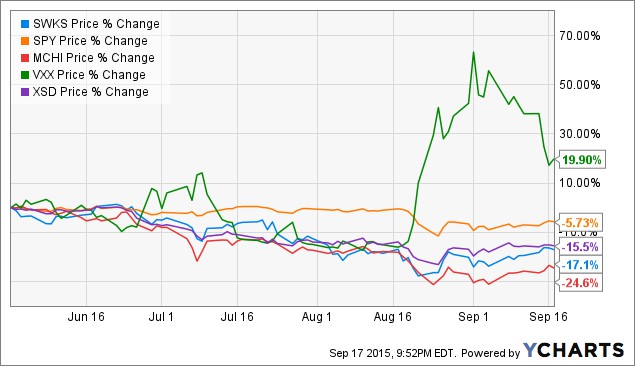 The 3 month chart, where the troubles all began, show the semiconductors leading the way, as the SPY stayed rather flat until its sudden nose dive (we will examine closely next), and partial recovery. The VXX has deflated, back to what is considered high for regular markets (20), but a relieve in terms of the last month. We finally examine SWKS over the last month, and see if any strength or indication the market is showing a bottom for the stock.
1 month Chart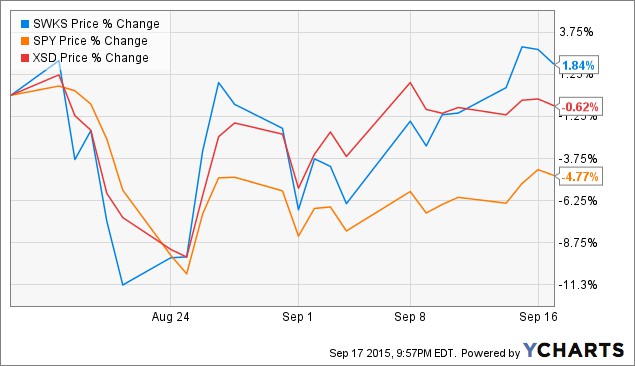 Below I provided a much more comprehensive view to tie all the above together. Before we examine it, the 1 month chart above reveals below, the "V" shaped performance, and what it means on a short run basis. While SWKS had already suffered a very difficult double digit drop, it also dropped about 13% during the flash crash. If we track performance against the semiconductors as a whole, SWKS seems to be breaking away in performance, under the pressure of a still shaky market. It has managed to break above 4 week levels, and this could be our signal to buy, so lets take a look below: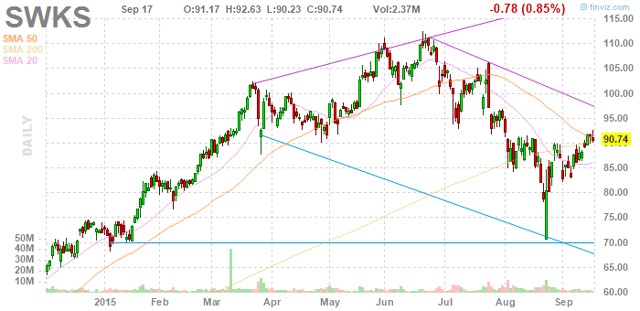 Although it is difficult to see, the 200D SMA has approached after a long distance the 50D SMA, which could spell a technical disaster. On the other hand, momentum and what seems to be a classic V shaped recovery (very similar to Oct 2014, as well as the above price movement analysis, indicate that SWKS has shown relative strength during the weakest of times. This positive indication could prove to produce a rally similar to what we saw last year, just with less momentum, that resulted in tremendous gains. I believe as we will examine next, the near and long term picture for SWKS remains bullish.
As we see below, SWKS has shown immense EPS growth, as well as expanded P/E multiples, on the back of what is an almost spotless reporting record. At current prices SWKS is trading at 23x GAAP EPS and 18x Adj P/E. Since the reconciliation between the two numbers, despite the wide margin, is non cash, and as such, the more relevant and useful number is Adj P/E. When calculating price targets, we will be using adjusted numbers.
(source: Fidelity)
| | | | | | | |
| --- | --- | --- | --- | --- | --- | --- |
| Date | 12-mos Rolling EPS | 12-mos Rolling Adj EPS | GAAP Reported EPS | Non GAAP Reported EPS | Dividend | P/E Ratio (adj) |
| Jun-15 | 3.83 | 4.87 | 1.06 | 1.34 | 0.26 | 27.18 |
| Mar-15 | 3.35 | 4.36 | 0.85 | 1.15 | 0.13 | 29.34 |
| Dec-14 | 2.9 | 3.83 | 1.01 | 1.26 | 0.13 | 25.07 |
| Sep-14 | 2.38 | 3.24 | 0.9 | 1.12 | NA | 24.39 |
| Jun-14 | 1.91 | 2.76 | 0.58 | 0.83 | 0.11 | 24.59 |
| Mar-14 | 1.68 | 1.65 | 0.4 | 0.62 | 0.11 | 22.33 |
| Dec-13 | 1.6 | 1.59 | 0.49 | 0.67 | NA | 17.85 |
| Sep-13 | 1.45 | 1.42 | 0.44 | 0.64 | NA | 17.13 |
Based on 22 Analyst, the next two quarter estimates are:
EPS Estimate Q4 2015: $1.60 Rolling Total $6.08
EPS Estimate Q1 2015: $1.51 Rolling Total $5.48
Fiscal Year EPS - 2014: $3.83
Fiscal Year Est EPS - 2015: $5.48 (est.)
Estimated Fiscal 2016: EPS $7.00 (est.)
(source:Nadaq.com)
| | | | |
| --- | --- | --- | --- |
| Year | Sales | Net Income | EPS |
| Oct-10 | 1,071.85 | 137.29 | 0.75 |
| Oct-11 | 1,418.90 | 226.6 | 1.19 |
| Oct-12 | 1,568.60 | 202 | 1.05 |
| Oct-13 | 1,792.00 | 278.1 | 1.45 |
| Oct-14 | 2,291.50 | 457.7 | 2.38 |
| Growth Rates | 20.92 | 35.12 | 33.47 |
1) Year End: ($5.48x22)= $120 - $125
2) One Year: ($7.00x22)= $144 -150 ($7.00x28) = $190 - $195
3) Fiscal 2016/Jan 2017: Based on the above conservative calculations for year end, I do not expect a multiple expansion back up to the upper range the last two years (17-29x). As noted in the earlier chart, during stronger sector runs, SWKS has traded in the upper end of that range. When we look at estimating the price over the next 18 moths, if applied to their $7.00 EPS target for fiscal 2016, can reach a price at above $180 (7.00x27), solely based off earnings estimates and historic P/E ratio (17-29x). Therefore, even based on conservative estimates of $150 (7.00x17) for January 2017, at current prices SWKS would have a vary well balanced risk to reward. In reality, if SWKS can achieve an adjusted 7 dollars a share EPS by their estimated target dates, I expect the market to apply an expanded earnings multiple in the range of 26-30x adj EPS, their historic P/E during bullish runs.
Due to the unpredictable nature of the semiconductor industry, estimating long run price movement isn't very reliable. The potential upside investors could see over the next 2 years, as resembled by the over 300% run observed the previous 2 years, is very fair when examining the fundamental value equation, and earnings results of SWKS. With a balance sheet holding 1B in cash, no debt, and 222M in Free Cash Flow generated last quarter (well on the way to over a billion a year in FCF yearly), there isn't much to gripe about SWKS's financial position. Now that we have examined strategy, position, price performance, and earnings estimates, we now will move onto examining the highlights presented in last quarter's results.
Q3 Results and Highlights:
Summary
Since other authors have gone through the fundamental break down of last quarter's continued success, I won't go into great detail. What is important is to consider the changing environment of both competitors and OEM's (consolidation, input costs, global demand issues), and assess what the risk is for SWKS to see a slow down in growth, having to pull back guidance, ultimately halting the momentum and rather explosive growth the company has seen, and thus reflected in value. With that said, lets go ahead and review highlights from last quarter's, and next quarter's results and expectations.
- Revenue Growth was 38% Y/Y with 810M, at 49% Gross Profit. This resulted in 295M in operating income, a 65% Y/Y increase, which reflects reduced costs, and increases in gross margin. Operating margin ran at 36.5 % of revenue, which is above average for industry standards.
- On the balance sheet side, SWKS holds 1.1B in cash, generated FCF of 222M, and invested 108M in Cap ex, which is related to incremental human capital (advanced engineers), new capacity, and other investments intended to expand the capabilities to achieve 2016 and 2017 goals. They also raised their quarterly dividend 100%, coupled with a robust buyback program.
- Q4 is expected to generate 875M (225 Y/Y) and EPS of 1.51. As usual, I expect SWKS to exceed these targets, which will eventually restore temporary lost value due to very poor market conditions and fear driven selling
Product mix remains heavily dependent on mobile growth, but we continue to see the "broad market's" category maintaining growth. This is key as SWKS continues to diversify revenue streams, especially from growth in IOT related opportunities, such as smarthome, automobile, and wearables to name a few.
| | |
| --- | --- |
| Power Amplifiers | 24% |
| Integrated Mobile | 53% |
| Broad Markets | 23% |
Every quarter, it is important to monitor new design wins, as these wins represent the future growth of the company, as well as the direction management is pursuing with respect to revenue opportunities and growth. We all know the semiconductor stocks are cyclical, but each company has a different level of exposure to economic shifts. For instance, SWKS is relatively unaffected by the "death of the PC" era, which has dented the likes of Micron Technology (NASDAQ:MU), and many others dependent on PC sales. Instead, it has benefited greatly on the other end, where demand shifted greatly to mobile and tablet devices. In my opinion, besides key design wins in automobile, smart home, and wearable technology are essential to balance what will be an inevitable decline
In a market such as this one, investors must keep in mind their goals, and ignore a lot of the noise. Skyworks Solutions is not a large blue chip low beta play. I skipped the word dividend, because I do believe its a solid play for investors who seek growth, as well as a growing dividend stream (100% Y/Y), from companies who have a solid strategy, and multiple consecutive years of solid growth. As we saw above, Revenue, FCF, EPS, margins, ect., are all outperforming with undisrupted momentum. Due to the inherent nature of technology, and its constant level evolution, there is no guarantee that won't change. There in lies the spread between intrinsic value, and current fair value. What investors overlook with SWKS is the fact it has chosen to pay a rather fair amount of FCF back to shareholders both in a 100% increase and 1% current yield, as well as a solid buyback program. If SWKS continues to grow income at these rates, a dividend yield over 2% won't be far from now, making it an aggressive and speculative income generator in the future (natural progression as company grows). For now, it remains a buy based on fundamental analysis for investors seeking growth and innovation, who also can stomach some price volatility and risk (with patience). It certainly at the very least, deserves consideration.
Based on forward estimates, SWKS is trading at a discount to its true value. As we continue to see weakness out of China, even weakness on their end as a result, their deep penetration of multiple OEM's like Xiaomi, are solid ways to smooth out any disruption. The level of market penetration can drive growth for years, and Apple's new iPhone 6s will certainly be a significant contributor. Apple's Tim Cook has come out and said he expects to break Apple's previous record for sales, which means SWKS has realized a significant amount of upfront revenue.
It is my belief that as we tread in a confused and rather frustrated market without a clear picture for the future, prices are going to further diverge, and solid research, and selective buying will prove very fruitful in a couple years for the diligent and patient investor.
Skywoks Solutions has not grown to be what they are today without solid management and vision. Competition in the semiconductor space is growing more fierce with Avago and NXPI set to close very large and industry shifting deals with Broadcom Corporation (NASDAQ:BRCM) & Freescale Semiconductor (NYSE:FSL) as targets. As the competition scrambles to buy their share of the market, SWKS remains strong through organic growth. There is no bigger testament for management's abilities than SWKS's growth story. The key when analyzing SWKS is to focus on their future growth areas, and decide whether they can continue to grow and innovate as technology in drones, artificial intelligence, and the entire IOT spectrum evolves. With a very solid buyback and dividend program in place, I believe as the company reaches its goals, it will also reward patient shareholders with immense share price appreciation, and a growing dividend at the current payout ratio. Being such a lean, FCF growing company, SWKS from multiple angles that offers investors intelligent exposure in a beat up cyclical, but lucrative sector.
More