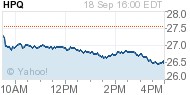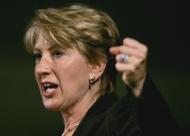 SAN FRANCISCO (AP) -- Ten years after GOP presidential candidate Carly Fiorina was unceremoniously fired from her job as chief executive of Hewlett-Packard, her tumultuous business career is still the subject of heated discussion.
Even as she enjoys a surge in momentum after last week's Republican debate, Fiorina is facing more jibes about her tenure at HP. Rival candidate Donald Trump declared her time there "a disaster," after Fiorina boasted of HP's growth and the "tough choices" she made as CEO.
The truth is, her HP tenure was rocky. "It is pretty hard to find too many people who think she did a great job there," said journalist Peter Burrows, who wrote "Backfire," a book about Fiorina's reign at HP. "Her reputation is definitely tarnished in Silicon Valley."
Yet one outspoken Fiorina supporter is venture capitalist Tom Perkins, who clashed with Fiorina when he was on HP's board but now says it was a mistake to dump her. "I think she is brilliant and has gotten a lot of unwarranted criticism," Perkins told The Associated Press.
Some issues the 61-year-old Fiorina has encountered in her career:
___
FIORINA AND COMPAQ
Fiorina likes to say she "doubled the size" of HP while she was CEO from 1999 to 2005. She's referring to HP's annual revenue, which rose above $80 billion after Fiorina pushed through a 2002 deal to buy Texas computer-maker Compaq, which had $40 billion in annual sales before the deal.
HP, however, continued to struggle after the massive acquisition. Profit fell from $3.7 billion in 2000 to a net loss of $900 million in 2002. While profit recovered to $3.5 billion in 2004, the company missed some key...
More