Qorvo Inc. QRVO reported first-quarter fiscal 2018 non-GAAP earnings of 71 cents per share (including stock-based compensation), which beat the Zacks Consensus Estimate by a dime.

Earnings (excluding stock-based compensation) were 87 cents per share, which plunged 19.4% from the year-ago quarter and was within the company's guided range of 70–90 cents.

Revenues declined 8.3% year over year to $639.9 million, which beat the Zacks Consensus Estimate of $629 million. Further, the figure was within management's guided range of $610–$650 million. Samsung was one of the 10% customers in the quarter.

Management now expects top-line to grow in the range of 4–5%, down from its previous expectation of double-digit year-over-year growth. The company cited weakness in China in the first half of the fiscal, which will be offset by double-digit year-over-year growth in the second half.

Qorvo, Inc. Price, Consensus and EPS Surprise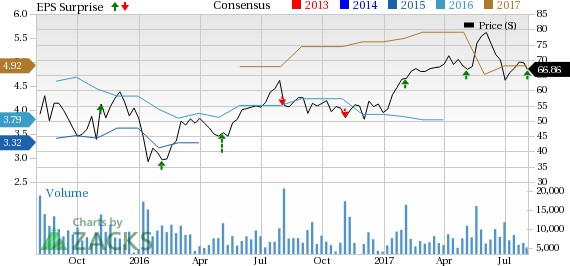 Qorvo, Inc. Price, Consensus and EPS Surprise | Qorvo, Inc. Quote
Qorvo stated that demand environment in China is improving, which is positively impacting channel inventory. However, mix remains a drag as consumers are favoring lower content phones, witnessed so far in the cycle.

Notably, Qorvo's shares have gained 26.8%, underperforming the 31.1% rally of the industry it belongs to.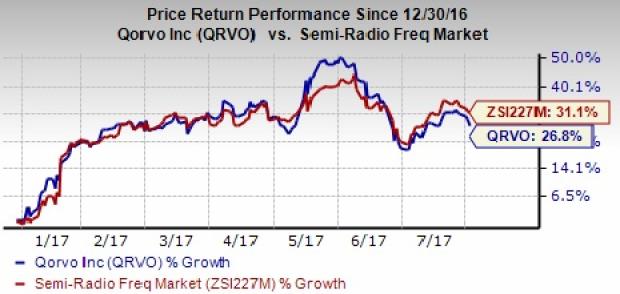 Quarter Details

Segment-wise, Infrastructure and Defense (IDP) revenues grew 22% year over year to $184 million. The strong growth reflects improving demand for the company's solutions in high-growth markets. The company noted that customer demand for high-powered BAW for the 3.5 gigahertz band for 5G massive MIMO antennas remained strong in the reported quarter.

Management stated that sales opportunities continue to expand. Launch of the new products like GaN silicon carbide 5G front-end module for the 39 gigahertz frequency band (industry's first) and portfolio of ultra high-performance 28 gigahertz solutions is helping in the development of 5G technology.

Defense business was strong in the quarter driven by GaN and BAW, which increased more than 25%. Qorvo achieved growth from multiyear defense contracts supporting programs like F-15, 16 and the F-35. Revenues from the largest defense customer more than doubled on a year-over-year basis.

In Wi-Fi solutions market IDP revenues grew more than 50% from the year-ago quarter. During the quarter, Qorvo launched new BAW filters, which are half the size of earlier solutions.

Mobile Products (MP) revenues were $456 million in line with the management's expectations. Huawei comprised almost 30% of the mobile revenues in the quarter.

Based on the expanding portfolio, Qorvo is strengthening its footprint in the IoT marketplace. The company's M2M solutions are now supporting a diverse range of applications like automotive, asset tracking, meter reading, agricultural, industrial and the large bicycle sharing services in China.

During the quarter, Qorvo's solutions (power amplifiers, premium filters, high-performance switches, BAW5, Wi-Fi FEMs) were selected by the likes of OPPO, Xiaomi, LG, ZTE and Nokia NOK.

Qorvo launched a broad family of premium BAW 5 filters and quadplexers that are critical for enabling the continued proliferation of carrier aggregation and high-performance Wi-Fi. The company has already started shipping the next-generation antenna tuners.

Management noted that growing demand for more functional and high performance smartphones will drive growth of its solutions like BAW filters, envelope tracking, switching, antenna tuning and amplifiers in the long haul.

Operational Details

Non-GAAP gross margin contracted 90 basis points (bps) from the year-ago quarter to 47.3%.

Non-GAAP research & development (R&D), as percentage of revenues, increased 140 bps from the year-ago quarter to 17.3%. Selling, general & administrative (SG&A) expenses, as percentage of revenues, increased 30 bps to 8.6%.

As a result, non-GAAP operating margin contracted 260 bps to 21.5%.

Balance Sheet & Cash Flow

As of Jul 1, cash and cash equivalents were $512.6 million compared with $545.5 million as of Apr 1. Long-term debt was $989.4 million as compared with $989.2 million at the end of the previous quarter.

Net cash provided by operating activities was $104 million down from $247.1 million in the previous quarter. Capital expenditures also declined sequentially to $124 million. Management stated that this will continue to decline the company's wrap up recent expansions, tool conversions and other investments to support future growth.

Further, Qorvo has returned $32 million to shareholders under its ongoing $500 million repurchase program.

Guidance

For the second-quarter of fiscal 2018, Qorvo forecasts strong sequential revenue growth primarily on the strength of mobile content gains on marquee platforms, modest improvements in the Chinese market and continued strength in IDP.

Qorvo expects non-GAAP revenues in first-quarter fiscal 2018 to be approximately $800–$820 million, a 27% sequential increase at the mid-point. The guidance reflects seasonal effects at the company's largest customer and modest improvements in the China market, with continued strength in IDP.

Qorvo anticipates gross margin of approximately 47.8% up 50 bps from the prior quarter. Management expects operating expense to remain flat sequentially.

Earnings are expected to be $1.43 per share.

Qorvo forecasts revenues to strengthen from the September (second-quarter fiscal 2018) to December (third-quarter fiscal 2018), followed by a seasonal decline in March (but less-than-normal seasonal decline). Management projects double-digit year-over-year growth in the second half with a stronger China market, gains on new mobile platforms and continued above-market IDP growth.

The company anticipates operating expense efficiency to continue to improve and forecast operating expenses to be approximately between 20% and 21% of revenues for the year. The company is confident that it will achieve its target of 30% operating margin during the fiscal year.

Capital expenditure is currently forecast to decline to less than $300 million. The company expects free cash flow to triple over fiscal 2017.

Qorvo intends to outperform the market, expand annual operating margins of 10 points by fiscal year 2020 and has plans to generate substantially more free cash flow on stronger operating results and lower capital intensity, going forward.

Stocks to Consider
Qorvo carries a Zacks Rank #3 (Hold).

Applied Optoelectronics AAOI and Advanced Micro Devices AMD are stocks worth watching in the broader industry. While Applied Optoelectronics sports a Zacks Rank #1 (Strong Buy), AMD carries a Zacks Rank #2 (Buy). You can see the complete list of today's Zacks #1 Rank stocks here.

Long-term earnings growth for Applied Optoelectronics and AMD are currently pegged at 18.75% and 6.25%, respectively.
More Stock News: Tech Opportunity Worth $386 Billion in 2017
From driverless cars to artificial intelligence, we've seen an unsurpassed growth of high-tech products in recent months. Yesterday's science-fiction is becoming today's reality. Despite all the innovation, there is a single component no tech company can survive without. Demand for this critical device will reach $387 billion this year alone, and it's likely to grow even faster in the future.
Zacks has released a brand-new Special Report to help you take advantage of this exciting investment opportunity. Most importantly, it reveals 4 stocks with massive profit potential.
Want the latest recommendations from Zacks Investment Research? Today, you can download 7 Best Stocks for the Next 30 Days.
Click to get this free report
Qorvo, Inc. (QRVO): Free Stock Analysis Report
Nokia Corporation (NOK): Free Stock Analysis Report
Advanced Micro Devices, Inc. (AMD): Free Stock Analysis Report
Applied Optoelectronics, Inc. (AAOI): Free Stock Analysis Report
To read this article on Zacks.com click here.
Zacks Investment Research