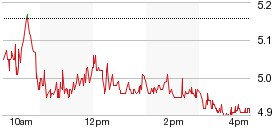 Stone Energy Corp. SGY posted first-quarter 2016 loss of $3.39 per share, substantially wider than the Zacks Consensus Estimate of loss of 87 cents. It was however, narrower than a loss of $5.93 per share incurred in the year-earlier quarter.
Total operating revenue plunged 47.4% year over year to $80.7 million in the quarter from $153.5 million. The top line, however, beat the Zacks Consensus Estimate of 69 million.
Operational Highlights
During the quarter, production averaged 207.0 million cubic feet of gas equivalent per day (MMcfe/d), down 25.4% from the prior-year quarter level of 277.6 MMcfe/d. Of the total production, natural gas accounted for 36%, oil constituted 52% and natural gas liquids (NGL) made up the remaining 12%.
Overall realization, on a per Mcfe basis, was $4.26 in...
More